If you are planning a short city break, Brussels in Belgium might be your next destination.
Brussels, also known as the capital of the whole of Europe, is an endearing city with both historic buildings in the old town and modern skyscrapers at the European Quarter.
The city is also full of restaurants, shops and museums but there are a few things you must do during your visit.
Have a tour around the city
Brussels is a place which has something different at almost every street in its city centre. this could be impressive architecture, a massive painting on the wall or deliciously smelling waffle shop.
Have a look at this photo gallery which proves that there are quite a few things to see in Brussels.
Things to see in Brussels
Try Belgian fries and waffles
Both fries and waffles are so popular in Belgium that you can find them on every corner. And it's not a surprise when they taste that good!
If you ever thought that there's nothing special about fries, it means you haven't tried Belgian ones. In 2014 Belgian fries were even added to the UNESCO list of cultural treasure.
These fries are extra crispy as they are fried twice – the first time when cooking and the second time just before serving. Most of the time fries are served with a sauce of your choice. The most traditional topping is mayonnaise, but you can choose ketchup, mustard, cheese sauce etc.
At most places, you can get fries with a sauce for €3.70 (£3.30)
When it comes to Belgian waffles, they are quite popular around the world and you might have tried them before. Despite that, Brussels has its own type of waffles which are really different. Firstly, they aren't sweet which means that you can choose sweeter toppings. Secondly, they are crispy from the outside but fluffy inside. Brussels' waffles must be eaten straight away when still warm and can't be reheated as that makes them lose the fluffiness and become soggy.
Both Belgian and Brussels waffles are served with toppings of your choice such as whipped cream, chocolate, maple syrup, fruits etc.
Prices are usually €4 (£3.50) for Belgian waffle and €5 (£4.50) for Brussels waffle plus €1.50-2.50 (£1.30-2.30) for each topping.
Try Belgian beers
Belgium is famous for having the highest quality beers in the world.
The country has around 250 breweries which produce more than 500 different types of beer which means that everyone will find something they like. Even if you're not a big fan of beer and prefer something sweeter, there is an option for you too. Belgium Kriek is a sweet beer with cherries. It's red in colour and tastes nothing like a typical beer.
The best places to try Belgian beers are local pubs as you not only try the drinks but also experience the culture and meet local people. Some pubs even do beer degustation where you can get 5 different drinks for 20€ (£17.50). If you want to get one drink, most pints cost between €4 and €6 (£3.50-5.25).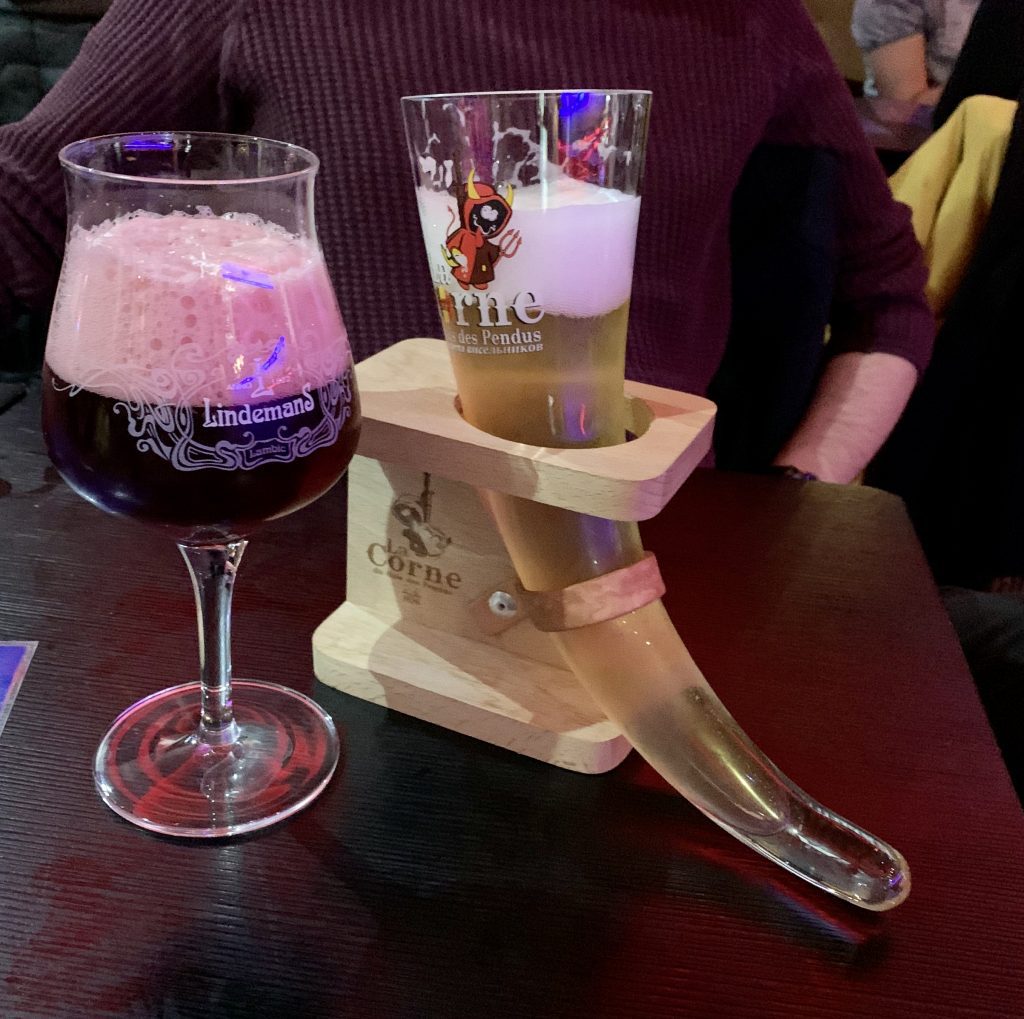 Visit Atomium
Atomium is an icon of Belgium which was built in 1958 for the Brussels World's Fair. Nine spheres depict an iron crystal magnified 165 billion times.
The visitors are allowed in six out of nine spheres. The other three that are below the top one cannot be visited due to the safety reasons. Despite that, the rest of the spheres contain various attractions including a permanent exhibition about the World's Fair and temporary exhibition which is changed once a year.
You can also get to the top sphere by elevator. If the weather is good you can enjoy a panorama of Brussels or visit a restaurant and have a meal at 95m height.
The prices of the Atomium tickets start from €8.50 (£7.50) for children and students, €16 (£14.20) for adults and €14 (£12.40) for seniors older than 65.
Try Belgian chocolate
It's not a secret that Belgium is also famous for its chocolate. There are more than 2000 chocolate shops around the country! And it's not hard to believe it once you visit Brussels. In the city centre, there are chocolate shops next to each other and across each other – so it's difficult to choose where to go.
Most shops try to attract customers by presenting some art made of chocolate on the windows or offering chocolate tasting.
Although chocolate is so popular in the country, it doesn't mean that it's cheap. A chocolate bar might cost you €4 (£3.50) and a small box of hand made chocolates can cost €25 (£22.40) or even more.
Another thing that you must try is Belgian hot chocolate. Have a look for a shop which has hot chocolate on tap. It's not your typical hot chocolate made with powder and milk – it's melted chocolate in a cup! It's almost impossible to have the whole cup of it but it's worth trying and it's not that expensive – €3 (£2.70) for a medium size.
Things you need to know
Travelling
Brussels have two airports – Brussels Zaventem Airport and Brussels Charleroi Airport.
The first one is located just at the edge of the city and serves mostly premium airlines and flight outside of Europe. This airport is 20 minutes away from the city centre by train.
Brussels Charleroi Airport is 34 miles away from the city centre. This airport mainly used by budget airlines such as Ryanair and WizzAir. It takes 50 minutes to reach the city centre by a shuttle bus which runs every half an hour and costs €14.20 (£12.70) one way. For the best prices visit www.flibco.com and get your tickets in advance.
Once in Brussels, most of the attractions are in the city centre. However, if you decide to visit Atomium or the European Quarter, you might want to use public transport. You can choose from the busses, trams or metro. The quickest and easiest way to reach places is by using the metro. 24h ticket for unlimited journeys costs €7.50 (£6.70). Tickets can be found at the machines at metro stations.
Staying there
If you want to stay in the city centre, it costs an average of £73 per night at a 3-star hotel (e.g. Hotel Saint Nicolas). A 4-star hotel (e.g. Hotel Le Dome) will cost you around £100 per night and 5-star hotel (e.g. Sofitel Brussels Europe) around £140.
If you don't mind staying a bit further, you can find a room for £50 per night at a 3-star hotel (e.g. The Helmet Hotel). Most cheaper hotels are located within a walking distance from the city centre. The rooms are basic and include a bed, table, wardrobe, TV and a bathroom. However, it's still a great choice for those who are staying only a few nights and spend most of the time outside the hotel.