November 23rd + 24th

London Aquatics Centre, Queen Elizabeth Olympic Park, London

Short Course Metres (SCM)

ISL European Derby Day 2

Final match before final in Las Vegas next month 

Teams competing are; London Roar (LR), Energy Standard (ES), Aqua Centurions (AQC), Team Iron (IRN)
ISL European Derby – Day Two 
Keep refreshing this page for event-by-event updates of all the British swimmers in action from day two of the ISL European Derby. 
There's a total of 13 British swimmers in action this weekend, so we're following all of their results as they happen. You can find yesterday's live recap here. 
5:35pm WE HAVE OUR FINALISTS!! 
Energy Standard and London Roar have secured their places in the final in Las Vegas on December 21st and 22nd. They join LA Current and the Cali Condors to make up the final four.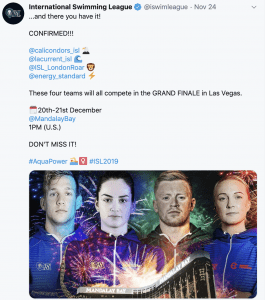 5:28pm Men's 200m IM
Duncan Scott and Max Litchfield are both up here for LR and ES, respectively. Scott was originally not meant to be racing this, but his team will be hoping that a last minute change in the most recent break will deliver high points for them. Max Litchfield is the British record holder in the 400m IM, so he might deliver well here for Energy Standard.
RESULT: Duncan Scott has a fantastic swim here to come out on top, touching in 1:53.97. He swam a massive last 50 to beat Germany's Phillip Heintz, who was racing for AQC. Litchfield had a disappointing 8th place finish here.
5:24pm Women's 200m IM
Hannah Miley has her first event of the day here for Aqua Centurions. Miley has been Commonwealth Champion in this event, so it will be interesting to see how she does here in a loaded field – featuring World Record holder in this event, Katinka Hosszu.
RESULT: Siobhan-Marie O'Connor does well here for London Roar, finishing 4th with 2:08.01. Miley touches in 2:10.63, finishing 7th overall. She'll be disappointed with that, considering her personal best is 2:06.21.
5:24pm Men's 400m Freestyle
British record holder James Guy and Max Litchfield go for London Roar and Energy Standard, respectively here. Guy's record is 3:36.35 which he set back in 2013. He'd do well to get back down to that mark here, as it would almost definitely secure a win.
RESULT: Guy was in first position up until the last 50m when Henrik Christiansen overtook him. He finishes 2nd with 3:40.64, securing 7 points for LR. Max Litchfield (who is the British record holder in the 400IM) musters a 4th place finish here for Energy Standard.
5:16pm Women's 400m Freestyle
Holly Hibbott is the only Brit up in this event. After swimming a new personal best time in the 200m free yesterday, she should be feeling confident ahead of her main event.
RESULT: What a swim! Hibbott WINS this event in a time of 3:57.96, the only swimmer sub 3:58 and 3:59. She out-touches Olympic gold medalist and World record holder Frederica Pellegrini in what was one of the best races of the meet. She gains 9 points for Roar in this event.
5:12pm Men's 100m Breaststroke 
Breaststroke phenom Adam Peaty is up for London Roar here and will look to redeem himself after his 4th place finish in the 50 yesterday. He's admittedly weaker over short course metres, and said in the press conference afterwards that "in hard training" he "loses his legs". A big swim in necessary here to gain some much needed points for Roar.
RESULT: And he's done it! Peaty touches first in 56.18, the fastest time in the ISL season so far. He came back in the last 25m to overtake Energy Standard's Ilya Shymanovich. Peaty manages to redeem himself in his signature event.
5:08pm Women's 100m Breaststroke

 
Olympic silver medalist Siobhan-Marie O'Connor (LON) is up for LR in this event, as well as European medalist and British record holder Imogen Clarke (ENS). This event features world record holder Alia Atkinson (IRN) as well as Italian breaststroke stars Martina Carraro and Arianna Castiglioni, who are both up for Verona-based Aqua Centurions.
RESULT: A disappointing 6th and 7th place finish in this event for O'Connor and Clarke, respectively. They weren't too far off Chloe Tutton's British record mark of 1:04.79, but these finishes only deliver 3 and 2 points for their teams.
5:04pm Men's 100m Freestyle 
Scottish swimmer Duncan Scott has one of the heaviest schedules this weekend, but that could change if his coaches decide to alter the entries during the first break. London Roar are missing Aussie Kyle Chalmers in London, who would definitely be up for them in this event if he was here (he's won the 100 free twice at other ISL matches). They'll be hoping his absence doesn't hurt them too much points-wise.
RESULT: In a stacked field, Scott touches in 46.71 to finish 4th. It's not their best result, especially because his teammate, Yuri Kisil, finished 8th. It's a good time from the Scotsman though, as although he's a bit of a 'renaissance man', 100m freestyle is typically not one of his strongest events.
5:00pm Women's 100m Freestyle 
18-year-old Freya Anderson is up for Aqua Centurions in this event. Her best time is 52.92 which she set last year, so let's keep an eye on that mark and see if she goes under it.
RESULT: And she does! Anderson touches in a very impressive 52.18. That's a 6th place finish for Centurions which only gains them 3 points (see full points breakdown below), so they'll need to make up those points in later events. Up next in the men's 100m is Scotland's Duncan Scott, racing here for London Roar.
POINTS FOR INDIVIDUAL RACES: 
POINTS FOR RELAY RACES: