Over 170 people have joined together to help raise money for the support of the homeless in Derby.
The YMCA Derbyshire's SleepEasy event took place last Friday and saw determined participants sleep rough for one night at the Derbyshire County Cricket Ground.
Equipped with just the essentials such as a sleeping bag and a cardboard box provided at the ground, the group braved the elements for 11 hours to symbolise the conditions that parts of the homeless community have to experience on a daily basis.
Funds raised by the charity go towards the provision of vital support for those in need and the £40,000 generated in 2018 saw 36 individuals given new accommodation within the city of Derby.
With an increase of 169% in people classed as homeless between 2010 and 2017 and 5,000 estimated to be sleeping rough last year in the UK, events that try to help reduce these numbers by contributing significant funds can only be positive.
The total raised by this year's SleepEasy is approaching the set target of £45,000 and the YMCA Derbyshire's fundraising and communications manager Sarah Crane explained why that money is so important.
"We've been at the heart of the community since 1847 and we're associated primarily with the work we do around housing; housing people temporarily or for a longer period," she said.
"However, we're so much more than that. We're a young people's charity and we've always worked with young people since our inception, so it's about empowering those that we help.
"We're really turning the paradigm of homelessness on its head because traditionally it has been associated with people causing a problem. We look at people in different ways because they bring skills; what innate skills and talents do they have that we can work with and how can we harness that?
"Our SleepEasy event has been going for nine years now and we get members of the community, businesses and individuals sleeping outside for a night so that others don't have to. Come rain, come shine, we'll be out there at the cricket club.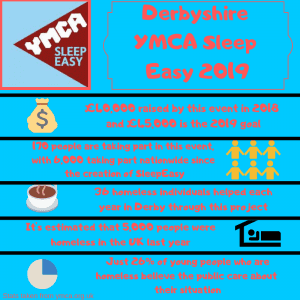 The SleepEasy event also serves to educate the public about how homelessness may not always be so noticeable – so-called "hidden homelessness" an example of people forced into insecure accommodation instead of living on the streets.
Event participant and YMCA Derbyshire trustee Mary Gordon outlined the value of learning that can be done when supporting causes like this.
"As people come together, they start to understand what the real issues are," she said.
"Sometimes, homeless people aren't regarded very well by society and we now talk about the hidden homeless, but it can be difficult to get people to engage in that at times. For that reason, the more we can engage the local community, the better really.
"One of the things for me – particularly with the YMCA – is that we support people. It's not just bringing people in and giving them a place to stay because there needs to be that transition into independence too. The work that we do with young families, young children and young people in training is about wanting to help them make their lives better."
When people encounter problems in their life that force them to seek the help of organisations such as the YMCA Derbyshire, their skills are momentarily lost by society.
As support is provided though, exploiting those talents can help individuals to find their feet again in work or other activities – something that SleepEasy participant and deputy managing director of Toyota Europe Tony Walker added his thoughts on.
"It's a tragedy in a country as wealthy as ours that some people don't have anywhere to sleep or to live. They can't live fully functioning and contributing lives without a home," he said.
"A second benefit is to build a sense of community. With all the volunteers and fundraising supporters, there's probably about 200 people here. That helps the community to be proactive in doing something about homelessness here in Derbyshire."