Head groundsman at St George's Park Scott Brooks says working at the National Football Centre is 'the pinnacle' of his trade.
The 30-year-old has worked for North London giants Arsenal and Tottenham, but says treating the 330-acre Burton-on-Trent site is the ultimate goal for ground staff.
Scott, originally from London, says working at St. George's Park is "very good, it's the pinnacle of groundsmanship."
Currently Scott leads a large team of ground staff who ensure the pitches are ready for Premier League stars like England forwards Harry Kane, Raheem Sterling and Marcus Rashford.
"At the moment we've got eight ground staff, three estates workers and we look after the whole estate."
The University of Cambridge graduate has worked at the Staffordshire site for more than year now and has 14 pitches to attend to.
"In terms of pitches, we've got 10 grass pitches, two full-size artificial, a blind pitch and an education pitch."
Scott says that the England men's senior team ask for a lot when they train at the centre.
He joked Gareth Southgate's team want "the world" before saying, "no they're not too bad to be fair, they use this pitch here (The Sir Bobby Charlton Pitch: Full-size Wembley replica).
"Generally, we get their requirements a week to 10 days before, so it might just be extra goals.
"And then on the day of training, I'll come out and speak to usually the assistant manager, which is Steve Holland at the moment, to see what watering requirements he has (and) if everything is okay in general and if he needs anything to facilitate the training."
Scott's 11-man team work throughout the year, perfecting the landscape built between 2010-2012.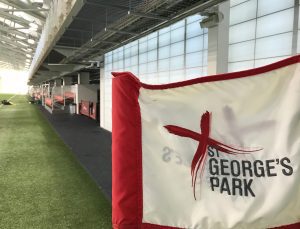 He says that the process of re-seeding a pitch will take place this month.
"All of the pitches here get a renovation every growing season, from March to August, the whole grass you see here (Sir Bobby Charlton Pitch), will be stripped off the pitch and we'll regrow new grass and that takes around eight weeks on average, if the conditions are good."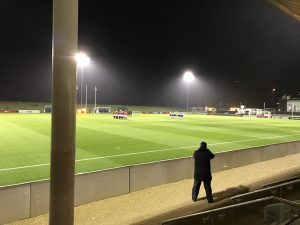 Mike Smith, aged 37, the operations manager at St. George's Park is very happy with the quality of his grounds team.
"Fantastic and with the recent weather (snow and freezing conditions) they've more than proved their worth in getting everything cleared up.
"The pitches throughout the year, for the amount of football which goes through them, are always in great condition."
Hear more from Mike Smith here, as the operations manager discusses England's 2017 World Cup success.
While Emily Liles, aged 24, the communications officer for the FA at the National Football Centre says: "Scott's work ethic is superb, he works in all conditions to make the pitches playable all year round."
Scott has not always worked in football, having also maintained "rugby, cricket, tennis (and) lacrosse" surfaces at Cambridge University.
However, "a junior role at Tottenham Hotspur, about 11 years ago now" saw Scott get his first big job in football, preparing the pitches for stars like Dimitar Berbatov, Gareth Bale and Luka Modric.
Scott then joined Spurs' North London rivals "Arsenal for nine years", working for players like Cesc Fàbregas, Robin van Persie and Mesut Özil.
But, despite working with three-time Champions League winners like Bale and Modric, being a lifelong Leeds United fan, Scott says the best player he's prepared the pitches for is former Whites man "Lewis Cook, the future England captain."
Scott is becoming one of the most experienced groundsman in the country, with Premier League and now international level grounds keeping experience.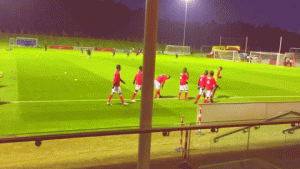 The FA are confident the pitches at St. George's Park are in safe hands with Scott and his team working throughout the year to maintain and improve the surfaces to meet the expectations of professional athletes.