Coffee-lovers have praised an award-winning business which has become well-known for its pink hot chocolate drink.
Other exclusive drinks on off at Katherine's Gift and Coffee Bar includes a unique cookie monster drink which is blue hot chocolate, candy floss, cookies and cream.
Now visitors have told how much they love the business which late last year won the Best Cafe Award at the Derby food and Drink Awards.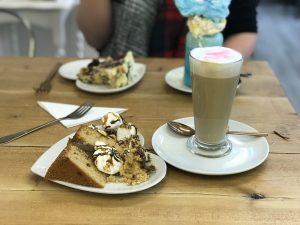 Carer Clancy Cooke, aged 21, of Chaddesden, who is a regular at the cafe in Chaddesden Lane, said: "When me and my friends want a lunch date, Katherine's is always the place to go because it is so close to home and we know we're getting good quality food in a friendly environment."
Owner Katherine Pryor says that her team try to give their customers such a good experience that they are sure to return.
Katherine said: "We always try to make everyone feel at home."
Customer Debbie Smith, aged 40, of Breadsall said: "The first time I went I didn't want my hot chocolate too strong so Katherine, the owner, made me a different version and let me try it first to make sure I liked it.
"They always go the extra mile."
Katherine says that since the business first opened in November 2016 it has attempted to strive for success.
Winning over local people led to the cafe picking up the 'best café' title in October 2017.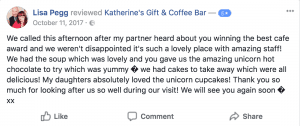 Katherine's first became known for its speciality unicorn drink which is a mix of pink chocolate, candy floss, whipped cream and glitter as well as its unique cookie monster drink which is blue hot chocolate, candy floss, cookies and cream.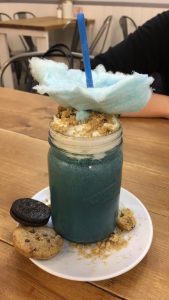 The cafe continues to create a mix of exclusive drinks and cakes and also sells homemade vegan and gluten free cakes.
Katherine's began with only 10 seats but has been extended and can seat up to around 30 people at a time.
In summer months the café also has seating outside the front of the building in order to enjoy a cake and a coffee in the sun.
The café also now sells a variety of lunch time snacks such as home-made sandwiches, soup, sasuage rolls, quiche and jacket potatoes.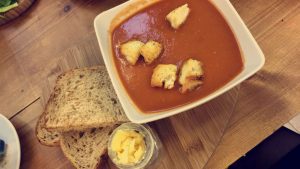 The shop sells a range of gifts from bath products, candles, cards and jewellery which are updated throughout the year.
Katherine's is also a venue that can be hired for baby showers, birthdays and many other occasions.