Dean Smith has stabilised Aston Villa's runaway rollercoaster ride of a third season in the Championship.
At away games such as Sheffield United and Blackburn Rovers, fans bickered vociferously in the stands, even coming to blows at Bramall Lane. But at Blackburn, I heard fans arguing that Bruce should still be manager.
"Who else better can we get?" they said.
The answer was simple. Brentford's Dean Smith.
Despite just a few matches in charge, Smith has imprinted his tactics on the squad.
After Villa's away match vs Derby County, once the drizzly Derbyshire skies cleared, it became obvious that Smith's side were a transformed team.
Smith's sentiment has been absorbed quickly. John McGinn tirelessly led the harassing and won the ball high up the pitch, reducing Rams to route one to escape from their own territory.
Under Bruce, taking the lead would induce nervous defensive football, but Villa kept the intense pressure on County, and stormed away 3-0 winners.
For Smith to be so bold at Pride Park, where Derby have been formidable so far this campaign and to turn Rams into lambs is astonishing considering the short time he has been at the helm.
I spoke to Derby boss Frank Lampard post-match, who even conceded that he was impressed.
"They were better with and without the ball." He stated, adding, "it was the only time we have been outplayed to that level."
And it is credit to away manager, Dean Smith who praised his side for their tactical display.
"We set some really good traps to win the ball back and create some really good chances.
"Birmingham city play a lot differently to Derby County.
"80 percent of the game is about how we play," Smith said.
From Pride Park to Villa Park two weeks later. The second city derby.
90 minutes decides the bragging rights of Birmingham, although Smith, a Villan himself showed no nerves on the day. Even when Blues took the lead early doors.
The first Villa Park strike for Birmingham City in 10 years.
Goals from cult heroes Alan Hutton and Jack Grealish will forever be remembered by the Villa faithful.
The celebrations left some fans injured!
Comical edits of the goals have done the rounds on social media.
"He's halfway to Moseley!" 🏃‍♂️⚽️

Alan Hutton AKA the Scottish Cafu scored a wonder goal to seal the #SecondCityDerby! #AVFC #BCFC pic.twitter.com/PWpUInhLva

— BBC WM Sport 95.6 (@sportbbcwm) November 26, 2018
Stunning commentary from BBC WM.
Alan Hutton's goal with the cliche titanic music. (it's deserved) UTV #AVFC pic.twitter.com/fGmJRXDdde

— Witton Road View (@WittonRoad) November 25, 2018
Despite the margin of victory being the same as last season's home fixture, this campaign's game was between two in-form sides. 4-2 is far more impressive for fans.
Four goals that will live long in the memory. Villan's mouths will already be watering at the prospect of Smith football for the foreseeable future.
Finally, the club appears to be back on track.
POLL: WHERE WILL VILLA FINISH THIS SEASON?
Into their third season of second-tier football, something they last experienced over 40 years ago, in 1974-75.
Blame for two ultimately disappointing attempts at promotion lies firmly on the shoulders of the owners.
They made arguably the worst gamble in recent football history by overspending and overstretching resources to the point where – after Tom Cairney's heart-breaking goal that induces regular painful flashbacks – every player was for sale; tax payments were missed and multiple loans were taken out to keep our claret and blue noses above water.
The 2017-18 Play-off Final
When dropping down the leagues of English Football, it is vital to put in place the foundations for a return to the top.
Unfortunately for supporters of the ancient club that was founded in 1874, the new owners Recon Group, led by Dr Tony Xia did not plan for the future and opted for an ill-thought out spending spree and a series of appointments of poor managers.
First Roberto Di Matteo, then Steve Bruce took the helm and attendances dwindled during poor spells.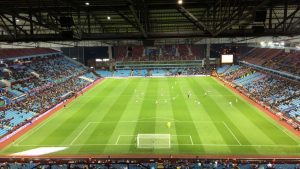 11,897 were in attendance against Middlesborough in September 2017, the lowest for 40 years at Villa Park.
The financial ruin that Xia left a once great club in was almost criminal. In fact, former Chief Executive, Keith Wyness is suing the club for constructive dismissal amongst the turmoil.
Doctor Xia is very fortunate that billionaires Nassef Sawiris and Wes Edens fancied a go at running a football club.