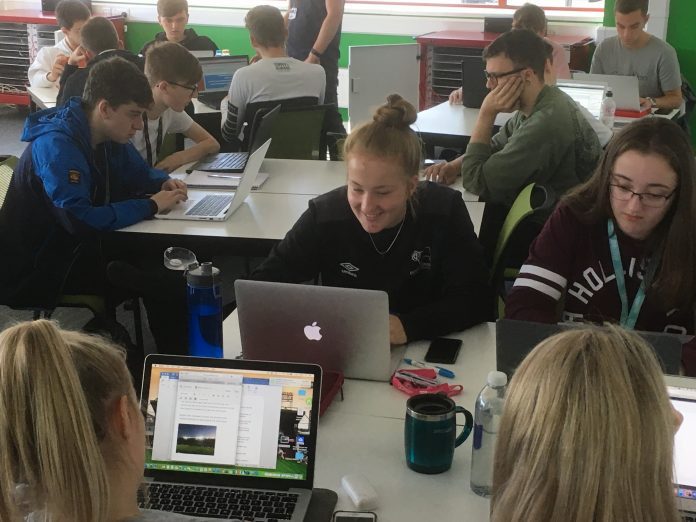 The University of Derby have teamed up with Derby County to offer talented young women footballers the opportunity to study Football Journalism and play for the club.
The three scholars will be offered fully-funded places on the only undergraduate Football Journalism degree course in the UK, each currently worth £27,750 over three years.
The players would play for Derby County Ladies (DCL), who are competing for promotion to the FA Women's Championship, as well as the university team.
Derby County Ladies Football Club (DCL) launched the 2019 scholarship programme alongside the university (UoD) with a video created by students showing the benefits of a career in football journalism. The Derby course, now in its third year, has been overwhelmingly popular with prospective students. The University's Journalism degree is one of only four in the country where 100 per cent of students completing their degree in 2017 said they were satisfied with their course.
In the current pilot season, Olivia Fox is the first Derby Ladies Scholar to benefit from this ground-breaking scheme. She arrived from her home in Kent last month but had already launched into her studies by reporting on the Fifa Women's U-20 World Cup from France with her new class-mates during the summer.
Fox, 18, said: "My first experience of university has been brilliant. Everyone I've met has been lovely and so welcoming – just what you want when you're miles from home! I joined up with both Derby and the University team with a hint of nerves but I couldn't have enjoyed it more.
"However my first experience of my course was actually during the summer break where I was invited to cover the Women's U-20 World Cup in Brittany. This was a truly amazing experience where I learned first-hand the rigours and rewards of journalism."
WATCH: Olivia reporting from the Fifa Women's U20 World Cup
What a great experience for these 12 students from @UoDFootyJournos! Spending two weeks, working on a World Cup! #U20WWC #DareToShine #LeMomentDeBriller pic.twitter.com/2Qhp1VdsvP

— FIFA Women's World Cup 🇫🇷 (@FIFAWWC) August 19, 2018
The first students on Derby's BA (Hons) Football Journalism degree have worked with the likes of Gareth Southgate, Jacqui Oatley, Henry Winter and Baroness Sue Campbell, the FA's head of women's football. Nigel Clough visited last month and Mark Pougatch and Phil Neville are due later this term. Students covered three football tournaments inside a year, reporting on the Uefa 2017 Women's Euro for outlets such as the Daily Mirror, the Manchester Evening News and Sky Sports News, and the Uefa 2018 U-17s.
Three full scholarships are available for women starting the course in 2019, who will play for the Ewe Rams and the university's football team. The scholarships will cover the full cost of the students' tuition fees, currently £9,250 a year, as well as offering other benefits, such as reduced accommodation fees.
Potential candidates for the scholarship will need to show that they could play for both the Derby County and university teams, and meet the entry requirements for the degree. If the players satisfy all three conditions, they will then apply through the Universities and Colleges Admissions Service (UCAS) to be offered a place at Derby for the 2019/20 season/academic year and will be asked to sign a Scholarship Agreement, committing to meeting the required criteria on an annual basis.
WATCH: student Holly Percival's promotional video on the scholarship launch
The Ewe Rams, managed by Samantha Griffiths, are currently in the third tier of women's football, but they are well supported by DCFC, training at the club's official Moor Farm training ground and recently attracting a record 2,109 crowd for the 1-0 victory over Nottingham Forest at Pride Park. With this, successful scholars have the opportunity to be part of a club just one division away from playing the likes of Arsenal, Chelsea, and Manchester City.
Duncan Gibb, chief executive at Derby County Ladies, said: "When I joined the club back in 2013, we set out a five-year plan aimed at getting ourselves to the stage where we could not only progress to the next level but, equally importantly, retain that status once achieved. This project is one of several partnerships integral to our bid to stabilise at the top end of women's football. It should provide us with three high-standard players on an annual basis that will allow them to not only slot seamlessly into the first team squad immediately, but enhance it.
"We are hopeful of attracting players currently operating at Women's Super League level, who will view the securing of a full scholarship on the Football Journalism course as a real opportunity for them to progress a full-time career within the industry, while continuing to develop as players at one of the most progressive and ambitious women's clubs in the country. It's been imperative that we got this partnership right, to ensure that prospective players secure a high-quality student, and playing, experience for their three years in Derby."
Peter Lansley, senior lecturer on the Football Journalism course, said: "One of our aims at the University of Derby is to help as many women journalists as possible enjoy studying with us. We're striving to redress the gender imbalance in sports reporting – recent research indicates that only 1.8 per cent of sports bylines in national newspapers were women's. We believe the scholarships, alongside our course, will give more women the platform they need to develop into the world of sports journalism while also driving up standards of women's football at the university and supporting our local club's bid for FA Women's Championship status."
CLICK HERE to apply for an Open Day.
The Guardian featured last year's inaugural launch [SEE HERE]
WATCH: students Holly Percival and Dean Cooke interview England head coach Gareth Southgate at the University of Derby
[youtube https://www.youtube.com/watch?v=5K21Nw6jv78]