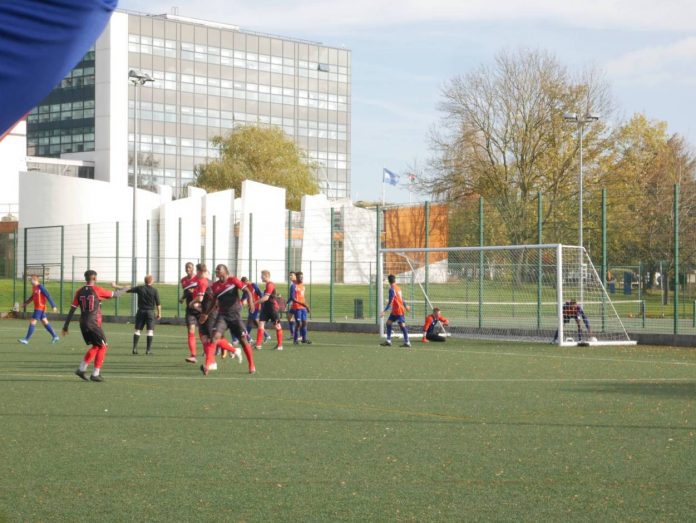 Derby University Men's 2
nd
XI continued their winless start to the season with a disappointing defeat to De Montfort University Men's 1
st
XI in the Midlands Conference Cup.
Having drawn their previous two league games, Derby came into the game looking for a first win, and some confidence to take into the league season.  Meanwhile, in their league, De Montfort had a 100% record, with one win from their only game. The match burst into life early on, Dom Bhelbonne was played through on goal for the visitors, however Luke Ryan in the home net managed to tip it around the post a corner. From the resulting corner De Montfort broke the deadlock with Numi Ajigbolamu making the most of confusion in the box to tap home.
Minutes later, Bhelbourne made the most of more hesitation in the Derby defence, putting the finishing touch to a great cross from the right-hand side. At 2-0 Derby started to get a foothold in the game, with Nat Smith having a series of curling efforts fly just over the bar. But it was to be De Montfort who would extend their lead, when Nuhi Millington was given time and space to power past the Derby midfield and drive into the box before curling a low shot into the bottom corner. Derby continued to look for a way back into the game and found it in the final minute of the half when they were awarded a penalty following some questionable wrestling at a corner. Smith stepped up and sent the goalkeeper the wrong way to give the home side a glimmer of hope going into half time.
Ultimately the second half was made up of rash tackles and nearly moments for Derby. They saw two shots crash onto the woodwork, including a spectacular long-distance strike from Emmanuel in the dying embers of the game. The Derby Assistant Coach stated a need to improve the "end product" in preparation for their next match, an away fixture against table-toppers Coventry, saying: "We hit the bar twice and missed a header at the back post, that is 4-3 right there". It wasn't to be in the end but the scoreline didn't represent the 90 minutes, leaving plenty of positives for the Derby coaching staff to take from the game. Words by James Earnshaw Pictures by Frankie Guinane