It's one of the biggest games of football on the planet, quite literally. Ashbourne's annual Royal Shrovetide Football event, which takes place between Shrove Tuesday and Ash Wednesday, is shrouded in history that dates back an incredible 900 years.
Even though it's conventional in the sense that the historic fixture is competed by two teams, that is where the usual rules of football are left in the changing rooms.
Instead of 22 players on a field, it's hundreds of people in a small town in Derbyshire.
The plethora of people are split into two teams, known as the Up'ards and the Down'ards depending on which part of the town they reside.
To the outsider it looks like fun and games, but to the people of Ashbourne it means shutting down the entire town and boarding up shops, setting aside friendship and family  as they re-ignite their famous rivalry.
The peace and tranquility of a quiet market town in the middle of a picturesque countryside, shatters into organised chaos once the residents descend upon the kick-off venue, a plinth in the middle of the town's car park.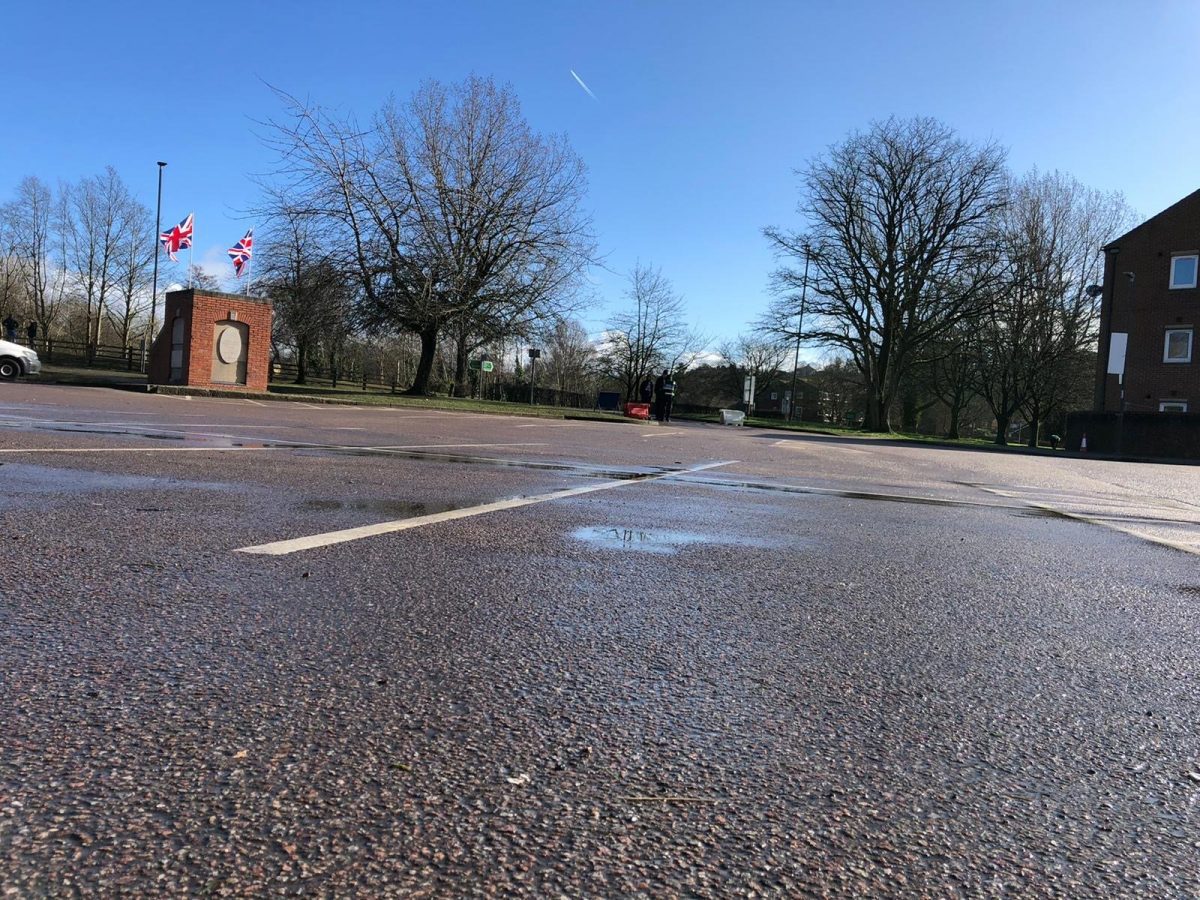 A safety announcement, followed by a roaring tribute to 'Auld Lang Syne' and 'God Save the Queen', signals the beginning of a feisty two days. Once the special Shrovetide ball is hurled from the plinth into the crowd, there's no going back.
In what resembles more of a festival mosh pit than a game of football, both sides scrum together to gain an early advantage and move the ball towards the opposition goal which are an incredible three miles apart from each other.
The aim is to 'goal the ball' by tapping the ball on a plinth three times. After that, a new ball is 'turned up' if a goal is scored before 5pm. If the goal is scored afterwards, play is ended for the day.
Samantha Crane, of the Up'ards, follows her family tradition to take part in the festivities with her father and brother.
"It might look like a bit too much to process, but I love it," she said. "It means more to me than just a game of football, it's family time and that's what it's all about in my opinion. We have done this every year for as long as I can remember."
However not everyone shares the same sentiment. Despite admitting that the occasion is fun to watch, Katherine Chisem states that there are still some problems. She said: "I can't remember coming to this event and not seeing injuries, it happens every year.
"I think participants must be reminded of the rules when something like that happens. All it takes is one mistake for something serious to happen."
Despite Katherine's thoughts, another Ashbourne resident, Adam Waring, thinks that injuries in this event is unavoidable. He claimed: "Its going to happen. As far as I can see, people follow the rules that were explained to us before it begins.
"Injuries aren't intentional, we don't cause damage to properties and we do all we can to preserve what Shrovetide is all about.
"There is no violence, if anyone does get hurt it's either because of a mistake or the adrenaline.
"If anyone does get injured, it's taken care of quickly and carefully. I don't think these kind of incidents take away from what is a brilliant couple of days for everyone involved."
These moments don't stop people attending in their droves, as they battle for the yearly bragging rights before order is restored after the two-day event finishes.
Although this year's game ended in a 1-1 draw, that didn't stop the mood of elation as another year passes on the momentous event.
Read more:
FIFA and Ashbourne Royal Shrovetide football: What is the link?
This is the big change planned for Ashbourne's Royal Shrovetide's historic plinth