There are many fundamental differences between my friend, Kellie, and I.
She loves pan pizza, I love nothing more than decimating it into at least 14, much thinner and crispier, layers.
She's a slow walker, I power forward at the sort of pace which suggests I'm continually trying to break the land speed record.
She lives for music, I wouldn't know a current top 10 hit if it smacked me in the face with its Grammy.
She's American and I'm English, more specifically, a Brummie – quite possibly another form of English entirely.
While some might say these differences are insurmountable, we say our clash of cultures is one of the most fun things about our friendship.
Even if, on occasion, my frankly exquisite selection of witty repartee has been lost on her 'American-English'.
She's introduced me to Thanksgiving and The Dixie Chicks and I've introduced her to The Apprentice and beans on toast (we no longer speak of the latter).
Recently, I decided to introduce her to another English delicacy, and stalwart of the Birmingham Christmas scene – Birmingham's Frankfurt Christmas Markets – known to be the largest and most authentic outside of Germany or Austria.
They are open from 10am until 9pm, each day, and run until December 23.
We travelled, by train, from Derby to New Street Station.
A quick and easy 39-minute journey that dropped us right in the heart of the 'German markets', as they are known locally – a symbol that Christmas has begun in Birmingham for over 15 years.
Now, they are not everyone's 'cuppa tea'.
For some, they represent yet another obstacle on their already tedious journey home.
I told Kellie not to take the glares, shoulder-bashings and audible huffs personally, and to be careful not to slip on the overflowing puddles of disdain.
Lucky for her, she was travelling with a born-and -bread Brummie, skilled in speed-walking and dodging – a fully trained spodger, if you will.
Traditional wooden huts, like fairy-tale gingerbread houses, fill Victoria Square, New Street and the grounds of St Philip's Cathedral, or 'Pigeon Park' to those of us in the know.
Each one is decorated with everything from lights and tinsel to giant plastic snowmen and a Christmas-song-singing moose head.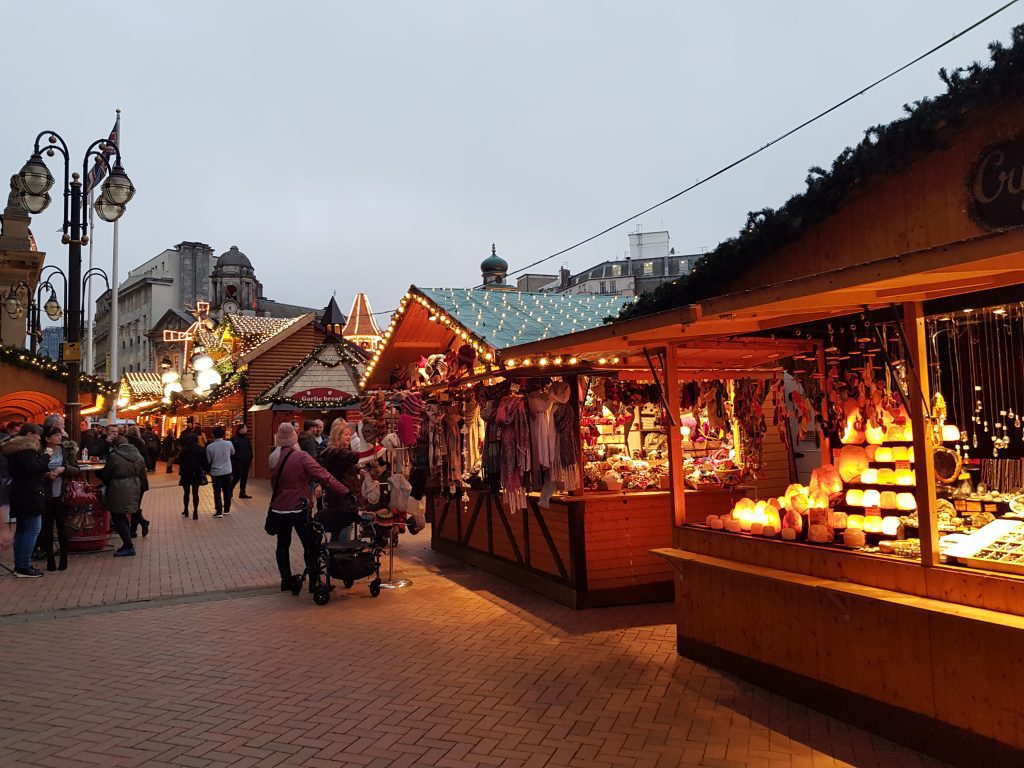 Redevelopment work in the city means there are less food, drink and gift stalls this year, than the over 80 which there used to be, but that doesn't make the experience any less enchanting.
You can still smell chestnuts roasting, incense burning and the sweet flavour of butterscotch coffee beans.
You can still feel sticky tables and the body heat of people it's now socially acceptable for you to stand un-Britishly close to.
You can still hear cliched Christmas songs and bad Elvis impressions playing on a loop, all accompanied, of course, by the odd profanity and ever-present chance of rain.
When the markets originated in Germany, in the 1300's, the traditional idea behind it was one of socialising and community.
Locals were expected to admire gifts, buy presents and then meet friends for a warming drink where they could share news and gossip.
In keeping with this time-honoured tradition, socialising is exactly what we did.
We covered three continents, six countries, 16,488 miles and four accents as we browsed the candles, knitwear, chocolates, trinkets, toys and soaps.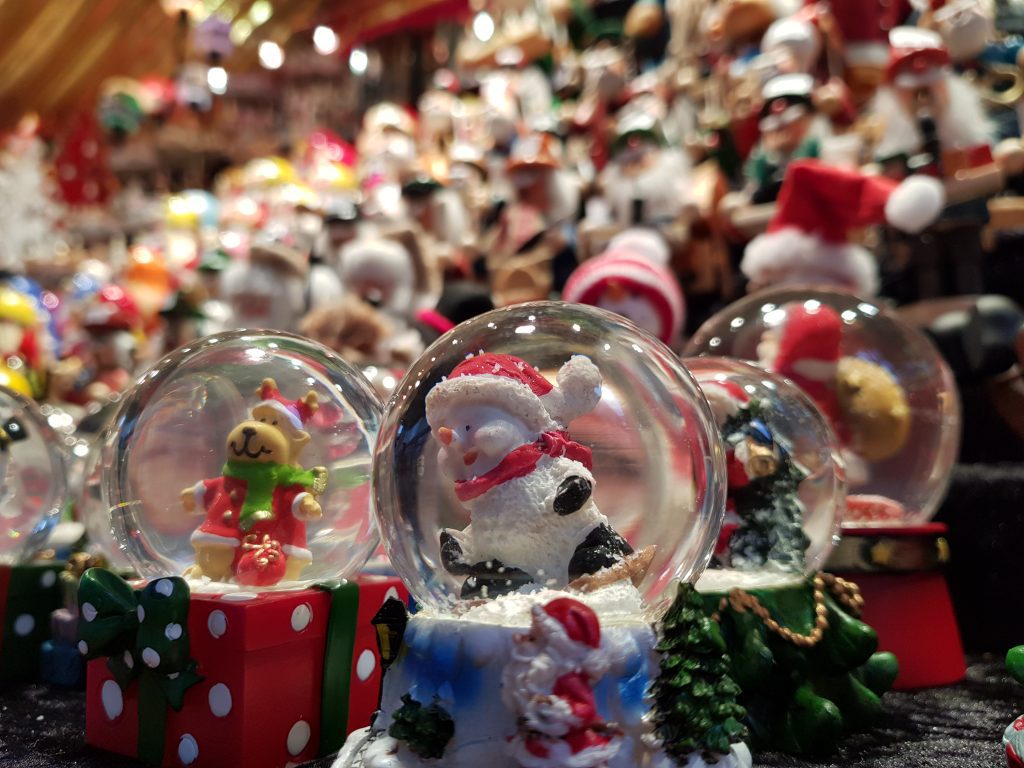 We met Andrei Mihai, 26, from Romania, selling chocolate covered marshmallows.
It's his first time working at the markets and he was pleased to see so many people visiting.
He said: "It is very hard in Romania, the money here is more."
Selling candles and incense with a friendly face, and bubbly personality to match, is Sian Ashby, 38, from Leeds.
One of the things that really stands out to her in Birmingham is the amount of homeless people.
She said: "My main issue with the city is the homeless problem. Specifically, when the markets on, the police tend to move them on quite a lot. That can be really detrimental to them because they might just need ten pounds to get a hostel for the evening. Something more needs to be done because it's really shocking to see how many people there are."
While Sian finds people are always really friendly, she does admit the Brummie dialect is a little harder to get along with.
She said: "It is one of the most silly accents I've ever heard. I do like all accents and it's a good diversity of people but it is like a comedy accent, I must say."
Sian has been working at the markets for three years and thinks the beer is the most authentic part of the whole experience.
She said: "They have German purity laws for the beer, there's no chemicals in it, so less hangovers in the morning!"
While we didn't try the German beer, I did treat Kellie to a Apfelwein, which is a hot apple wine.
She said: "My favourite thing was trying the different types of drinks they have in Germany. It's something I wouldn't get to experience otherwise so that was really cool, and it was delicious even though it was hot."
Travel a little further down the markets and you'll meet Indra, 33, selling oriental gifts.
Indra was born in Spain but grew up in India, where he now works for the ambulance service.
This is his first time working at the markets and he has only kind words for his fellow stallholders.
He said: "I meet a lot of people. It's a really good way to get to know the city because I'm just observing people all day. The people from the markets, it's people from all over the world who have travelled, so it's always interesting conversations, interesting connections and, in the end, you always recognise the same human beings just behind different habits."
However, he doesn't share the same enthusiasm for the markets themselves.
He said: "I'm not a big fan of all the consumerism put around Christmas, so, I don't encourage people to come to the markets actually. If you're coming with a kind-of obligation to fill up your list of things to buy for your family, I see that as more of an expression of anxiety and depression than a moment of joy. I think Christmas is a great way for families to get together but, the fact that it's just been turned into spending money for no reason, I'm not very proud to be encouraging that but I need to make a living."
Working hard to sell his boss' carpentry is Daniel Cunningham, 37, from Donegal, Ireland.
Daniel lives in Malawi for most of the year, running volunteer recycling projects, and uses his work at the markets as a way of funding his time in Africa.
Despite the fact that Brummies seem to be having a hard time understanding his accent, he thinks the city does a good job of recreating the authentic German experience.
He said: "I've been to a few [markets] in Germany, all we're missing is the snow, but it's nice, there's a nice atmosphere here at night-time."
The lights, which look beautiful by day, look magical by night and help to create the cosy atmosphere which draws you in.
As people finish work and crowd around the open bars in Victoria Square, the live music and sounds of people laughing and having a good time bring the city together like no other time of year.
Bumping shoulders with strangers, you get wrapped up in the buzz and excitement.
Daniel also had some advice for people thinking of visiting.
He said: "Just come and sit, listen to the music, relax and get some German sweets. There's plenty of things to do here to make it feel authentic. It's just about being here and being part of it."
Just in case you needed any more proof, it looks like me and Daniel aren't the only ones who think the German markets are an experience to be had…
Now, perhaps, most importantly, what did Kellie think of our day?
She said: "It was way more than I expected. It was really nice seeing all the different little stalls and the pretty lights, listening to the entertainment and hearing people singing. It's really friendly and welcoming and just feels really Christmassy."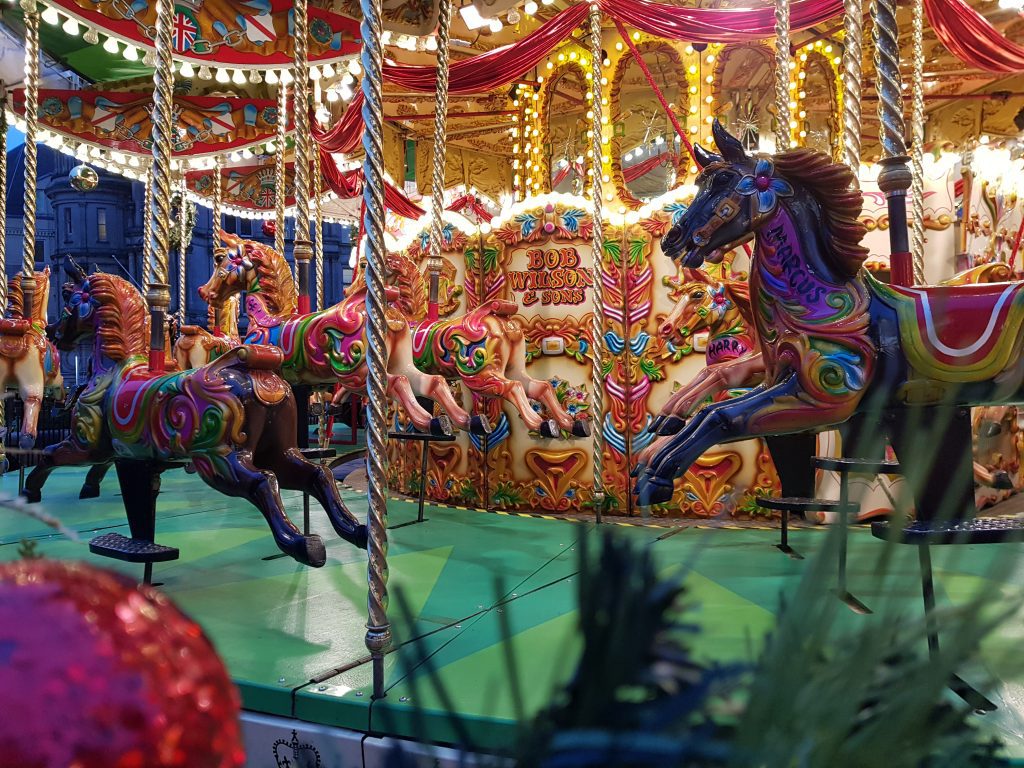 Although, she does admit, the German Frankfurter isn't a patch on the traditional American hot dog.