By Steven Heap
The owner of a popular five-star rated restaurant in Derby is to introduce original food from his home in Sorrento to help carry on the success. 
Café Villabella was opened in September last year by Marcello Perretta after the success of his other city eateries Caruso Café Boutique and Grand Café Caruso. 
Already the venue, situated in Babington Lane, has received praise from its visitors on TripAdvisor for its warm and welcoming atmosphere and range of lunch items. 
The restaurant currently serves a selection of cakes, pastries, sandwiches and baguettes alongside the world-famous Lavazza coffee. 
Now Marcello's plan is to extend the menu to offer diners the kind of original Italian food that he and his wife, Sarah, would typically cook at home thanks to a new kitchen at the venue.
Café Villabella in pictures
He said: "I'm a very good cook, as is my wife.  
"We know what we are going to do. People will be stunned by the freshness and originality." 
It is Neapolitan and Sicilian immigrants that first brought Italian food to the world, but over time it has become somewhat diversified as it has travelled.  
Marcello says his Sorrento origin means he has the knowledge and expertise to create authentic Neapolitan cuisine, such as pasta dishes, bolognese and tapas. 
He describes his vision as a "wow factor" where nothing will be over-elaborated, everything will be very simple and very tasty. 
Having been in the industry for almost 30 years, Marcello believes that opening Café Villabella is the apex of his career.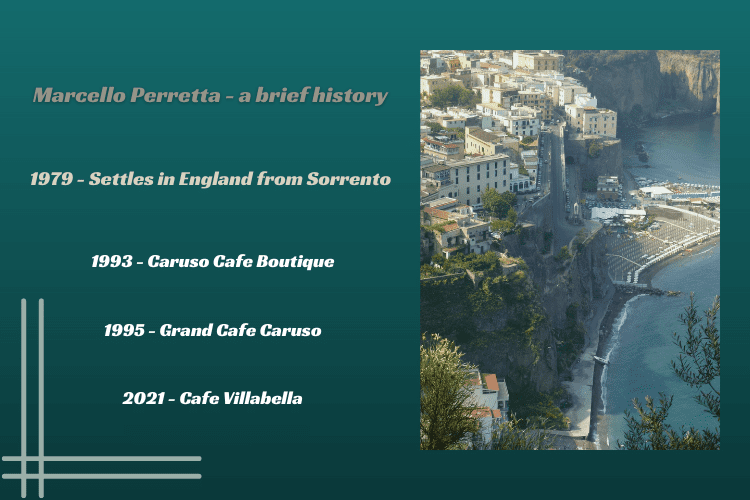 But the project took a long time to come to fruition as the premises were first secured back in 1999 and the building was in a very bad state. 
Marcello undertook the task of refurbishing the building by himself, learning how to weld, work with MDF, lay cabling and plaster.
To gain inspiration for both the exterior and interior, Marcello had travelled back home to Sorrento so he could interpret what he saw and bring it to Derby.
Everything has been hand-made including the chandelier and every single detail right down to the vase on the tables has been placed with a vision. 
"We are in this for the experience, this is what gives me the kick," says Marcello. 
"To see people's faces and to be in a place that is captivating."