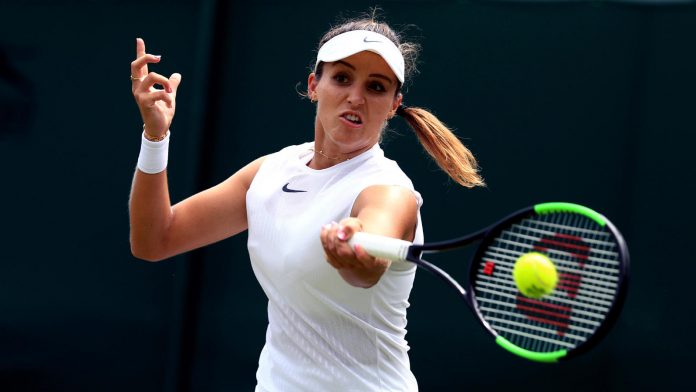 Laura Robson has retired from tennis aged 28 following a collection of injuries.
The prodigy, who rose to 27 in the world ranking, won junior Wimbledon at the age of 14 as well as an Olympic silver medal at 18.
Wishing @laurarobson5 good luck in her next chapter pic.twitter.com/7CNlxil1Bz

— LTA (@the_LTA) May 16, 2022
After reaching the fourth round of the US Open in 2012, Robson picked up her first injury with a damaged wrist.
Injury setbacks became more common after that, with three hip operations in recent years being the most prominent.
"I went through every possibility of rehab and of surgery," Robson told BBC Sport.
"I had another hip surgery and probably did the best rehab block of my life – and then the second time I hit (the ball), I just knew. It feels weird to say out loud, but I'm done, I'm retired."
Robson was named the WTA Newcomer of the Year in 2012 as she beat Grand Slam champions Kim Clijsters and Lia Na in the US Open.
She also reached her only WTA final in Guangzhou becoming the first Brit to do so for 22 years.
Laura Robson 🇬🇧

Retiring at 28 as an Olympic silver medallist and a junior Wimbledon champion. Sadly beset by injuries but continued success in media work to come I am sure! pic.twitter.com/PS0LEcW0IW

— Tommy (fka WTA Appreciation) (@WTAPlayerFan) May 16, 2022
Robson partnered with Andy Murray to win a silver medal in the mixed doubles of the London Olympics. It was close to being gold, but Victoria Azarenka and Maz Myrni won the deciding tie-break 10-8 on Wimbledon's Centre Court.
"It's a shame to see such a talented player be forced into retirement," Rayleigh Lawn club tennis coach Joseph Beeching told StoryHub Derby.
"We've had players at our club who have been halted by injury, it's never nice to see, especially when they're as big of a talent as Laura Robson."
Robson has hinted at taking up a role in punditry following her retirement.