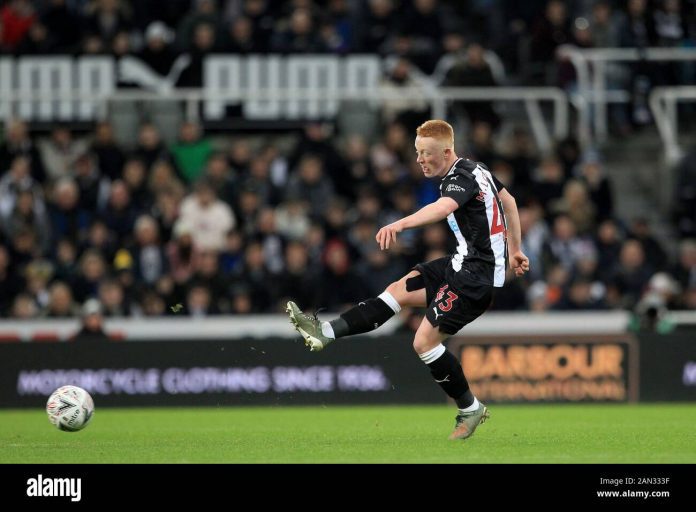 Mansfield Town midfielder Matty Longstaff hailed the Stags' supporters in the club's hard-fought 2-2 draw with Forest Green Rovers on Saturday.
The on-loan man netted the hosts' opening goal against the Sky Bet League Two Champions, before midfielder Ebou Adams hit back for the visitors in the 64th minute at One Call Stadium.
Mansfield's play-off status was confirmed after Forest Green sub Josh March cancelled out Jordan Bowery's 78th minute notch which moved Stags' 2021/22 points total to 77 to secure a seventh place finish.
Longstaff said the supporters played a key role in the contest. "They're the 12th man, they've been great for us," he said.
"[At] 1-0 up they were cheering. Even when we conceded they were behind us and when we [went] to 2-2 they were still behind us.
"They're big for us and I think next Saturday they're going to come and make a lot of noise and back us. They'll hopefully come down again and give us a big push; hopefully we can put on a performance for them."
The 22-year-old opened the scoring in Mansfield's final game of the regular Sky Bet League Two season after latching onto Jamie Murphy's drilled pass into the box to finish past Forest Green 'keeper Luke McGee.
"Murph's [Jamie Murphy] got the ball and he's got great vision, he runs with it well, once he cut inside [I've] just tried to run off the blind shoulder [of the opposing defender]," he said.
"I think it [the ball] bumped into Bowery but it fell to me and then with a bit of luck after the 'keeper saved it, it came back to me.
"It was just good to get the first goal and calm us down a bit.
"Forest Green are a top team, they've won the league for a reason. They were always going to be a threat and I thought we did well. Obviously, it was a bit nervy, but we got through in the end."
The Newcastle United man says he is relishing the opportunity to play in a high-stakes occasion like the play-offs.
"That's what you want, you want to play in the big games and have an impact so I'm looking forward to it," he said.
"There are top players here and in training every day the standard is high, the quality is high and I think that only helps when we come to Saturday.
"Since I've been here it's been great, and we've got a tough game against Northampton [Town] coming up but me along with all the coaching staff believe that we can win it. We're really looking forward to it.
"In the play-offs anything can happen, for us we'll just concentrate on ourselves and just do what we do well. I'm sure if we do well enough and play as a team, then the outcome will hopefully go our way. [We're] looking forward to it and hopefully we can get another sell out like today."