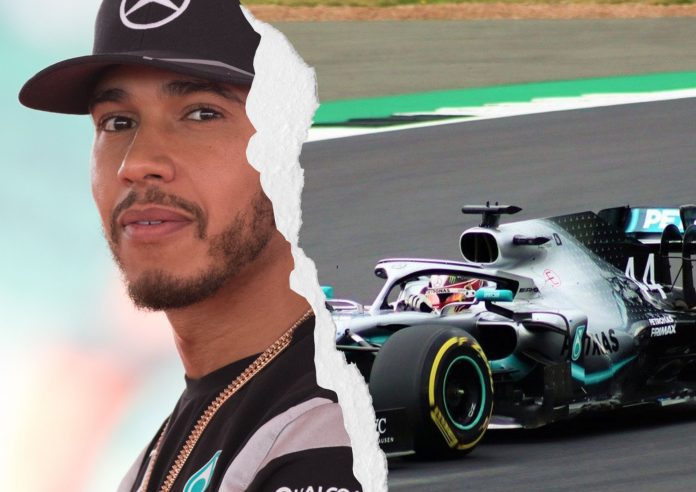 It's been a turbulent beginning to the 2022 Formula 1 season for the seven-time world champion Sir Lewis Hamilton.
After challenging for what would have been an historic eighth world championship last year, only to be denied so cruelly in agonising and controversial circumstances, the Mercedes driver has suffered a dramatic fall from grace.
The Brit has only stepped on the podium once in five races this campaign and is currently 23 points adrift of his new teammate George Russell, who has finished ahead of Hamilton at four of those events.
Reports have been swirling around social media that the Mercedes man may be about to hang up his helmet, which have been refuted by Hamilton, and here at StoryHub, we decided to rank his 15 full seasons from worst to best.
15th: 2011
It might not be reflected in the stats, but 2011, Hamilton's fifth year in Formula 1, was the Brit's most difficult in the sport.
His teammate Jenson Button guided the McLaren car to – an albeit distant – second place in the Championship behind Sebastian Vettel.
Hamilton never stood a chance of fighting with Vettel's dominant Red Bull car but finishing 43 points behind his teammate with just one retirement more meant 2011 showed the biggest deficit he has had to a direct rival in his 15 years in the sport.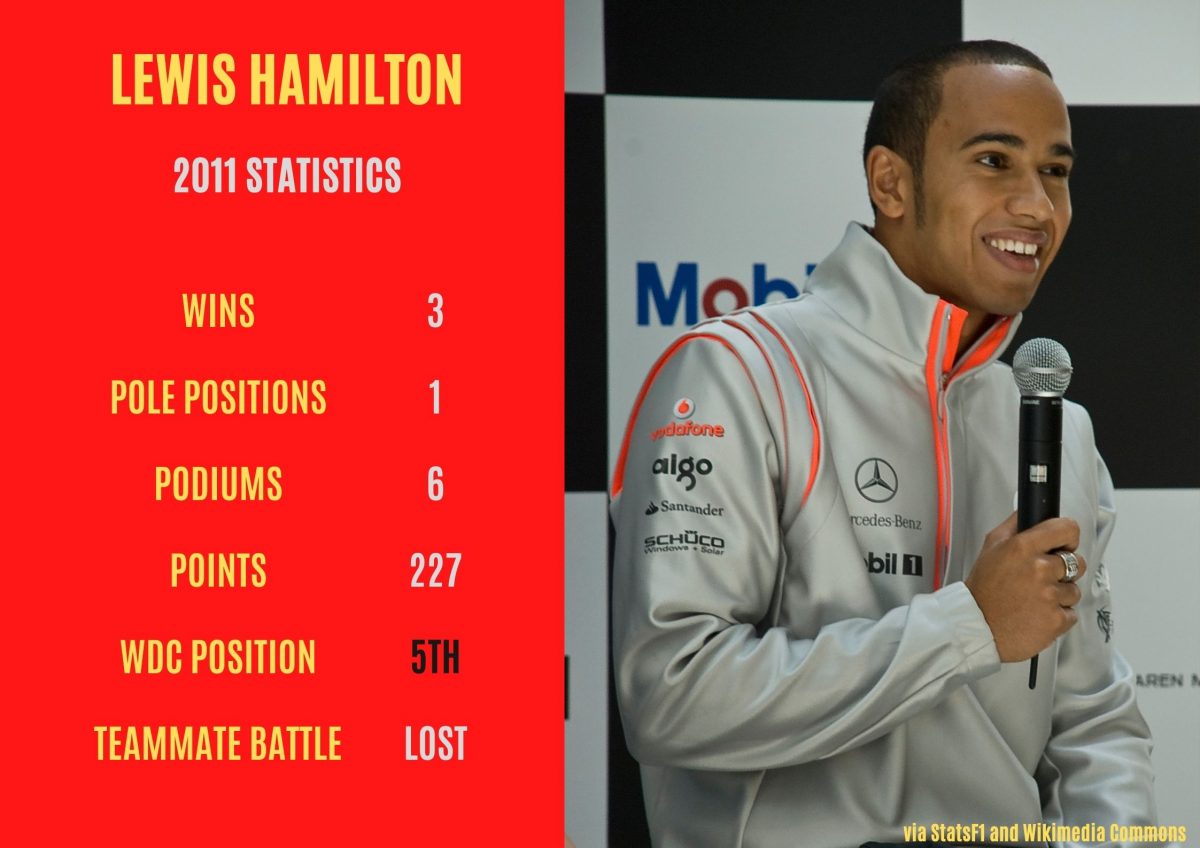 14th: 2009
You must go back 13 years to find a season in which Hamilton endured such a difficult beginning.
Being the reigning world champion at the time, he arrived in Australia to find himself in a car languishing at the back of the field and unable to get through the second round of qualifying.
After a heroic drive to get his McLaren on the podium, Hamilton was disqualified following a dispute over safety car infringements.
The season would pick up from there, with Hamilton winning in Hungary and Singapore, but the Brit spent a lot of the opening races stuck in the midfield or lower, miserably finishing 16th and a lap down in his home race at Silverstone.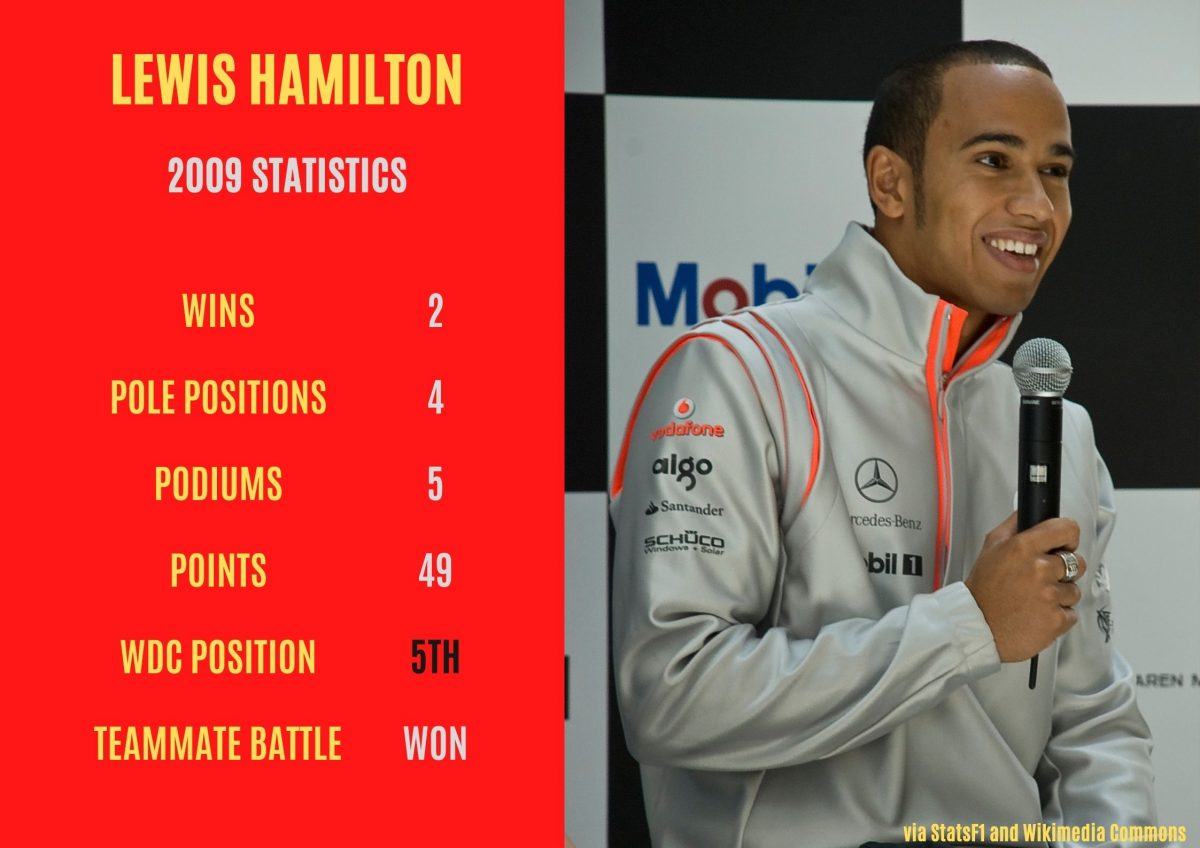 13th: 2012
In what would prove to be his final year at McLaren, Hamilton would be left ruing a series of pit stop blunders that cost him vital points early in the season.
2012 is widely regarded as one of the most gripping modern campaigns in F1, with Sebastian Vettel and Fernando Alonso duking it out for the title in a thrilling finale at Interlagos, but Hamilton finished a measly fourth in the standings, 91 points adrift of Vettel's winning total.
He did, however, beat his teammate Jenson Button by two points and memorable wins in Montreal and Monza meant this season was far from the disaster that the previous one proved to be.
Hamilton ultimately finished 11 points ahead of Mark Webber, who was in the championship-winning car.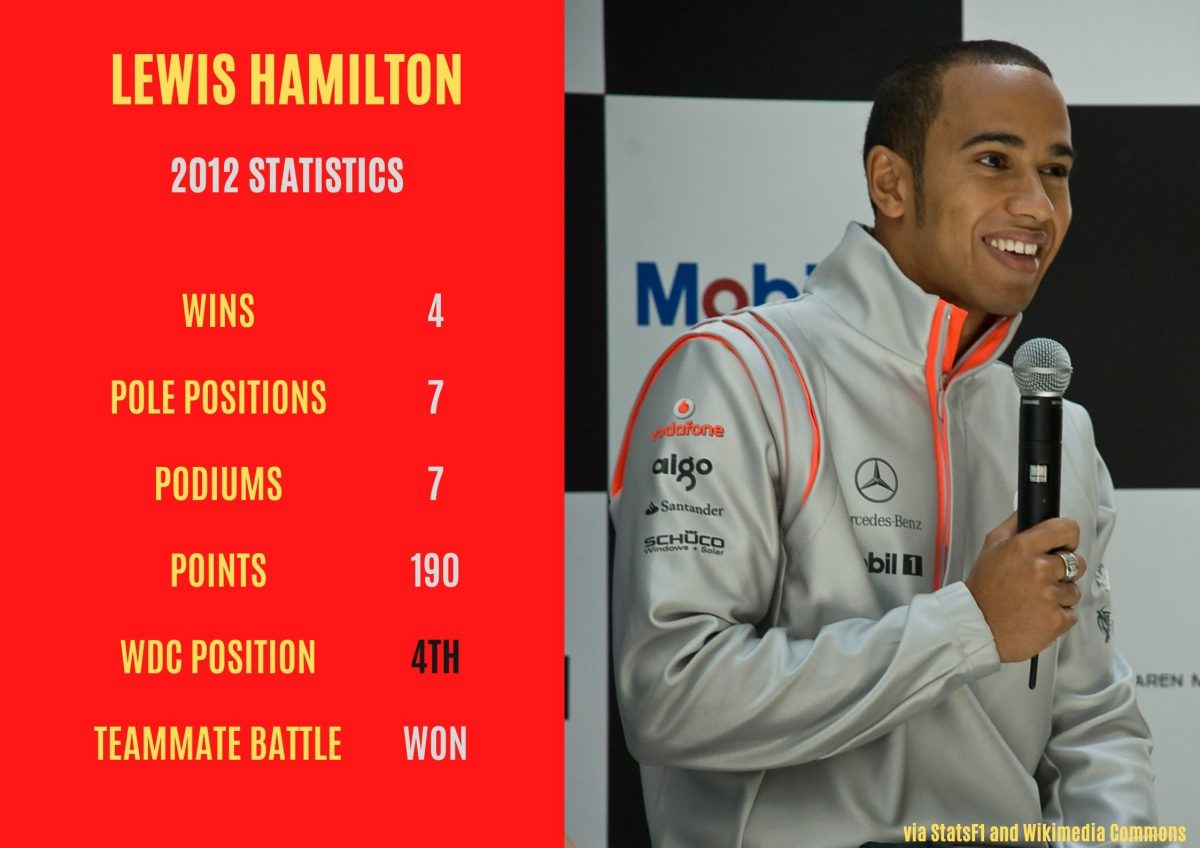 12th: 2013
Hamilton's first year at Mercedes was intended to be a developmental year for both team and driver, as he was reunited with his old karting pal Nico Rosberg.
Brand new regulations were coming into force the following year, meaning major developments to the 2013 car were not hugely cost-effective, with attention quickly shifting to developing the 2014 concept.
He claimed fourth in the drivers' championship once more, a major improvement for the team whose drivers could only ninth and thirteenth the season prior.
A solitary win in Hungary was a huge relief for Hamilton, who maintained his record of finishing on the top step of the podium at least once in every season he contested, but in reality, all eyes were on 2014.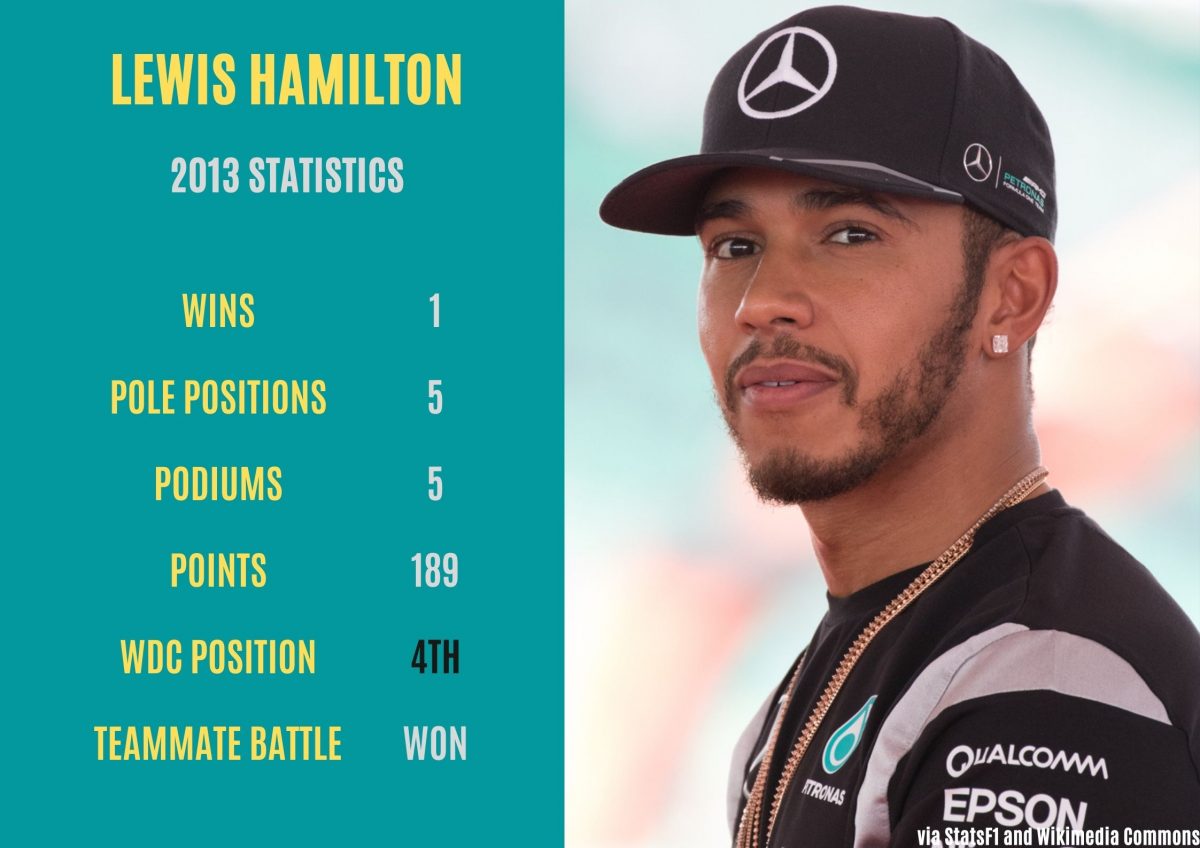 11th: 2010
After a turbulent and troublesome 2009, Hamilton was back and ready to challenge for the championship again.
The car could challenge at the front, and after finishing on the podium in the season opener in Bahrain, the McLaren driver would've hoped for a strong result in Australia.
In Melbourne, Jenson Button confirmed the team's potential and ambitions for the season by winning the race in mixed conditions.
Hamilton however could only manage sixth after a late collision with Webber, ultimately seeing the chequered flag half a minute behind his teammate.
Hamilton took fourth in the championship, but such was the even nature of the grid in 2010, he was only 16 points adrift of Sebastian Vettel, picking up three race wins along the way.
10th: 2017
Despite taking the World Championship in seven of his 15 seasons, there are some Lewis Hamilton title campaigns that fall below the standards he set in other seasons.
2017 is one of those, because in the first half of the season, it looked as though there may not be a title on the way.
Sebastian Vettel and Ferrari looked to be a deadly combination; however, the team's development was incomparable to that of Mercedes.
Hamilton eventually took the title with two races remaining in Mexico, finishing fifth and a lap down.
A great milestone was achieved in matching Sebastian Vettel and Alain Prost as a four-time world champion, but this drivers' title cannot be filed under the category of dominant.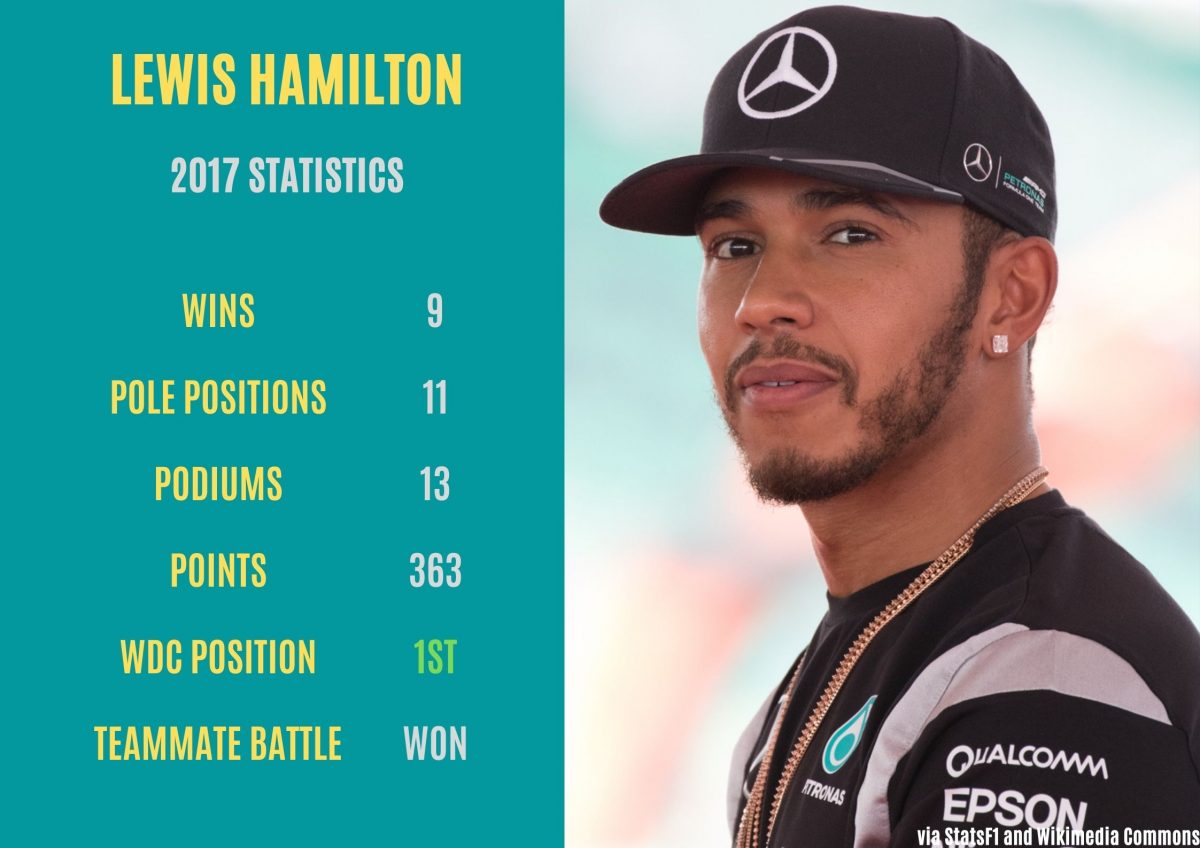 9th: 2016
After winning out in the inter-team rivalry for three consecutive years, it was imperative for Hamilton to get off to a great start to 2016 to reinforce his dominance over Nico Rosberg.
Quite the opposite happened, as Rosberg took victory in the first four events, opening up a staggering 43-point lead so early in the year.
Neither driver would score points in round five in Barcelona, as the season's biggest flashpoint saw the Mercedes men spectacularly crash with each other on the first lap.
Hamilton fought back, hard, winning six of the next seven races, and all of the final four events, but his resurgence came one race too late, missing out on the Championship by just five points.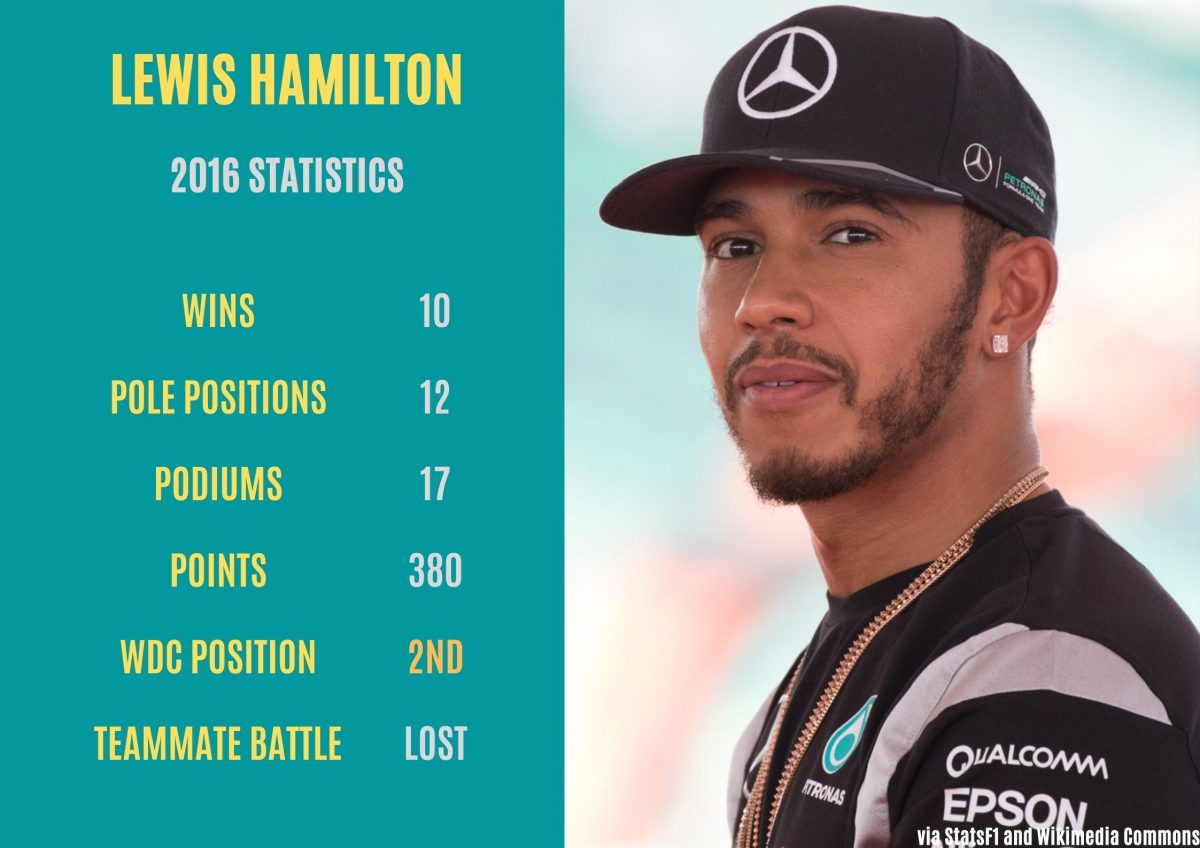 8th: 2016
Hamilton was setting remarkable standards for himself from early on in his career, and in 2008 he took his first World Championship in just his second F1 season.
Coming off the back of a painful end to his rookie season, Hamilton arrived in Australia and took a dominant victory in a constantly-disrupted race.
At this point, he had the world at his feet, but his form tailed off from there, as Ferrari fought back with their pairing of Felipe Massa and Kimi Raikkonen sharing the race wins at the next four events.
Hamilton had to dig deep, and he did so, taking a stunning victory in a very wet Monte-Carlo before taking back-to-back wins at Silverstone and Hockenheim.
This one went down to the wire, and as late as 200 metres before the final braking zone in the final race in Brazil, the Championship belonged to Massa.
Hamilton overtook a struggling Timo Glock and was a World Champion for the first time in dramatic fashion.
7th: 2014
When it became clear in the race-simulating practice runs at the beginning of 2014 that Mercedes had a decent advantage, Hamilton slipped seamlessly back into World Championship mode after three seasons of not contesting for it.
The new regulations meant the Mercedes package was utterly dominant, with its cars or cars it supplied taking pole position at every event.
Now was the time for Hamilton to assert his dominance over Nico Rosberg, and he did so emphatically with a final margin of 67 points in his favour.
We didn't realise it back then, but this title would be the second of many, as Mercedes continued to improve on its leading concept under the hybrid regulations.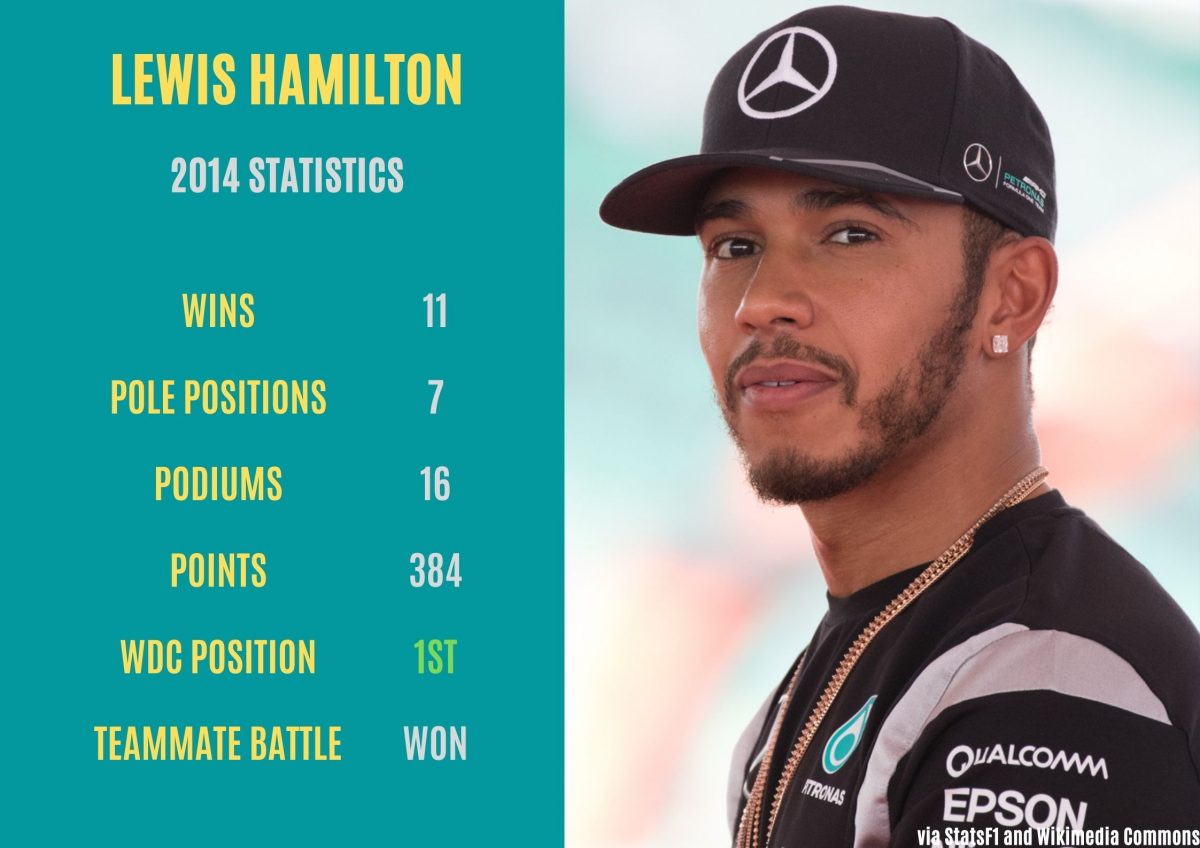 6th: 2015
That dominance continued into 2015, with Mercedes again winning all but three races.
This time around, Hamilton wrapped up the title at the fourth-to-last event in Austin, Texas, which was a chaotic wet race with spins, mistakes, and safety cars, and in passing Rosberg with just eight laps to go, the third title was secured.
The foot naturally came slightly off the gas, and Rosberg took victory in the final three races in Mexico, Brazil, and Abu Dhabi, but by then, the 76-point deficit was abundantly insurmountable, with the final winning margin sitting at 69 points.
This was now the third season in succession that Rosberg had finished behind the Brit, and there was now a real sense of authority Hamilton had imprinted both within the team and within the sport.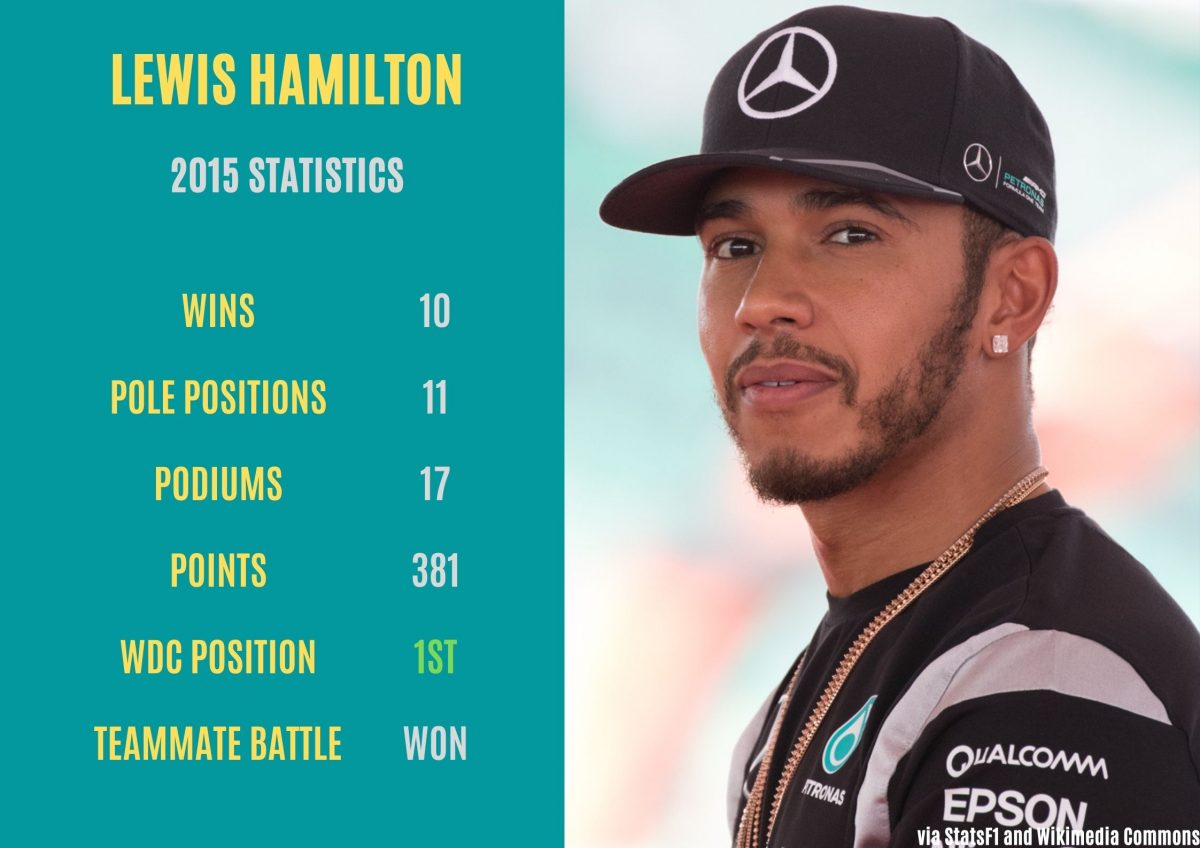 5th: 2021
Putting aside any recency bias, it's not unreasonable to suggest that last season saw Lewis Hamilton performing at the absolute peak of his performance.
He might not have won the championship in 2021, but putting up such a stern fight against a fearless young terrier like Max Verstappen is no mean feat.
Hamilton took victory in the curtain-raiser in Bahrain in what was widely recognised as not the fastest car and put on an immense end of season charge to chip away at Verstappen's points advantage.
There must be alternate universe where the controversial events of Abu Dhabi occur slightly differently, and if that was the case, then we could be looking back at Lewis Hamilton's 2021 season in completely different terms.
4th: 2018
2018 followed a similar pattern to 2017, in that Ferrari won the first two races meaning Hamilton had some catching up to do.
However, this fails to paint the whole picture. The Mercedes driver took pole position in the opening round at Albert Park by a whopping 0.667 seconds, which is a lifetime in Formula 1, only for his race to unravel after an unfortunately-timed virtual safety car gifted Sebastian Vettel the lead.
At the second round, Vettel took victory again with Hamilton's teammate Valtteri Bottas putting him under extreme pressure, but Hamilton was out of the picture for the win after a first lap tangle with Max Verstappen.
The turning point was in Germany, as Vettel, who had the chance to build a big points lead, crashed into the wall in mixed conditions, while Hamilton, whose car ground to a halt in qualifying, mastered the conditions to take the chequered flag first after starting 14th.
The Brit then went on to cruise to the title with an 88-point gap back to second place.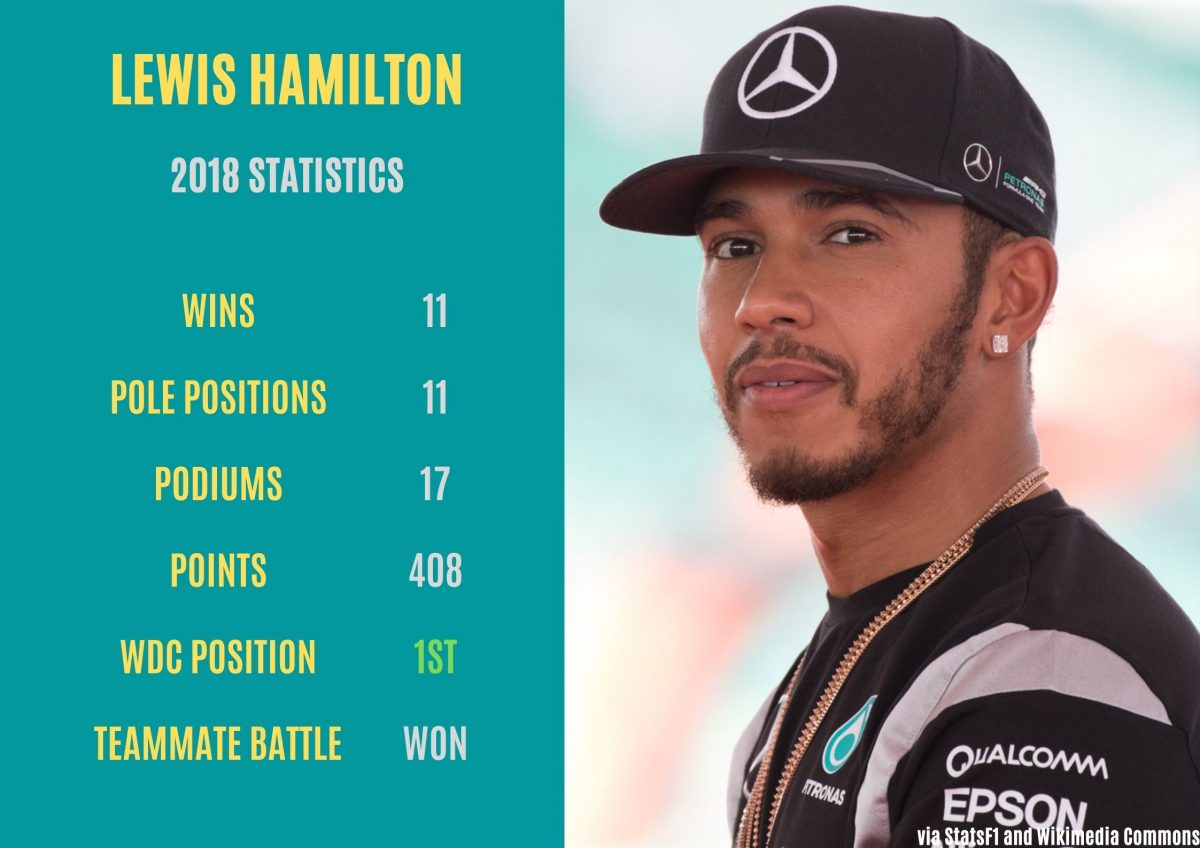 3rd: 2007
It's perhaps surprising that a non-title winning season should appear so high up this list, but as rookie F1 campaigns go, Lewis Hamilton's debut bow in 2007 was one of the all-time greatest.
From the very first corner in round 1 in Melbourne, where he overtook Robert Kubica and reigning World Champion teammate Fernando Alonso, it was clear that Hamilton had something special.
The wonderkid finished on the podium and led some laps of his first race, before going on to score nine podiums in his first nine events, picking up wins in Montreal and Indianapolis.
The Brit rued the team's call in China to leave him out on old tyres in changing conditions, which led to him spearing into the gravel when entering the pit lane, meaning the fight for his maiden title continued into the final race in Brazil.
Hamilton qualified second, but a shaky start, with a desperate move on his teammate that went wrong, saw him tumble down the order, and after recovering well, a software glitch that lasted for just half a minute put paid to his title ambitions, as he came home seventh and a lap down.
Crucially, this meant the rookie finished just one point behind eventual World Champion Kimi Raikkonen.
2nd: 2019
2019, to this day, is the season in which Lewis Hamilton accumulated the most points in a single year.
413 was five more than he achieved in the year prior, which was a dominant season in its own right.
Despite finishing over 20 seconds adrift of his teammate in the season opener in Melbourne, which sparked speculation that Bottas could finally challenge for Hamilton's crown, the British driver wiped the floor with his Finnish rival, taking the title by a whopping 87 points.
The reason this season was so impressive on Hamilton's part, was that there were plenty of races where the Mercedes was not the fastest car on the track, evidenced by his rather measly five pole positions.
This is where Hamilton's experience of so many title battles counted, guiding his team on strategy and development to maximise the race pace of the Mercedes.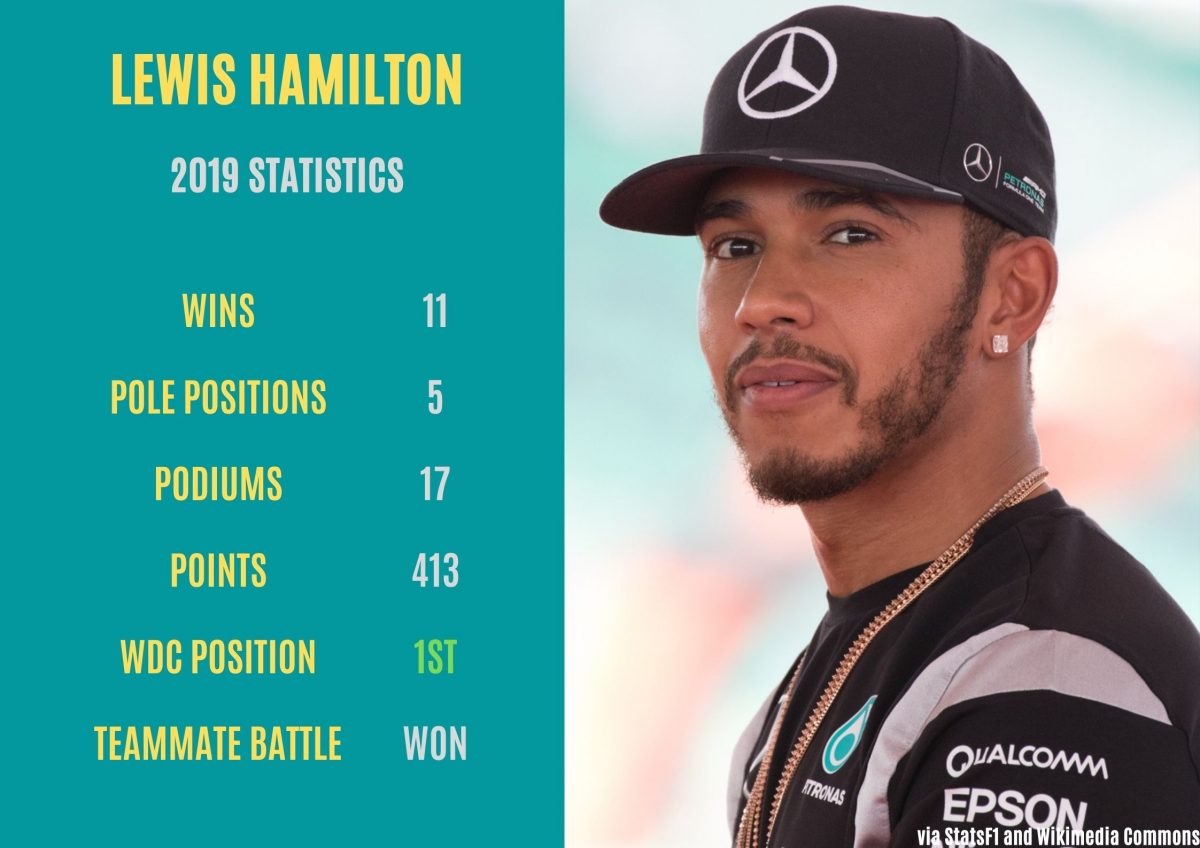 1st: 2019
The COVID pandemic began to strike at its ferocious worst just as the 2020 F1 season planned to get underway, meaning teams had travelled all the way to Melbourne to be told at short notice that there would be no race.
F1 got to work and devised a shortened calendar of just 17 races, in which remarkably Lewis Hamilton accumulated 347 – an average of 21.7 points per race – despite missing the Sakhir Grand Prix after testing positive for the virus.
It was because of this this dominance that he scored more points than the second-place team, Red Bull Racing, meaning Mercedes could've won the Constructors' Championship if teammate Valtteri Bottas had scored no points.
At this point, there was an inevitability that if Lewis Hamilton was coming up behind you, he was overtaking you. No ifs, no buts.
The margin of victory was his greatest to date: 124 points, which if you extrapolate to a 23-race season which F1 has now, would equate to a margin of 197 points.