By Kurt Bigg
Chesterfield manager James Rowe is expecting a tense game when FC Halifax Town travel to the Technique Stadium on Tuesday for a big game in the National League play-off picture.
The Spireites and the Shaymen occupy seventh and sixth place respectively and the latter are looking for a play-off place for the second consecutive season.
Rowe said: "They have been in this league position for the last two years for a reason. They have recruited well again, and they are looking to get that play-off place like us.
"It's no different. We are in exactly the same position with a couple of games in hand and they come to our place first. We go to theirs on the last game of the season.
"They are going to have confidence because they have been on a good run themselves for the past few months. It's going to be a tight affair.
"I wouldn't imagine there are going to be many goals if a team wins it. We are looking forward to it though. We know what's coming."
Rowe has taken Chesterfield from third bottom into the play-off picture in five months. However, injuries are starting to derail that push – with top scorers Akwasi Asante and Tom Denton's seasons over.
Curtis Weston was also forced off with sore achilles in the second half of the Bromley game on Saturday. Chesterfield lost 2-1 to Bromley at home, ending a six-game unbeaten streak.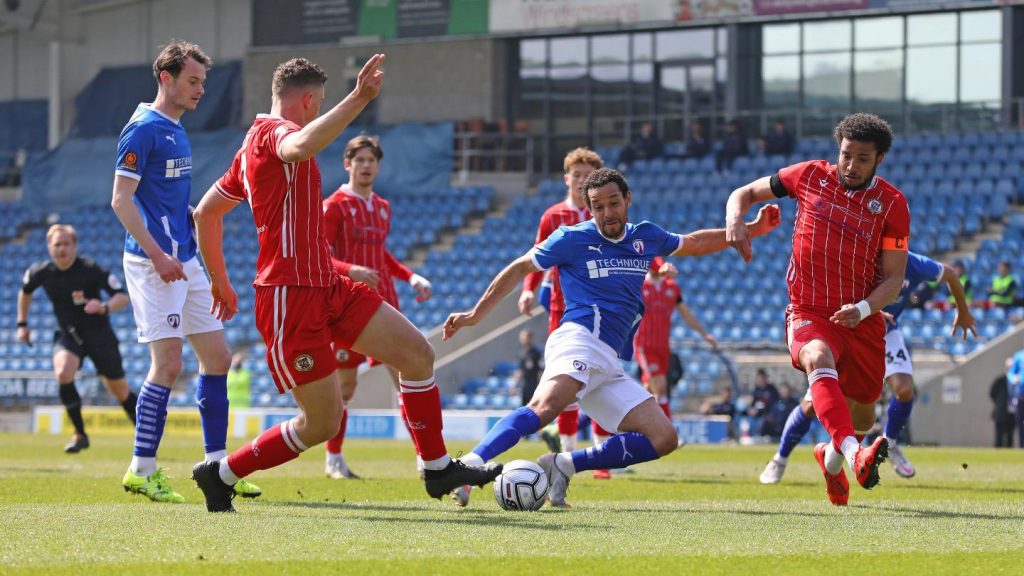 "[Curtis] is sore," Rowe said: "We'll see how he gets on over the next 24 hours. He's going to be sore for a little while. We've got to manage it whether he can play, how long he can play for and make sure when he's in that high-risk zone, we have to manage it.
"The longer injuries we've had have been freak ones. You'd expect to get one injury a season or every 18 months. We've had three in five months which has been so unlucky. I feel for all three lads."
The Spireites have 10 league games left to secure their play-off place and still have to play Halifax, Bromley, Wrexham, Torquay and Hartlepool – all of which are in and around the top ten in the National League.
However, Rowe believes that they are well on track to meet their targets and they are ready for the tough run-in ahead.
"We've rolled our sleeves ready for this period now. We know we are facing some top teams in these next three weeks," he stated.
"Then perhaps the fixture list eases off a little bit with teams lower in the table again. We've got to accumulate as many points as we can in this next couple of weeks.
"We are well on track for our personal target that we have got inside the building. We're well on track. We are beyond what we expected to be at this stage of the season."
To hear what James Rowe had to say in the pre-match press conference click the video below: