After securing his tenth world title, Vic Barnett explains just how hard it was to finally achieve his long-term goal, and what the future holds for himself on and off the bike.
On the 29th November Vic Barnett lined up to compete in the World Masters Cyclo-cross Championships in Mol, Belgium. Knowing this could potentially be his tenth world-title, Barnett was confident having just come off the back of a European Championship win over in Italy. 
The champ is at it again.

Gold for Vic Barnett in the European Cyclo-Cross Championships over in Italy.

One proud Grandson right now. pic.twitter.com/0azNrDhpSw

— Ross Barnett (@RossBarnett5) November 9, 2019
Now retired at the age of 74, Barnett has had a tough year with constant injuries denting his training regime, but sheer determination carried him through his two key events this year. Earlier in the year he had made it clear in another interview that the tenth world-title was the ultimate goal, and that after that he would reassess what his options were.
"I'm not getting any younger and I know that my body can only take a certain amount of beating up before it gives in, so I have to be careful no to over do it sometimes."
Everytime I think he's peaked, somehow he takes his success to another level.

Vic Barnett claimed his tenth UCI World Masters Championship today, over in Mol, Belgium.

Another rainbow jersey to add to the collection. 🌈#WORLDCHAMP pic.twitter.com/xjOxTVtdiw

— Ross Barnett (@RossBarnett5) November 29, 2019
"I knew what my goals were as I set them out at the start of the season. My injuries did really set me back, to the point where I couldn't walk. This therefore had a massive effect on my training but also my mental state as well, thinking that I wouldn't have got in enough miles over the year to compete for medals at either the Europeans or the Worlds."
His son Dean Barnett, aged 50, also expressed his concern over how his father's fortunes could have turned out much worse due to recurring injures, but that securing his tenth title is something really special:
"This winter has been quite a challenge with the weather in the UK. The courses therefore have been really soft and muddy which has meant lots of running which I know dad struggles with now."  
"To get his tenth title though is outstanding, and I think it has been a goal and a passion of his since he won his very first world title at the very same course he won at recently."    
Barnett's wife, Ann Barnett, aged 73 and also retired, expressed just how proud she was at Vic's phenomenal achievement:
"It's a very special moment for our household. If you had asked me a year ago would he win this race I would've outright said no due to bad health, so yes, I'm very proud. Hopefully that'll be it now and he'll slow down a bit!"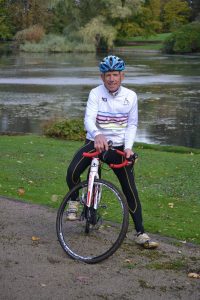 Barnett is due to go in for knee surgery in the coming months, which is one key factor as to why he feels this could be the last year he ever pulls on the famous rainbow jersey. 
"We'll have to see how that goes, hopefully if it goes well I'll only be out for a few months, but if not then I might be struggling to be fit for this time next year, so time will tell."
Vic now has time to relax before Christmas, and in the New Year he can get back to what he does best, health permitting.
 If you want to see Vic's top five countries to race in, click here.  
And if you want to find out one of the key reasons behinds Vic's success, click here.