Haverhill's Screwfix store works with Screwfix Foundation to raise money for local charities and communities in need of sport.
This time, Screwfix Haverhill organised a charity football match between staff and trade customers.
We will be bringing you the latest from the Haverhill New Croft, where the match is taking place.
For all match updates, follow our live blog down below.
19:00: djbdjhklhdklhfkadskhfkaslhlkdhklfhdkshkhakslhklhfkddklddskabasdlakjdksdjdhsakss
Family first – reaction
The event is all over and with that another great fundraising event ran by the Screwfix Foundation.
A shout out to the Hemmings family who all got on the pitch today in the name of charity, Billy, Jim Sr, Jimmy Jr, Riley all came on for the staff team and all scored bar Billy. They've all made a point of letting Billy know that even Riley score, he's 11.
But it's an event for everyone to celebrate and another success for Screwfix Haverhill.
CAN YOU FIX IT? YES WE CAN.
Father and his 3 sons, Our team might of lost the big charity match, BUT guess who scored, The oldest man on the pitch who refuses to grow up ❤️

Posted by Jim Hemmings on Sunday, 24 November 2019
18:50: djbdjhklhdklhfkadskhfkaslhlkdhklfhdkshkhakslhklhfkddklddskabasdlakjdksdjdhsakss
Full-time: Customers 8-6 Staff
Well what a game and what a night. The game finished 8-6 to the customers who will take the bragging rights but it's all about the just under £400 raised for Screwfix foundation. This money will all go towards:
Improving local facilities

Maintaining community buildings

Repairing damaged properties
My man of the match is going to a player on the losing team – Shane Gambin grabbed a hat-trick and was the focal point going forwards for the staff team.
Gambin: "Lots of people have come today, hopefully we can make it a yearly thing."
17:45: djbdjhklhdklhfkadskhfkaslhlkdhklfhdkshkhakslhklhfkddklddskabasdlakjdksdjdhsakss
Half-time – is it time for Hemmings Sr?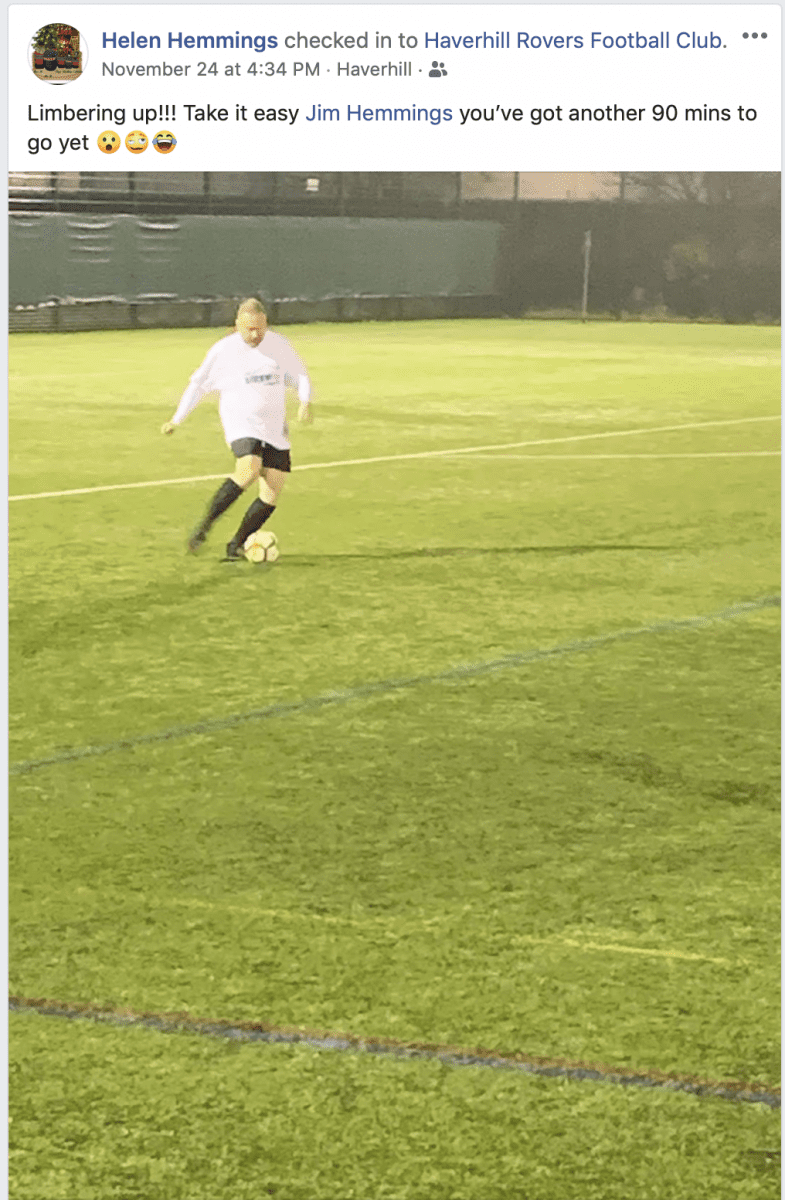 Wow. It's half-time and it's 5-3 to the trade customers. What a half, proper charity football. Hemmings Jr regained the lead for the staff before a late first half romp took the customers into the lead at the break.
How will the staff team turn it around? Well, Hemmings Sr looks 'limbered' up ready to come on and his experience could make the difference up top.
If Hemmings Sr does come on – we will be a Riley Hemmings appearance away from the whole family being on the pitch.
"You've got another 90 mins to go yet"
17:20: djbdjhklhdklhfkadskhfkaslhlkdhklfhdkshkhakslhklhfkddklddskabasdlakjdksdjdhsakss
VERY, VERY lively start
And in the first 20 minutes it's 2-2. Not what we expected but early on Shane Gambin grabbed two impressive goals for the staff team before two swift replies from the customers brought it back level.
Like most charity games there a few questionable passes and shots cropping up but the standard is good. It will be interesting to see whether the staff can keep up the good tempo.
Impressive start from Gambin though, keep an eye on him.
16:55: djbdjhklhdklhfkadskhfkaslhlkdhklfhdkshkhakslhklhfkddklddskabasdlakjdksdjdhsakss
It's nearly time
The man in charge, Branham Ince, is with the captains in the middle for the toss.
Trade customers win the toss and will kick-off very shortly. Players from both sides are out and ready for the charity match to begin.
There are no live odds for this one but with several ex semi-pro players in their squad – maybe the trade customers edge it – can the staff keep it tight? Can they last a full 90 minutes?
16:45: djbdjhklhdklhfkadskhfkaslhlkdhklfhdkshkhakslhklhfkddklddskabasdlakjdksdjdhsakss
Is that… the Wealdstone Raider?
Nope, he didn't turn up, I'm sure he was too busy fighting Tyson Fury but there's a few words of support from the internet sensation.
The video came from Jim Hemmings Sr who has travelled over an hour to play in the charity match – he has also donated £100 plus to the event. Hemmings Sr owns a pub near Enfield and knows how important money can be to local businesses:
"We are so lucky, we don't realise how lucky we really are – this money will make a huge difference."
16:30: djbdjhklhdklhfkadskhfkaslhlkdhklfhdkshkhakslhklhfkddklddskabasdlakjdksdjdhsakss
Oops, sneak peek
30 MINUTES FROM KICK OFF
Remember it's all about raising money… but there's a bit of competitiveness. Both teams will want the bragging rights.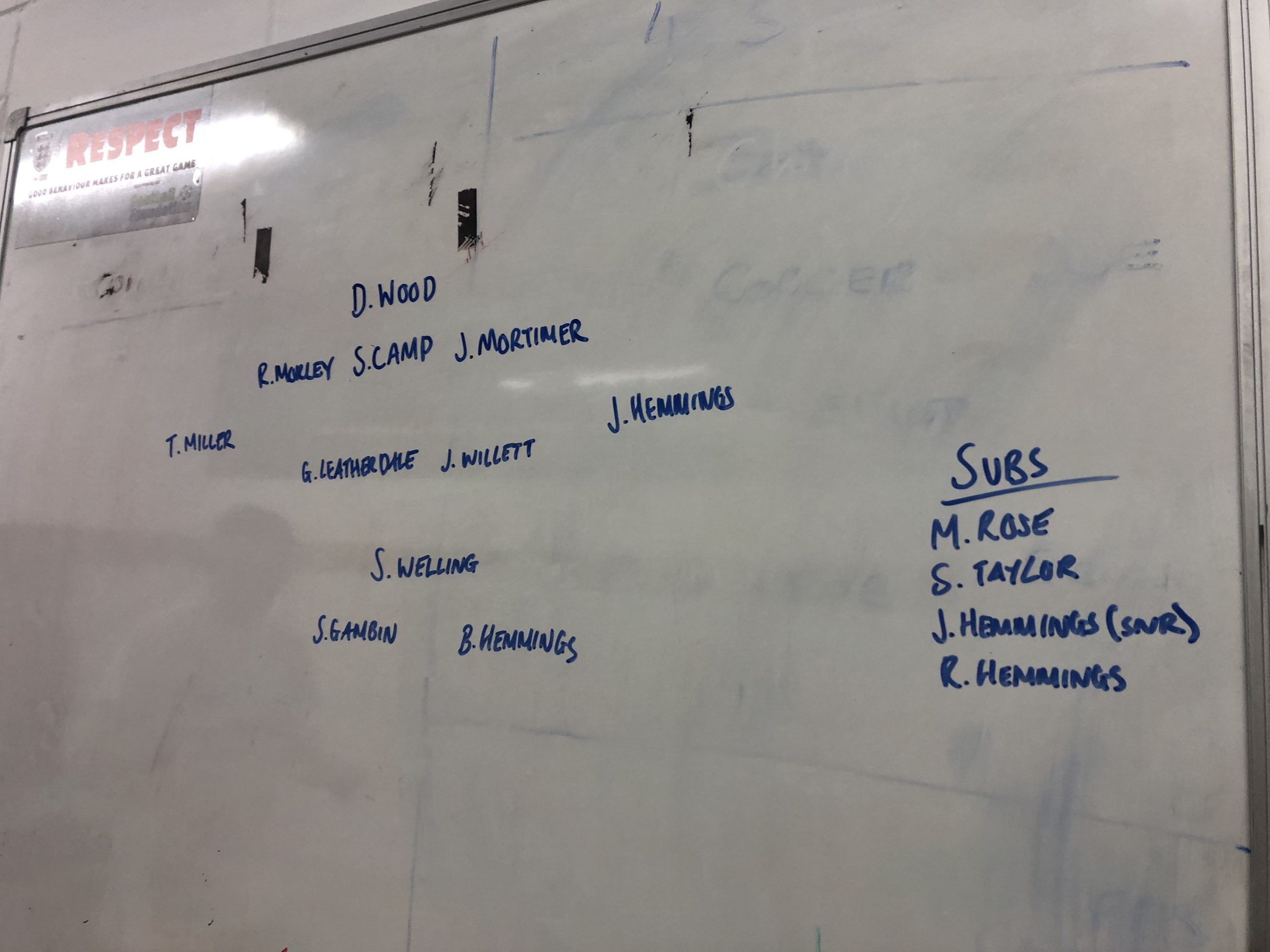 Massive appreciation to Billy Hemmings, supervisor at the Haverhill store and captain of the staff team – the 21-year-old arranged, the pitch, officials, teams, donations, time and has devoted time into the event.
But the question is, who will win?
Have your say on the poll down below…
16:10: djbdjhklhdklhfkadskhfkaslhlkdhklfhdkshkhakslhklhfkddklddskabasdlakjdksdjdhsakss
In the name of charity
How many charity events can you think of? Raffles, washing cars, dressing up, marathons, the list goes on and the Screwfix Foundation have attempted various nationwide.
Haverhill's branch have had their go at raising money in town through:
Soak a staff member
Superhero day
Drag day
Raffles
We can only hope the charity football match receives the same reception and raises valuable funds for communities in need.
Check out some shots of the staff in their best superhero/villain get ups.
There's a great team at @Screwfix in Haverhill – always a happy greeting and they are always very competent, taking whatever time is required to help customers. #ScrewfixBranchOfTheYear #ScrewfixSuperheroes pic.twitter.com/akmzOteGJZ

— Matthew Ward (@HistoryNeedsYou) September 19, 2019
16:00: djbdjhklhdklhfkadskhfkaslhlkdhklfhdkshkhakslhklhfkddklddskabasdlakjdksdjdhsakss
Team news…
Both teams have announced their starting line-ups:
Staff team: Real family connection throughout, Billy Hemmings, Jimmy Hemmings Jr, Riley Hemmings (brothers), Jimmy Hemmings Sr (father), Shane Gambin (cousin), Shaun Taylor (step-dad to Billy and Jimmy Jr)
One to watch: Shaun Welling, tricky playmaker, looks to link up play, good technical ability
Captain watch: Billy Hemmings, leader and natural finisher
Trade team:
One to watch: Rob Prately, ex-Haverhill Rovers semi-professional, experienced, strong

Captain watch: Neil Hammond, tall, a real figure in the middle of the park, dictates tempo
15:45: djbdjhklhdklhfkadskhfkaslhlkdhklfhdkshkhakslhklhfkddklddskabasdlakjdksdjdhsakss
Players arrive…
Players form both teams arrive, Staff vs Trade customers – trade customers are Screwfix customers who are registered to a Trade UK card – the loyal Screwfix members.
Players arrive ahead of Screwfix charity match
Billy Hemmings: "There's two teams, the staff and the trade, you want to support us, the staff."
Families and friends have also started arriving to support the players – many have already donated. It's free entry for all so there's still time to come along and support 'The Fix' and bring your change – every donation will make a difference.
15:30: djbdjhklhdklhfkadskhfkaslhlkdhklfhdkshkhakslhklhfkddklddskabasdlakjdksdjdhsakss
Can you fix it? Screwfix Foundation can.
A huge thank you to The @Screwfix Foundation, who recently donated funding to Seashell! Their generous donation was used to purchase garden furniture, a swing set & garden toys for our fantastic children & young people. Thank you to everyone involved 👏 #thankyouthursday pic.twitter.com/PHotnX8JSQ

— Seashell Trust (@seashelltrust) October 31, 2019
The Screwfix Foundation utilises staff fundraising and customer donations all to support local charities and communities. The foundation has reached over 1,000 local projects so far nationwide as they look to develop and improve companies in need.
In order for a charity to apply for funding the charity must be:
A registered charity/non-profited 

Looking to support those in disadvantaged situations

Seeking funds to kick start projects – repair, maintenance, improve
Follow this link, to see what the Screwfix Foundation does.
15:20: djbdjhklhdklhfkadskhfkaslhlkdhklfhdkshkhakslhklhfkddklddskabasdlakjdksdjdhsakss
HERE AT THE NEW CROFT
Reporter, Andre Henrique arrival at the home of Haverhill Rovers football club, the New Croft.
£515.94 has already been raised by Screwfix Haverhill and the target is to raise over £1,000 for the Screwfix Foundation. Donations have been taken throughout the lead up to the charity football match both online and in person.
It's estimated the match will raise up to £400, the money will be used for local communities such as Reach Community Projects and Clements Nursery.