As the 2019 general election closes in, many people up and down the country probably have a good idea of where their vote lies.
But not everyone is always so sure. We've broken down all the policies of each party to give you a clearer understanding of who to vote for.
CONSERVATIVE PARTY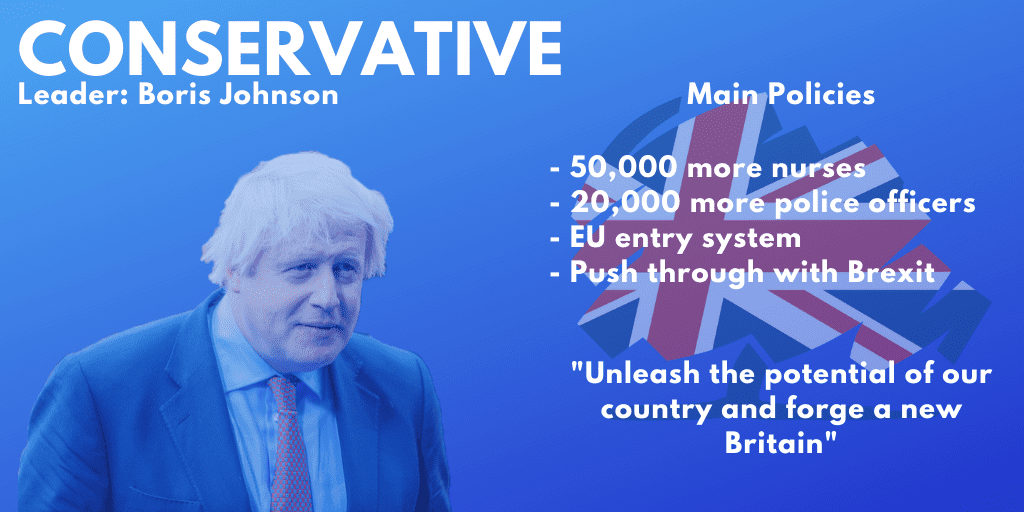 Also known as the Tory Party, the Conservative Party is the largest in the House of Commons with 288 Members of Parliament. Previous Prime Ministers such as David Cameron and Theresa May were also leaders of the party before being elected into power.
"UNLEASH THE POTENTIAL OF OUR COUNTRY AND FORGE A NEW BRITAIN."
One of the main points being promised by the Conservative Party is that the nation will have 50,000 more nurses. These will be made up of 14,000 in training, 5,000 apprentices and 12,500 from abroad.
In addition to this, the Prime Minister said a majority Tory vote would ensure 50 million more GP appointments per year.
Avoid another hung parliament. Vote Conservative. pic.twitter.com/wa2UQoKngr

— Conservatives (@Conservatives) December 7, 2019
Not only are more nurses being promised but also more police officers. With 20,000 more officers on the streets, the Tory's have pledged tougher sentencing and stricter immigration laws.
Plans for an Australian-style points-based system will be applied to both EU and non-EU citizens with those coming from the EU only being given access to benefits after five years.
We're having this election because Parliament couldn't get anything done. Only the Conservatives can get Brexit done and get Parliament working again, on the issues that matter to you.

— Boris Johnson (@BorisJohnson) December 10, 2019
Mr Johnson has also guaranteed to reach net-zero carbon emissions by 2050 alongside pushing through with Brexit.
LABOUR PARTY
One of the largest parties in the country, the Labour Party use their platform to emphasise greater state intervention, social justice and strengthen worker's rights.
"LABOUR IS THE PARTY FOR THE MANY NOT THE FEW."
Labour's manifesto states that all public sector workers would get a pay rise of 5%, an average of £1,643, from April 2020. Then after 2020, they have promised to deliver "year-on-year above-inflation pay rises."
If your wages never seem to go up and your bills never seem to come down – the system isn't working for you.

We've had the greatest slump in wages since the first steam trains were built.

Let's turn this around. Vote Labour to put money in your pocket, not the billionaires'.

— Jeremy Corbyn (@jeremycorbyn) December 11, 2019
With a majority vote, Labour state they would raise an added £82.9 billion through a variety of taxes including;
Income tax for those earning more than £80,000
Raising corporation tax
Extending stamp duty reserve tax
"Tackling" tax avoidance and evasion
Introducing a 200% second home tax
Our manifesto is the most radical, hopeful, people-focused, fully-costed plan in modern times. 💓🌹💓

This is our chance to transform our country. Are you with us? Pass it on. 🌹 pic.twitter.com/wjCPnHj4Ff

— The Labour Party (@UKLabour) November 21, 2019
Commonly seen as the Conservative Party's direct rival, Mr Corbyn has described the Prime Minister's party as, "the billionaires and the super rich, the tax dodgers, the bad bosses and the big polluters."
LIBERAL DEMOCRATS
The Liberal Democrats, who are often known as the Lib Dems, are a centrist party that promote liberal policies. Not only are the Lib Dems strong supporters of environmentalism but also the involvement within the European Union, a key talking point of this year's election.
We have an ambitious plan for our future: stop Brexit, free childcare, tackle the climate emergency, recruit 20,000 more teachers and transform our mental health services.

Together we can #StopBoris for a #BrighterFuture.https://t.co/SH8lTphWj8

— Jo Swinson (@joswinson) December 10, 2019
At the forefront of the Liberal Democrat's manifesto is the aim to stop Britain leaving the European Union. They claim that stopping Brexit will allow a "Remain bonus" to be invested in public services.
"CHANGE OUR FUTURE WITH THE LIBERAL DEMOCRATS."
Three key ares in the party's manifesto include; education, the environment and health, and social care and welfare. Amongst them is a £10 billion pledge to recruit 20,000 more teachers who will be payed a higher starting salary.
What they have described as a "climate emergency" will be tackled by generating 80% of UK electricity from renewable sources by 2030. In addition to this, plans and funding to make homes greener are also in place.
We'll protect the high street and town centres by scrapping rules that allow developers to turn shops and offices into homes without planning permission.@Libdems #BrighterFuture #GE2019

— Jo Swinson (@joswinson) December 7, 2019
With a majority Lib Dem vote, income tax would see a 1p increase which would be used for health and social care.
Britain deserves better than the tired old politics of Johnson and Corbyn. Demand a #BrighterFuture. Vote Liberal Democrat on 12 December. #GE2019 pic.twitter.com/9gcoOyvTXR

— Liberal Democrats (@LibDems) November 23, 2019
SCOTTISH NATIONAL PARTY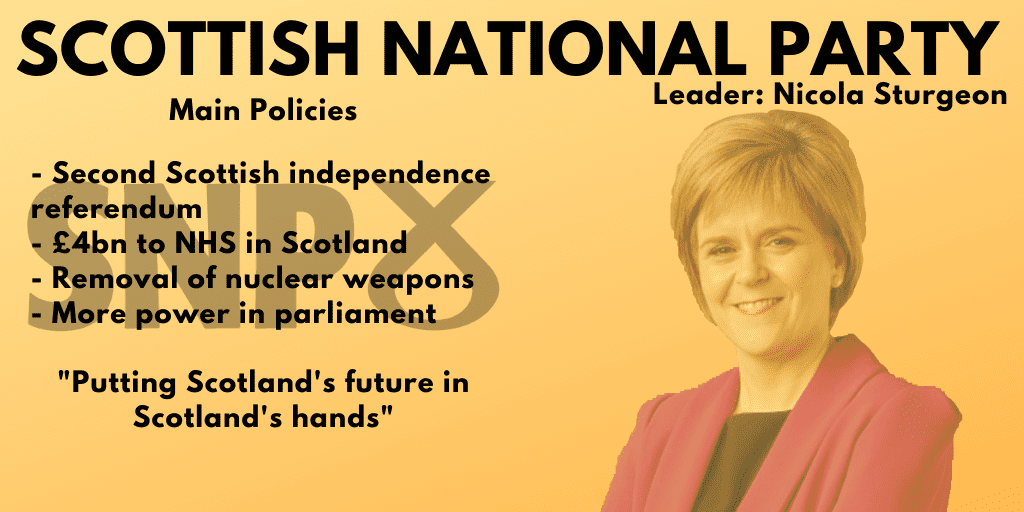 The Scottish National Party, or more often known as the SNP, is the main political party in Scotland. Their campaign mainly focuses on Scotland leaving the United Kingdom to pursue a future as its own independent nation.
"PUTTING SCOTLAND'S FUTURE IN SCOTLAND'S HANDS."
Known as being very vocal about her opinions, Nicola Sturgeon has said that she could "never" support Boris Johnson and that there is "every chance" the SNP could hold the balance in Westminster if neither Conservatives or Labour win a majority vote.
🏴󠁧󠁢󠁳󠁣󠁴󠁿 In Scotland, it's a choice between @NicolaSturgeon's progressive, social democratic SNP government…

🥶 Or a man who hides in a fridge to get away from a reporter.

#FreezeTheToriesOut – #VoteSNP on Thursday #GE2019 pic.twitter.com/9SeAkaJSaE

— The SNP (@theSNP) December 11, 2019
At the heart of Nicola Sturgeon's policies, she has demanded;
A second Scottish independence referendum
Removal of Trident nuclear weapons programme in Scotland
Funding boost of £4 billion by 2024/25 to the NHS in Scotland
Legislation to guarantee future trade deals protect the NHS
Further powers to the Scottish parliament
Despite Ms Sturgeon wanting to leave the UK, the 2014 Scottish independence referendum saw the majority of Scottish voters choose to stay.
I'm #SNPbecause I want Scotland to be fair, open and inclusive and that means being independent. I'm asking you to vote @theSNP tomorrow because the first step to a better future is locking Boris Johnson's Tories out of power. In Scotland, only the SNP can beat the Tories. #GE19

— Nicola Sturgeon (@NicolaSturgeon) December 11, 2019
She describes a vote for the SNP as, "a vote to escape Brexit, lock Boris Johnson out of Downing Street, and put Scotland's future in Scotland's hands."
Your decision
Now that you've had the run down of each major party's policies, who do you plan on giving your vote to for the 2019 general election?