Extinction Rebellion climate activists paraded through the Victorian Christmas Market in Matlock town centre at the weekend.
Local Extinction Rebellion environmentalists firstly massed in the Hall Leys park outside of the main market marquee.
After that they sung protest songs at the Causeway Lane roundabout in the town centre and then made their way through the market's crowds.
The Peak District's branch of Extinction Rebellion, Peak XR as they are known, organised the march and demonstration.
The group is made up from members from Matlock, Wirksworth and near-by villages, and recently demonstrated at the Wirksworth arts festival.
Extinction Rebellion describe themselves on their website as a 'international movement that uses non-violent civil disobedience'.
The event's planner, Rachael Murray, said it was about raising awareness of climate issues at the Matlock Victorian Christmas Market before the upcoming General Election.
The 49-year-old from the town said: " The Victorian Market has been here for years and years, and I knew that thousands of people were going to be here. Not only from the Derbyshire Dales which is a safe Conservative majority, but from around the country where their votes will really matter."
The local Storyteller after the parade had been completed, added: "Its all about capturing that audience and giving them something to take home and think about really, getting as much media and attention we can possibly get"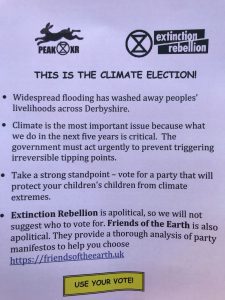 Leaflets handed out by the group to the watching public urged awareness about issues facing the climate's in the general election.
Peak XR, called the 2019 General Election a 'Climate Election' and stressed for people to think of the environment when voting.
The leaflet also made reference to recent flooding in Derbyshire, which had effected Matlock and the surrounding area severely and had threatened to cancel the Matlock Victorian Christmas Market.
The demonstration started at around 2:00pm on Saturday and lasted just over an hour, starting in Hall Leys Park and ending at the Greenway Cafe.
The procession stopped at multiple points, most notably at the town's band stand and the bridge over the River Derwent.
Demonstration at the Matlock Victorian Christmas Market
Stef Smith, from the Peak District, was one of the red cloaked performers in the procession.
She said that getting the message to the public was vital: "I was arrested in the London protests three times earlier in the year. Today was in the same way about raising awareness and making everyone aware about what is happening. Rachael's idea to organise this at the Christmas market reached a lot of people and hopefully it will stay with them."
Extinction Rebellion came to prominence after a set of protests which blocked London's busiest routes in April, where more than 1,100 people were arrested over 11 days.