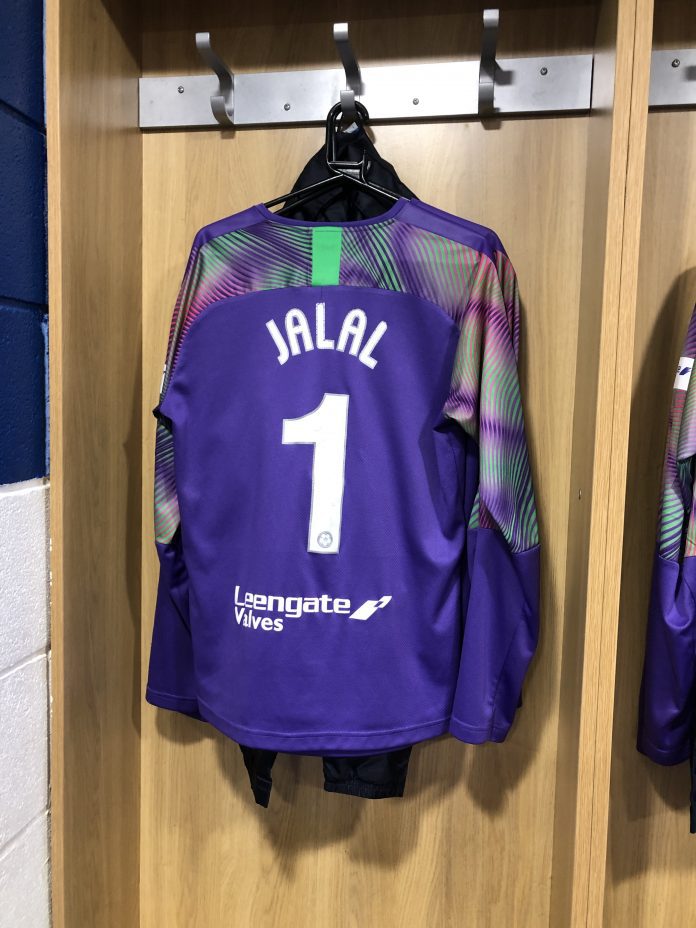 Chesterfield Football Club goalkeeper, Shwan Jalal, studying sports journalism degree at Staffordshire University

Fellow Chesterfield players, David Buchanan and Jonathan Smith also students of the course, Buchanan already graduated

"95.6% of students who graduated from Staffordshire University in the summer of 2017 are employed or in further study" – Staffordshire University 
At Chesterfield football club, players have begun preparation for time after football by stepping behind the camera onto a sports writing and broadcasting degree at Staffordshire University.
Based in Stoke-on-Trent, the degree welcomes footballers on a two-year accelerated course covering skills required to be the new breed of 'multimedia journalists'.
As stated on the Staffordshire University website, this is the "first degree specifically designed for sports professionals" and looks to prepare professional athletes for after retirement.
Chesterfield full-back David Buchanan, aged 33, from Rochdale, has graduated with a first-class degree after two years on the course and he strongly advised his Spireites teammates to sign themselves onto the course.
Buchanan said: "When I joined the club in the summer I got speaking to some of the older and more experience lads and some of them were looking to do something alongside football.
"It was the same for me, a couple teammates at other clubs suggested it to me and it is fully worth it. The degree is fully moulded for us players, so you don't need an extensive education background to do it.
"I was okay in school, certainly not the best but coming out with a first in the course reassured me that I am ready for life after football. It allows you to feel safe and secure – because after your career, life goes on."
On our BA (Hons) Sports Journalism degrees, you'll get hands-on in our state-of-the-art Broadcast Newsroom and you'll hone your presenting & reporting skills in the studio and on location on StaffsLive Newsdays and Sports Nights. Sound good? Find out more: https://t.co/qLJoOt8Esz pic.twitter.com/eqA0k2K0jn

— Staffordshire Uni (@StaffsUni) March 5, 2020
For some pro-footballers who have spent their lives living and breathing the 'beautiful game', the thought of studying and being in education may seem meaningless or perhaps daunting.
But at Staffordshire, the mix of online virtual teaching and in class learning is ideal for footballers whose first priority is always football.
Shwan Jalal, aged 36, Chesterfield goalkeeper from Hastings, reflected on balancing time between studying and playing. "Time is fine actually," Jalal said. "I think sometimes getting away from football and not thinking about it is beneficial.
"When you get too consumed in football you can't relax. Whenever the kids go to bed, I will do a bit of reading or if I get an hour, I will do the work I need to be doing.
"The course is tailored around professional athletes, so they try and make the course as accessible as possible so for me it's been a really good experience.
"I've thoroughly enjoyed it, but it's also opened up my eyes that some people aren't going to get as far as they want because of who they are."
The accepted proposition within journalism states it's who you know, not what you know. For footballers the contact foundations are already yielded from their playing days. Contextually, building contacts is the inaugural lesson learnt for an up and coming journalist.
So frustrating to watch!! I @thepfa need to be doing more to help all players who have worked their socks off to study and earn a degree in sports journalism, get a foot in the door instead of ticking boxes! Im sure our analysis is not this bad 🤷🏻‍♂️ it's not what you know it's who! https://t.co/PKhi30mM9W

— David Buchanan (@_Buchs) January 10, 2020
But is this course taking away the possibility for new and raw journalism? An established footballer walks into a job interview at BBC, his opposing number has graduated with a first-class degree with exceptional experience but is fresh out of University. The belief is that – ex-footballers get the gig.
Jonathan Smith, aged 33, Chesterfield player from Preston, says that bridge between the heights ex-pros can reach compared with the standard graduates can be crossed using this degree at Staffordshire.
"There's no difference – we, at the end of this degree, will have the same knowledge as a 21-year-old will when they've completed their three-year course.
"Why not use this course to integrate the top students with the top athletes, allow them to mix in an education environment which gives players and students the access to the very best writing, broadcasting, whatever journalism you're interested in.
"We are all under the same University union. Although when you're at the very top, of course you've earned the favouritism – but you can also earn that respect within journalism."
"we are all the same and we should all work together" – SMITH
The course is open for September 2020, but there is a huge variety at Staffordshire University on alternative courses whose entry requirements do not expect professional football to be headlining your CV. Take a look at the available courses here.