Tonight the first ever climate leaders' debate takes place and is being broadcast on BBC One.
The world's top leaders will aim to convince people that their policies will be the key to achieving zero emissions and tackling the climate emergency.
All the leaders have climate goals in their manifesto with it becoming hugely important in recent times to influencing voters and appeasing groups such as Extinction Rebellion.
Edward Pickering-Symes is one of the Co-ordinators at XR Derby. He was one of the first members and involved in its set up although he states clearly that the term 'leader' is not to be used in any XR organisation. In his eyes they are all equals fighting for the same cause.
Edward as expected is listening closely and politely interrupts his streaming via catch up facility, BBC Iplayer, to talk to me about his first foray into the climate emergency. It was not always easy to find the time with work and family taking priority but XR Derby has given him a new lease of life. With the support of its ever growing membership, he hopes to do whatever it takes to protect this planet in its battle against extinction.
Join us. We need you – whoever you are, however much time you have – to help build a powerful movement and pressure those in power to act on the climate emergency.https://t.co/H4hxLth8r6https://t.co/QxlJdyPWbb pic.twitter.com/j7aEJX6aYf

— Extinction Rebellion Derby (@XRDerby) December 13, 2019
A grim realisation
Edward has lived in the city for as long as he can remember enjoying the hustle and bustle of urban life. While the urban lifestyle has its positives, there has been an increasing focus on the environmental impact it has with 2 million Londoners living in illegal air pollution as recently as April 2019.
"I've always been aware of global warming. I first heard about it when I was 15 at the start of 90's that's what it was called. I thought to myself 'This is probably something we'll sort out by the time I'm 30'."
In the mid 2000s Edward sensed that he wanted to be more proactive in aiding climate change and proceeded to join organisation such as Transition Derby which encouraged people to be less dependent on oil.
Despite wanting to do more, he struggled to balance his role as a family man and a college lecturer. His environmental work inevitably petered out as a result. That all changed in March this year after a conversation with his friend.
"'Well, it's over. We've got a good chance of the end of civilisation and the end of supporting any males or females," was his damning judgement on humanity.
His friend continued telling him that a meteorologist had warned that the polar vortex – a low pressure area lying near the Earth's poles – would split in two. It ended up splitting into three. The result was ice melting at a considerable rate and the effects are are becoming more noticeable as time goes on.
It sent Edward into a deep depression with the sudden realisation that the world around him was crumbling and that future generations were going to play the price for our actions.
"We'd (Edward and his wife) wake up every morning remembering. It's really dark…think of a little child flicking through a picture book and you have to tell them those plants don't exist anymore."
The lightbulb moment
In March this year Edward found some salvation and even a community after chatting to a few friends about Extinction Rebellion. A few Youtube videos later and he was sold.
After finding out about a 'Die in' event taking place in Nottingham – which simulates humans dying in the future – he went along to get involved. What he found was hundreds of other like-minded people who cared about the environment and more importantly, were doing something about it.
"That really moved me. It was wonderful to be…communicating with other people who have the same feelings. In March, you couldn't just mention it to a person in the pub. You'd have to start cold and warm up to it."
Edward found this relatability empowering and in XR saw an organisation that not only saw climate change as an issue; but also that it needed to be dealt with urgently. The science had been around for decades and what really needed to be altered lay in our society. Greed and consumption epitomised the world around him and it needed to change.
"What do I need to do to start the same thing in Derby?" he asked himself following the event.
Derby's own roots have ties to environmentalism so Edward was never in any doubt that people would be willing to get onboard for the cause. After setting up a Facebook Group and a mailing list, he was ready to begin growing XR Derby an an organisation.
The origins of XR Derby
After a first talk led by an XR Nottingham member, the group were ready to organise. A 'Die in' proved successful with members of the public joining in. What followed was Derby City Council declaring a climate emergency in May 2019. The group has since grown in stature with 530 people on their mailing list. Despite the groups immediate success, Edward never felt the need to be at the forefront of Derby's movement and says this is at the heart of the XR movement.
"It's really important they they (XR) mitigate the power. It's one of the ten principles. You want to make the best possible decisions. This is an emergency."
The point he is trying to make is that the stakes are high when being a part of and co-ordinating XR. Members of XR are prepared to go to jail as reported by The Guardian. That isn't something they don't want hanging over the head of one individual. It doesn't matter who is leading it. As long as they can keep it going.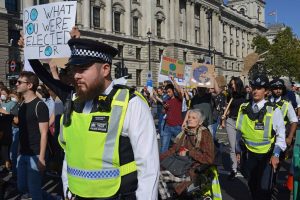 Is it too late?
XR has continued to increase its activity since its birth with its membership growing all the time. Despite this, some feel the it is already too late to stop the climate emergency. While Edward accepts that some members feel this way he doesn't believe they are having a negative effect on the group as a whole.
As this parliament comes to together for the first time, I hope every MP, whatever their party, will make tackling the #ClimateEmergency & #NatureEmergency an absolute priority. There's little more than 10 years to stop irreversible damage, and this parliament MUST act.

— Paula Ferguson 🔶 #Paula2Win (@PaulaWFerguson) December 16, 2019
"They're doing it because it's the right thing to do. It's the right thing to raise awareness and to try and stop it. We're getting closer and closer to recognition."
The importance of this movement is clear to Edward with him putting it on the same level as the American Civl Rights movement in its ability to change a nations views.
"If we can change society we can save millions of lives! We're the grandchildren of imperialists, colonialist, patriarchy and a lot of things where selfishness is where the power is" he says passionately.
"If we work together we can help our own. I have huge optimism of saving a good proportion of the human race…and other species. But also for changing society because if we don't then we end up in a world of trouble."
The future of XR Derby
Edward believes the work of XR Derby will continue to focus on working with the council and the current state of the city. The council has plans to build more roads with a particular project being the flyover near Kedleston Road, University of Derby campus. XR will of course contest this promoting public transport as a better way of getting around.
They are also looking to educate with talks already being held with the University of Derby over the work XR do. More and more people are seeing them as activists rather than extremists.
Of course, the main symbol of growth will be an increase in memberships which Edward will focus on in 2020. With more members they will have more power and be able to cover more ground with their work.
So where would Edward like XR Derby to be in 10 years time?
"To not exist," he says. "This is crazy we don't want to disrupt cars and their trips to work. We want to give people an alternative choice. I want there to not be a need for it."
That is the crux of the issue with XR. As empowering as it is to be part of it a sign of progress will be it diminishing. Edward recalls his childhood hearing Greenpeace and Friends of Earth championing action currently proposed by XR. He believes it is time to face up to the grim realities of the world we live in or it will soon be too late.
"The world you brought up to believe it would always be there, to sustain you. to look beautiful, to be a provider for your water and your food and your air. What's going away. I just hope that we can wake upon before it does."
If you would like to find out more about XR Derby you can check out their Facebook page here: https://www.facebook.com/XRDerby/