A team of Specialist Sports Journalism students from the University of Derby have been out in Minsk, Belarus to cover the 2nd European Games. Here, Rowan Byers tells tales of tractors, Brazilian roommates and boxing…
The intense blues that set in during the long walk through Gatwick airport after a tiring three-hour flight from Minsk sum up the truly unforgettable and invaluable experience that me and my friends had in the capital city of Belarus.
One important lesson I can take out of this experience is to avoid judging a book by its cover. Prior to touching down in Minsk, I was under the impression that the most common form of transport would be by tractor, not that there are no tractors in Minsk, I did stumble across a few but far fewer than expected. I was also under the impression that Minsk would be a dangerous place but I have never felt safer, this became evident at night when we were out enjoying the Belarusian bars and clubs.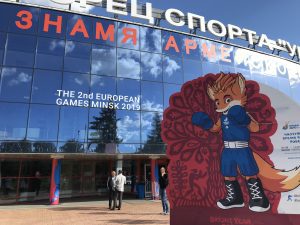 The majority of my time in Minsk was spent at the Sports Palace Uruchie as a member of the news service. My job was to report on the boxing and provide quotes throughout the day followed up by a daily review when the boxing had finished. I spent all but one day at the Sports Palace, working from 1pm until 11pm. You could argue that this wasn't an ideal way to spend time visiting a new place, but I could not be more grateful for the hours I spent talking to athletes and meeting other volunteers, some of which I developed close bonds with.
On the opening day of the boxing, I jumped straight in at the deep end, interviewing team GB's Pat McCormack who went on to win a gold medal. I also spoke to numerous athletes from different nations, some of which had difficulty speaking English, but with the help of the other volunteers we were able to gather some quotes through astute interpreting; this set the tone for the rest of the time at the boxing.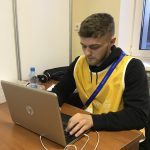 My interviewing and writing abilities improved astoundingly across the week as well as my boxing knowledge. Each fight that passed taught me something new about the sport and I was able to integrate this into my daily reviews.
The highlight of my time with the news service has to be meeting the amazing individuals that helped me survive the week and took me to explore the city on our day off. Thanks to them, I was able to see the sheer size of the city from the observation deck on top of the National Library of Belarus. I also got to see the Island of Tears, the main Fan Zone and they took me to a local restaurant to try some traditional Belarusian draniki, which is a delicious potato pancake stuffed with meat.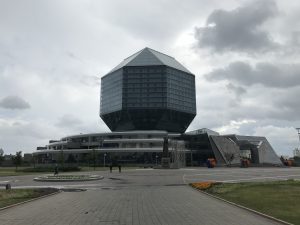 One other memory that stands out is from my final day when I spoke to British boxer Ben Whittaker, following an agonising loss in the final, who was devastated. When he came to the mixed zone, I spoke to him and told him that he had done our nation proud despite the result, he shook my hand and thanked me.
In that moment, I felt like I belonged in that environment and that is a memory that will stick with me for life.
Our group stayed in student accommodation with other volunteers and that was an interesting experience to say the least. I found myself bunking up with a Brazilian gentleman rather than someone from our group. Initially, I didn't have a problem with this but after a couple of nights this changed. The first issue was that he snored, extremely loudly. The second is that when I asked for deodorant he insisted that he applied said deodorant himself – strange, but okay. Thirdly, if you were to start a conversation with this man you would struggle to get away as he talked non-stop. When you wake up in a morning and need to catch a metro and then a bus to get to a venue, the last thing you want is a 40-year-old Brazilian chewing your ear off! Three days in and I couldn't take it anymore and I moved my mattress to the room next door to join my course-mates.
As a group, we spent a lot of our time in McDonalds. This was primarily down to the free WiFi on offer as our accommodation didn't have internet at all. Each night I would walk into McDonalds to find the other lads all gathered around one table sharing stories about their day which became part of our daily routine.

Each day, a local would ask me what I thought of Minsk and now that the trip is over I can properly reflect on what I think of the Belarusian capital. Minsk is an amazing city and the fact that I went there to find it was nothing like what I expected made it even better, it truly blew me away. The streets are immaculate, the people are so friendly and accepting to foreign visitors, so much so that you feel like royalty. The architecture is a perfect mix between modern structures and old constructions that have stood since the days of the USSR.
My only regret is that I didn't get to stay longer and I will definitely visit again in the future.