The faces and voices of hundreds of teenagers from all walks of life are the focus of a photography exhibition in Derby city centre.
Photographers from across the UK were invited to showcase their work at SIXTEEN – an event which aims to document what it is like to be a 16-year-old today.
The exhibition, at Derby Market Hall, focuses on the teenagers' hopes, dreams and aspirations, as well as their thoughts and feelings.
These ideas are being expressed through poetry and a portrait photo of each person involved, alongside footage with the photographers, such as through FaceTime conversations.
Craig Easton, the brains behind the operation, decided he wanted to pursue this after he worked with 16-year-old teenagers during the Scottish Referendum.
Easton invited 15 of the country's most renowned documentary portrait photographers including: Lottie Davies, Stuart Freedman, Michelle Sank, Simon Roberts and Sophie Gerrard, to create a "visual vox pop" focusing on teenagers during one of the most difficult times in their lives.
Experimenting with text, video, audio, photography and social media, Easton and the other artists help bring into focus the faces and voices of hundreds of teenagers from all walks of life.
There are individuals involved from secluded areas in Northern Ireland, the South West and the Scottish Islands, as well as larger areas like London, Manchester and Birmingham.
One of the photographers involved, Jillian Edelstein, 59, from London, said: "We're talking about the next future generation and, as the country is currently in a state of upheaval, they need to be considered as they are the ones that will inherit whatever the outcome of Brexit is."
Linda Brownlee, 39, was also chosen as one of the artists to take part. She said: "The individuals I worked with seemed to express themselves in really different ways. Some are looking at very personal issues, mental health issues, others are very conscious of things happening around them."
"Brexit and climate change come up a lot in that, it's all things that everyone is worried about, but the teenagers living in society now will probably be picking up the pieces in years to come."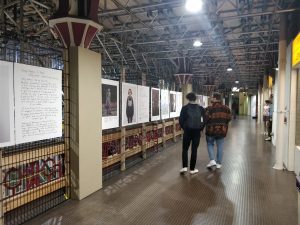 Opened in 1866, The Derby Market Hall, which is located in the award-winning Cathedral Quarter, is home to many traditional and contemporary stalls.
Currently, the building is having its roof refurbished as part of Derby City Centre Masterplan, which has seen billions of pounds of in investment put into the city to create thousands of jobs and revive the city centre by 2030.
The free exhibition is in the Derby Market Hall, on the top floor near the Panorama cafe until April 14.