"They did everything they could but it was not enough to stop me."
Former Reading midfielder Scott Davies tells how despite his parents' best efforts, they were unable to prevent him developing a gambling addiction.
Davies, now 31, felt his career as a footballer started to decline in 2009 after an argument with the then Reading manager, Brendan Rodgers, which was fuelled by gambling problems during his time at the club.
The midfielder made his debut for the Royals on the opening day of the 2009/10 season but off the pitch troubles stopped him from living the dream that he'd always wanted to pursue.
This was just the beginning of a difficult few years for Davies.
"I was getting paid a six-figure salary but that did not matter. It could have been any amount and it would all be gambled away, he said.
"Even my parents struggled to help me. They did all they could, they took away my bank cards, they would talk to me and try to make me see sense. They did everything they could but it was not enough to stop me.
"I sneaked off straight away from training a couple of times to go to the bookies. One time I said I had a dentist appointment and Brendan asked me to prove it by ringing them. Of course, I couldn't prove it because it was a lie."
Most bookmakers have a policy to help punters with addictions. Gordon Moody, who expertise lie in gambling addictions, said: "They give punters many choices about how to manage their accounts.
Mr Moody, who runs the Gordon Moody Association, added: "There is a self-exclusion limit which means that a customer can lock their account for life and never use it again. There are deposit limits, cool off periods too that can be used to limit the bets put on. It is important that when the fun stops then the customer stops."
Davies was released by Reading in 2011 and as a result he started to fall down the divisions in England. A switch to Crawley Town as well as numerous loan moves did not help him as gambling was still the only thing on his mind.
Davies believes that there are many other players who are hiding similar issues. "I can assure you it is going on throughout clubs, players don't want to come across as weak or powerless," he said.
"I know because I was the same. We sometimes see it in the news that a player has bet on football but I know it goes on more than what we see."
Davies made his last bet in 2015 and is now enjoying his football at Slough Town.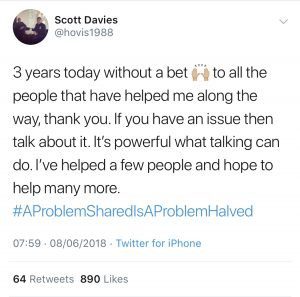 Davies has also paid visits to clubs in the EFL to talk to players about the dangers of gambling. "I don't want to see other players make the same mistakes I did. Only 2% of gamblers are in profit in their lifetimes or something like that so it shows it just is not worth it," he added.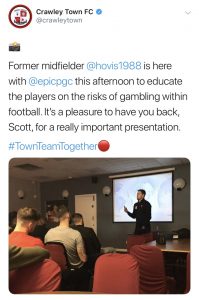 Left-back Matt Peake-Pijnen played with Davies at Oxford City and is pleased to see him back with a smile on his face. Peake-Pijnen said: "I know Scott has gone to many clubs to talk about gambling and his experiences to the players in the EFL.
"I think it's great that he's using his mistakes to try and help other people learn from them but for me the main thing is that he is happy and enjoying himself."