Roger Federer, who was crowned the oldest world number 1 at the age of 36 last week, says Wimbledon is his "
favourite tournament".
So what is so great about Wimbledon? Ben Lyons gives us the lowdown on SW19.
Unlike other tournaments which create temporary structures, like courts and stands, Wimbledon is a facility used all year round, by 565 permanent members.
The All England Club spend the 12 months in the lead up to the next tournament perfecting their 40-acre landscape for the two weeks of summer tennis.
There is a big difference between the build up tournaments ahead of Wimbledon and the main event itself.
Stands, food stalls and pop-up shops appear at both the Aegon Open Nottingham and the Aegon Classic Birmingham, but undoubtedly disappear just hours after the final ended.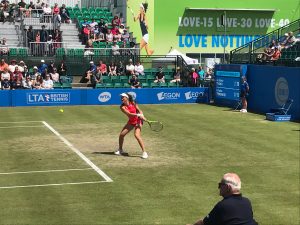 Whereas, at Wimbledon the infrastructure and facilities in place have been maintained, modernised and developed further for years, ever since the first tournament was held on the hallowed turn back in 1877.
Currently, Court No.1 is being renovated to incorporate a roof.
For years, Wimbledon was maligned for its stubbornness to change, but by 2019, both show courts will have roofs, guaranteeing a full-day's play.
Another key difference that sets Wimbledon apart is the famous queue.
As outlined by the official Wimbledon website, for a "£5.00 fee (proceeds donated to charity)" tennis fans can camp in the grounds covering 40 acres of land overnight in the hope of getting a ticket for the following day's action.
Amazingly, Wimbledon grants several hundred Centre Court tickets to queue goers, meaning it is "one of the very few major UK sporting events where you can still buy premium tickets on the day of play".
On court 3, @GarbiMuguruza beats @yaninawickmaye8 6-2, 6-4 #Wimbledon pic.twitter.com/qVPniCmLee

— Ben Lyons (@ben_lyons97) July 6, 2017
On Court 2 today for day 4 of #Wimbledon Dimitrov – Baghdatis, Radwanska – McHale, Raonic – Youzhny and Wozniacki v Pironkova all to come. pic.twitter.com/uXEBQOfKpa

— Ben Lyons (@ben_lyons97) July 6, 2017
.@GrigorDimitrov beats @marcosbaghdatis in straight-sets 6-3, 6-2, 6-1 to reach the third round of #Wimbledon pic.twitter.com/9biYRtXx6Z

— Ben Lyons (@ben_lyons97) July 6, 2017
Watch Wimbledon Champion Garbiñe Muguruza, WTA World Tour Finals winner Caroline Wozniacki and ATP World Tour Finals winner Grigor Dimitrov feature in the video year review of ATP and WTA tennis in 2017 here
Sloane Stephens shocks the US Open, as Federer and Nadal share out the titles. Read about the 2017 tennis season, featuring reviews of the Australian Open, French Open, Wimbledon and the US Open here
From the Fred Perry statue to Henman Hill, Wimbledon is still a great place to visit even without the tennis.
Wimbledon Lawn Tennis Museum & Tours of the grounds are available throughout the year.
Even at 9.30pm, 30 minutes before the 10pm closure of the grounds, the Hill is awash with people soaking up the atmosphere with great views over the 18 Championship grass courts.
For those who want to take a piece of Wimbledon away from SW19, there's the main Wimbledon Shop, with the towels and balls used by the players for sale, plus other merchandise, like mugs, keyrings and caps.
Joshua Simpson, a 21-year-old member of the Staffordshire University Tennis Club said: "Wimbledon is the event every tennis fan looks forward to all season, especially when there is a good level of British interest going into the tournament like in recent years with Andy Murray and Jo Konta."
Check out what happened on Day 4 of the Wimbledon Championships, on Thursday 6th July 2017 here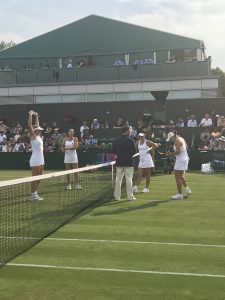 Wimbledon Facts
The price for a portion of a minimum of 10 strawberries and cream is £2.50.
320,000 glasses of Pimm's were served in 2017.
Pimm's bars are situated outside Centre Court for fast service and near the Fred Perry statue, with indoor seating for those wanting a break from the tennis.
Food and drink at Wimbledon is so popular that it is, according to the All England Club, the "largest single annual sporting catering operation (2200 staff) carried out in Europe."
It costs £49 for a full day of second round action on Court No.2 on the first Thursday, with every match featuring players in the World's top 20.
Baseball caps (46,408 sold) and towels (30,386 sold) were best sellers in 2017.
The 2018 Wimbledon Championships run from 2nd July to Sunday 15th July.
And the 15th July is sure to be a key date in the 2018 sporting calendar, as the men's Wimbledon final takes place on the same day as the FIFA World Cup final.
Overall, I'd say Wimbledon is a great experience that I'd recommend to anyone, tennis fan or not, the Championships are a British summertime institution.