The Winter Olympics has landed in Pyeongchang, South Korea. With a record number of  athletes competing a number of new sports have been added. Here is a list of sports, new and classic, that you may not know about, but should.
Big Air
New to the Pyeongchang Olympics this year, Big Air for Snowboarding is a new take on a
classic snowboard sport. Athletes drop in and head downhill to a very large jump in which they are scored, as usual, out of 100 for the difficulty of the tricks they manage to pull off, the execution of the tricks themselves and the landing of the tricks.
Riders will get two chances to wow the crowd and the judges in the qualifying rounds and three attempts in the final rounds, where the three scores will be added together to determine the medallists.
Mixed Team Alpine Skiing
For the first time, men and women will join forces for the new team event for alpine skiing.
This is different as it no longer focuses on the individual as instead of just the single genders racing the downhill slalom, the heats will be split up as men v men, women v women and so on; the winner from each heat moves on to the next round.
This new sport for the Olympics was originally debuted at the FIS Alpine World Ski Championship back in 2005 but this is the first time it has been seen at Olympic level.
Mass Speedskating
In what has always been a two-man sport, the mass start for Speedskating has been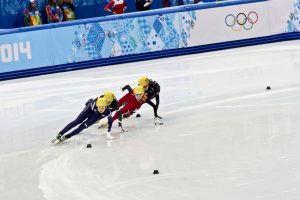 brought in to add more excitement to the already fast-paced sport. The new format sees 24 Speedskaters race 16 laps around a 400-meter ice track.
The race includes four sprints where athletes can earn points and the top 3 finishers of the event will earn medals and the others will be determined in part by those points.
Skiathlon 
This is a relatively new Olympic event, first seen at Sochi four years ago. It involves the classic Cross-
Country event in the first stage, then the skiers swap to skating skis in a transition area and continue on through the second stage in the free technique.
The men's event is 15km x 15km and the women's event is 7.5km x 7.5km.
Biathlon
The Biathlon is a simple sport but one that many don't know about. It involves Skiing and shooting where the men
race five laps of 3km to a total of 15km. There are four shooting grounds – the first two prone, the last two standing. Athletes have to hit all five targets or be given a time penalty and are also marked on the individual sprints, 'hunting' or pursuit of the other athletes and whoever crosses the finishing line first wins.