"When I step up to the bar, I feel like I am 16 again – and that is all down to powerlifting"
In recent competitions, 73-year-old Stan Macrow from Birmingham has shown that age is just a number and that anyone can lift weights.
Macrow has devoted nearly 60 years to powerlifting, entering his first championship in 1978 and competing in many others since then.
Despite his age – and weightlifting not being an everyday activity for older adults after retirement – he continues to train throughout the week and take part in competitions throughout the year.
Macrow says powerlifting has played a significant part in his life – and he could not imagine life without it.
"I started powerlifting at 16 to improve my health because I had asthma and bronchitis. At the time, I was mosquito weight, so everyone was bigger than me, so I didn't want to compete at first," he said.
"After my coach told me to do my lifting and work hard, I did so and broke all the records for my age group."
By showing his incredible strength and determination, Macrow has become a powerlifting legend, especially in the West Midlands Federation. Along with his popularity, Macrow said he wants to continue powerlifting to inspire people his age to get into the sport since it is good for fitness and bone strength.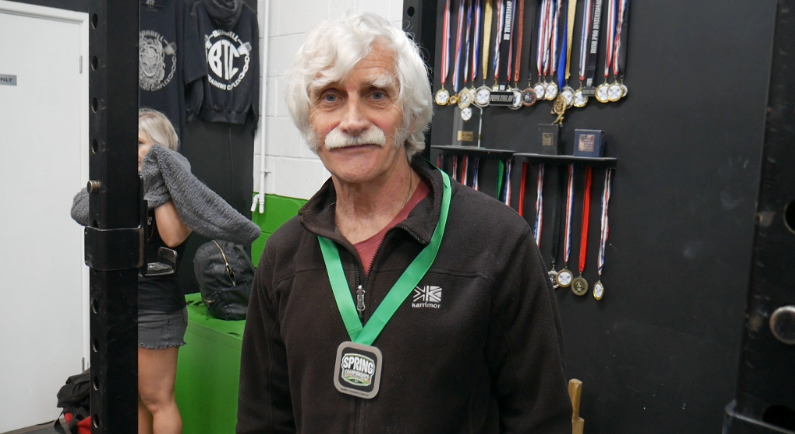 "Everybody can get involved!" Macrow states. "It doesn't matter who you are or what age you are, everyone can get involved in powerlifting. People need to meet people like me, come to the gym like me, and that's the beauty of powerlifting."
Furthermore, Macrow has become a mentor to many young people in the local powerlifting community. During his spare time, he also volunteers at local powerlifting clubs in the West Midlands, teaching young lifters the proper techniques and the importance of staying fit.
"A powerlifter must use proper techniques; otherwise, they can easily injure themselves," he stated.
"I love working with younger people and surprising them with my strength but also inspiring them to take care of their bodies and never give up when it comes to competing in this sport."
With his sights set on the upcoming British Masters Classic Championships in June, Macrow isn't showing any signs of slowing down.
"I love the sport. It is all I have known, and it's always been there when I need it.
"The adrenaline I get when I step up to that bar is amazing, something I will never get tired of."
"I want to go on until I don't wake up the next morning, then they cremate me and put me in the chalk bucket."
Macrow's story is a reminder that age should never be a barrier if you want to go on and pursue something. His dedication to powerlifting and commitment to helping others have made him a true champion both on and off the lifting platform.