Looking after your mental health is crucial at the best of times – but it becomes even more challenging to do this effectively during a pandemic.
Sometimes, it can be a case of adjusting your lifestyle or routines to help you take control of anxieties or worries. On other occasions, it can be particular items or products which can help improve your mental health.
With this in mind, we have listed a selection of products here that might help you with your mental health during these tough times.
Whether it's coronavirus related, or needed more widely in order to help free or ease your mind, these eight products may be worth taking a look at.
SAD lamp- Seasonal affective disorder lamp
SAD is sometimes known as 'winter depression' and is when you feel yourself in really low mood because the weather isn't the best. It's cold and dark, so getting a sun lamp or natural energy lamp is a great investment for someone who finds themself in a low mood quite a lot of the day during autumn and winter.
Sun lamps are great for people who spend a lot of their time indoors. It mimics the natural outdoor light and can help improve your mood whilst decrease the risk of depression and anxiety in those who suffer from seasonal affective disorder (SAD).
A natural energy lamp helps the body produce vitamin D, improves circadian rhythms and sleep patterns, as well as help us to focus enabling us to get more done and even make us happier.
You can buy either of these products on Amazon, John Lewis and Partners and even Etsy. The price range is between £25 and £80
Adult colouring books
This one may sound crazy because many people associate colouring with kids but, in fact, it actually helps adults with their anxiety and reduces stress.
Lots of studies have linked colouring to mindfulness and keeping present in the moment. So when you are feeling stressed, worried, anxious, or even annoyed, sit down and take a moment to colour.
It doesn't really matter what type of colouring book or pencils you use, as it's the actual practise of colouring which is calming. However, there are now adult colouring books available with beautiful patterns and more complicated and intricate designs.
You can buy these on Amazon, in B&M Bargains and Home Bargains as well as arts and crafts shops. The prices range between £3 and £15, as there are so many styles and themes.
Meditation apps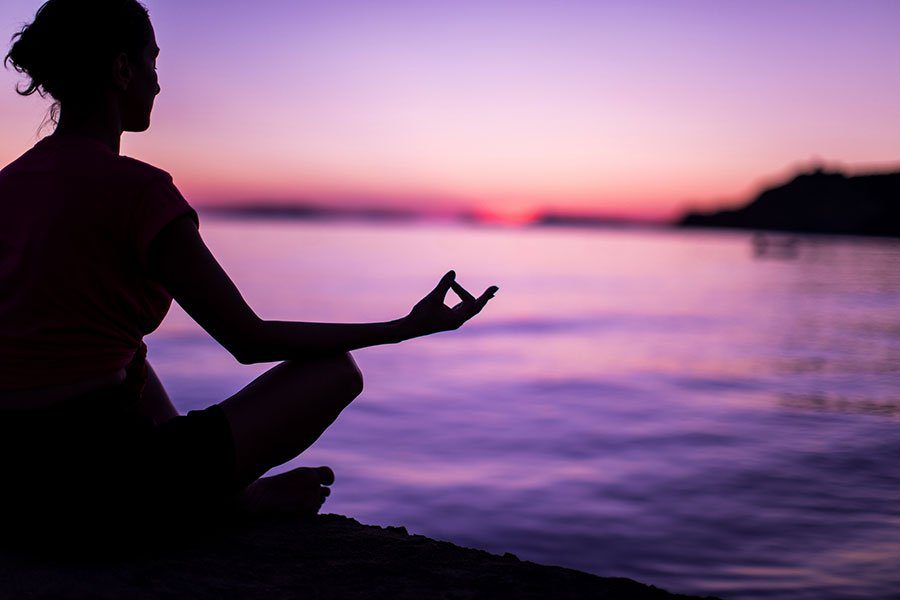 Just like any other apps out there, there's so many meditation apps. Listed below are the some of the meditation apps available out there:
Calm
The Mindfulness App
Headspace
Buddhify
Sattva
Mylife Meditation
Insight Timer
Breethe
 Weighted blanket
A weighted blanket is a very good long-term investment for those with anxiety, depression and even SAD. It is one of the more expensive items on this list but really does help.
Weighted blankets can help with getting a better-quality sleep as well as allowing you to fall asleep more quickly due to the weight. The blankets typically weigh between 5 and 30 pounds and, due to being a therapeutic blanket, can improve mood and relieve pain.
When buying a weighted blanket, it's important to choose one that is about 10 per cent of your body weight and look for features like temperature-regulating properties, particularly if you tend to sleep hot or cold. There are so many places to buy these weighted blankets and can range from £24 to £110, so make sure you do your research so that you are not wasting money and your body benefits from the blanket.
 Essential oils
Many studies on aromatherapy have shown that essential oils may help reduce anxiety. All you need to do is put a few drops into water, either in your bath or in your diffuser and breathe it in.
Essential oils are great because you can use them for a number of different things, like diffusing them into air or applying them to your body to create a welcoming and stress-free environment.
When buying essential oils, it is important to consider that they aren't regulated by the Food and Drug Administration so, when shopping for refills or new smells, be sure to buy from a reliable company and also look for brands that use 100 percent pure and natural ingredients. There are a lot of knock-offs which include perfume oils that aren't as beneficial.
If this is something you want to invest in, it is worth reading up on the different essential oils to find which you can benefit from.
Many shops, online and in-store, sell essential oil diffusers with prices ranging from £11 to £100, so make sure you find one which will help you. Some come with essential oils and others don't – but you can buy them in most places like Boots or Holland and Barrett, while  Amazon also have some good deals.
Pillow sprays
Pillow sprays are a great way to help you get to sleep. The little bottle is filled with calming aromas of lavender and camomile which known for its help with relaxation.
The aromas release melatonin in our bodies which allows us to relax and is a hormone that promotes restful sleep. You spray a little on your pillow, duvet or teddy during your night-time ritual and essential oils within allow you to relax and get a better night's sleep.
This product has a range of prices from £4 to £52 and can be bought in most retailers and supermarkets like Boots, Amazon and Sainsburys.
A massager or acupressure mat
Acupressure is a form of traditional Chinese medicine that works by stimulating pressure points in the body. Research has found its effective in providing overall anxiety relief.
The Ajna Acupressure Mat has more than 5,000 ergonomic spikes to stimulate pressure points in the back, neck and shoulders and is made with natural linens and coconut fibre so is a great sustainable choice.
You can buy these mats online from multiple places and they range in prices between £19.99 to £135.
Alternatively, if you would still like to relax from the comfort of your own home, an electrical massager would be best.
Shiatsu massage is one of the best types of massage for people who want to feel relaxed and relieve stress, pain and tension. It's a Japanese style of massage that may help to relieve anxiety and depression.
Shiatsu massagers come in all sizes and across all price points. There are options with heat, vibration, different intensities and lots more. If you aren't sure what will be right for you, then consult your doctor or chiropractor to find out which option would cater to your needs.
Much like the acupressure mat, you can purchase a shiatsu massager online from lots of different companies which are priced between £18.95 to £50.
Habit tracker apps
Habits are little ways or routines that people do things and most of time people don't realise they are doing them, whereas other habits like smoking can have a harmful effect on your health and body.
It can be extremely hard to kick these bad habits, which is why a tracker can be so useful. Here are some recommended tracker apps:
Momentum Habit Tracker – iOS
Habitica- iOS and Android
Productive Habit Tracker- iOS
StickK- iOS and Android
Habitshare- iOS and Android
Streaks- iOS
Habit List- iOS
Balanced- iOS and Android