Matlock Victorian Christmas Market arrived last Friday, with the event celebrating its 25th anniversary with the help of a hundred-year-old mechanical organ.
As well as food and gift stalls there was music played throughout the weekend, the most distinctive being from a large organ which was set up next to the town centre's Causeway Lane roundabout.
Stuart Dobbs is the Organ builder responsible for this machine. The 47-year-old who lives in Worksop, Derbyshire spent the three day duration of the Victorian Matlock Christmas Market playing music to the public. We asked him about the impressive instrument he had brought to the town.
So what's the general public's response to seeing the organ?
It's generally appreciated by the public quite a lot, yesterday it was a very busy day.
It's just a bit of fun for the kids and helps everyone get in the Christmas spirit at this time of year.
Do you get a lot of people asking how it works?
Some people are interested in how it all works, but obviously everyone is into playing with their iPhones these days, and with this being built around 1917 it doesn't interest everyone.
You can't get much further away from an iPhone than a hundred-year-old organ.
Just from looking at it you can tell it's slightly before the age of the iPhone, but really it actually was a sort of earlier computer of its own era, it's a clever old thing.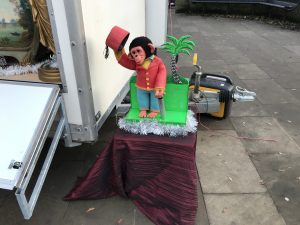 So when do you usually bring this organ out? Is it only at Christmas time?
Not at all, I actually don't do many events at this time of year usually just because of the weather that comes with it. But I've been booked to entertain here and really its just something different to see around the town. At the end of the day we're at a Victorian Market and this machine is very fitting for taking people into that era.
So you what has led you to owning one of these machines?
Organ building is something that runs in my family, I've been building them since I was 16 years old.
So through doing that and restoring church organs from that age, I adopted my families' hobby – my father has a much larger fair ground organ.
And aside from that, these things were built to entertain the public in small towns. They'd have been at the centre of a ride of fair – playing to people who had probably heard proper music before, just instruments.
So it brings me joy to keep that history going, all this time later.
How does it work then?
Well, I've got a big pile of cardboard song books that are punched with holes in different sizes and places that I place into the front of the organ.
Then small keys in the organ  poke through those holes, so that every time this happens a note is played.
The arranger punches the holes onto the card and that is how the organ knows what to play on its own.