Preparations are under way for Ashbourne's annual Royal Shrovetide football match as shops, businesses and players brace themselves for impact. 
On a quiet afternoon in late February, the only signs of the impending chaos about to befall this picturesque Derbyshire town are some partial barricades screwed over shop window fronts.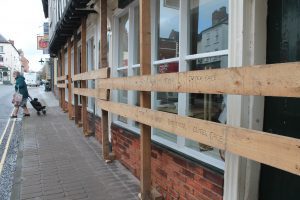 The streets are empty, save for a few shoppers braving the brisk winter air.
This is in stark contrast to the heaving, sweating mass of bodies that will scramble through on Shrove Tuesday (February 25) and Ash Wednesday (February 26). 
The game is an historic test of skill and endurance between the Up'ards and Down'ards – so-called depending on which side of the Henmore river they were born on.
The teams meet every year and compete for honour and victory – over a large ball. 
The ceremony of 'turning up the ball' takes place at 2pm at the Shaw Croft car park on Tuesday and it marks the start of the game when the ball is thrown into the waiting mob by a selected dignitary. 
In what some describe as an organised riot known as 'the hug', players strive to possess the ball long enough to tap it three times on their opponent's goal post. 
These posts are millstones placed more than three miles apart and the scoring method is known as 'goaling the ball.' 
Sebastian Frederick-Hart, a 17-year-old student and a born and bred Down'ard, has been taking part since he was 11. 
He said: "It's a bit terrifying at some points, especially when you're crammed against a wall with it, but the adrenaline rush is so good, it's so much fun. 
"When you're the one calling out where to move and where the ball is – you just feel like a proper part of the team." 
Last year's match-winner was goaled by Sebastian's cousin, Richard Smith. 
Sebastian said: "He just went straight to the goal. 
"He was already up for the ball because he's one of the big Down'ards and they just said, 'Goal it!' and he went and scored the only goal that year and won it for the Down'ards." 
It's not only the players that look forward to the friendly rivalry and atmosphere. 
Christine Drabble, 58, from Buxton, works at Ashbourne Leisure Centre and has witnessed the event for the last 10 years. 
She said: "It's nice to see so many people at the event as it brings the town to life. 
"Everybody comes back with bruises and scrapes but there's no ill will."