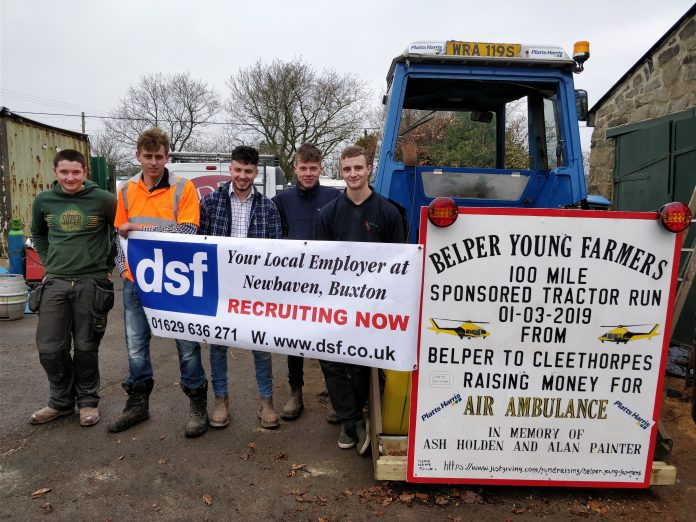 Two men who tragically died in farming accidents were remembered by family and friends as a group of young farmers drove 100 miles in classic tractor to raise money in their memory.
Alan Painter died seven years ago after being knocked over by a tractor, while Ashley Holden died in an accident last November. Both two men were from local farming communities, with Mr Holden the chair of a Young Farmers club near Pleasley.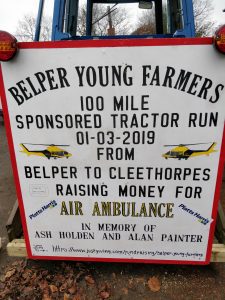 Although both men died, the Derbyshire, Leicestershire and Rutland Air Ambulance (DLRAA) came to their aid and, to honour their memory, a group of four men, John Armitage, James Booth, Alfie Riley and Matt Woodhouse, decided that they wanted to raise money for the charity.
As a result, they arranged for the Belper Young Farmers Club to drive 100 miles in a classic tractor to Cleethorpes Beach as part of their fund-raising efforts.
Mr Armitage, from Alderwasley, – who owns the tractor and was the grandson of Alan Painter – was the driving force behind this cause as he was close to both victims.
The 22-year-old maintenance fitter at DSF Refractories said: "I was very close to my grandad and Ash and I worked closely together throughout the years."
At 11am on March 1, the young farmers left Belper in their blue Ford 4600 tractor after a gruelling seven-and-a-half-hour journey, arrived in Cleethorpes in North East Lincolnshire at 6.17pm.
Upon their arrival, they were greeted by fellow young farmers from clubs across the country who were attending the Young Farmers Annual General Meeting (AGM).
A Facebook Live of the group arriving in Cleethorpes 
Mr Armitage's mother, Catherine Allsop, 52, was Alan Painter's daughter.
She said: "When John told me he wanted to do this, I was extremely proud. He's very kind and always tries to think of others first."
The self-employed owner of a holiday let, also from Alderwasley, said: "I think John felt we ought to point the situation out and money ought to be raised for the Air Ambulance to help more people."
John could not undertake this trip alone, so he enlisted Jack Edwards to help make the tractor road legal, as well as three lads from the Belper Young Farmers Community to accompany him on the journey.
Mr Riley, a plumber, decided to help out as he also has a personal connection to the charity.
He said: "I wanted to get involved because six years ago my mum had an equestrian accident. She fell off her horse and broke her neck and the air ambulance was involved in that."
The 20-year old, from Ripley, added: "If it wasn't for them, she probably wouldn't be here today."
Mr Woodhouse, 18, from Belper, who also took part, said: "I think it's a very important thing because you never know when you're going to need it.
"If something happens and it's in a remote location, and you can't get an ambulance there, they are always to hand and it's just a necessary essential.
"I'm definitely glad I took part, I wouldn't have been one to be an onlooker so I was glad I was part of it."
The National Federation of Young Farmers' Clubs was first established in 1921 in Hemyock, Devon.
After nearly a century, there are still various clubs across the country practising many of the traditions that first made the community popular with young farmers including competitions, dances and weekly meetings.
Mrs Allsop said: "Young Farmers – as long as I can remember – have always looked after each other, from the eldest to the youngest. Everybody's always fitted in with the club, and everybody's there to support one another."
The Air Ambulance Service has two local aircrafts that are operated across Warwickshire and Northampton (WNAA), which was launched in 2003, and Derbyshire, Leicestershire and Rutland (DLRAA) in 2008.
The Air Ambulance Service covers both the Warwickshire and Northampton region and the Derbyshire, Leicestershire, and Rutland region: that's 7218.77km² or 2787.18 square miles.
They are a non-government funded charity and rely on donations from the public.
Currently, the service has completed 37,473 missions.
It costs £1,400 to recover an injured person, so the farmers hoped to raise that sum to help the charity fly out to others in need, especially those in isolated areas.
The group have currently raised £955 towards their goal of £1,400. You can click here to help fund the work the Air Ambulance Service does.
Mr Armitage said: "I think it's important not just for people working in agriculture, but for everyone who needs it. The Air Ambulance Service doesn't get enough funding for what they do."