Tennis world number one Novak Djokovic scooped his first title in over six months yesterday afternoon – breezing past Stefanos Tsitsipas in straight sets to claim the Italian Open.
DJOKOVIC DELIVERS 🙌

Novak Djokovic wins his sixth title in Rome 🏆@DjokerNole | @InteBNLdItalia | #IBI22 pic.twitter.com/FZ2s9gtldj

— ATP Tour (@atptour) May 15, 2022
The Italian Open saw Novak claim his 1000th career win and a first title in 2022. In what has been a rocky and controversial year for the Serbian star, Djokovic was disqualified from the opening grand slam tournament of the year at the Australian Open, and also deported from the country due to his anti-vaccination stance.
NOVAK DJOKOVIC.

That's the tweet. pic.twitter.com/5NRM95Em2K

— Internazionali Bnl (@InteBNLdItalia) May 14, 2022
The Serb came under intense criticism, but looks back at his best ahead of two more grand slam events over the coming month, at Roland Garros (France) and Wimbledon (UK).
Despite a flawless Italian Open that saw the world number one clinch every set he participated in, the attention now turns to the French Open that begins on the 22nd May.
Djokovic has been cleared to compete in the tournament after the removal of vaccine mandates in France over recent months.
The 34-year-old has spoken out in recent days about the vaccine as well as the ban on Russian and Belarusian players, both issues currently being tackled within the sport.
Speaking to the BBC Djokovic exclaimed: "The principles of decision making on my body are more important than any title or anything else. I'm trying to be in tune with my body as much as I possibly can."
On the ban of Russia and Belarus internationals, Djokovic said: "Athletes are here to do sports. If we expel them from sports just because they come from a certain country, that is a bad decision.
"Ordinary people always suffer – we've had lots of wars in the Balkans. That being aid, I cannot support the Wimbledon decision. It's not the athletes' fault. When politics interfere with port, it usually doesn't turn out well."
Djokovic will be keen to avenge Rafael Nadal's grand slam win in Australia with victory on the Spaniard's favoured clay surface at Roland Garros, to draw the pair level at 21 slam titles each – a total higher than any other player has amassed in the sport's history.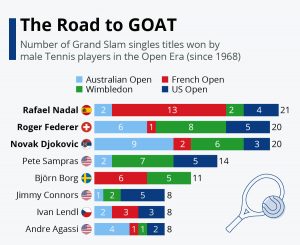 Although he has had his critics, it is vital for the competitiveness of the upcoming summer events to have Djokovic back on the grand slam stage to defend his 2021 successes.