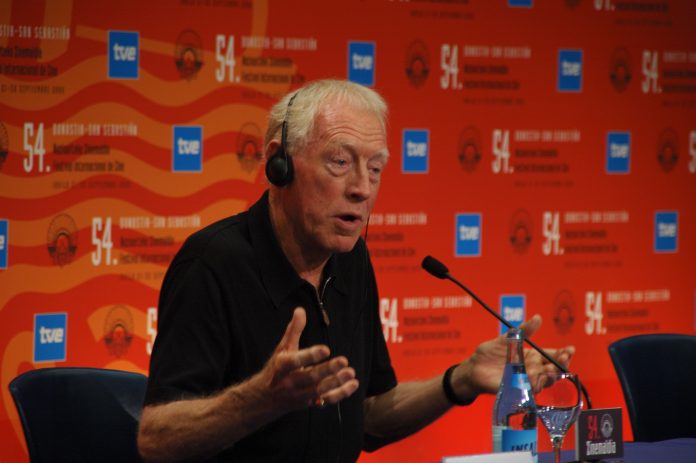 Actor Max Von Sydow, who was cast in The Exorcist and Game of Thrones, has died aged 90.
His family today announced that Mr Von Sydow died at his home in France yesterday.
Mr Von Sydow was born in Lund, Sweden on April 10, 1929, into a wealthy family.
His father Carl worked as a professor at the University of Lund, teaching Irish, Scandinavian and comparative folklore. His mother Maria was a schoolteacher.
At school, Mr Von Sydow founded an amateur theatrical company alongside some of his friends. After completing his national service he studied at the Royal Dramatic Theatre in Stockholm.
Max Von Sydow, such an iconic presence in cinema for seven decades, it seemed like he'd always be with us. He changed the face of international film with Bergman, played Christ, fought the devil, pressed the HOT HAIL button & was Oscar nominated for a silent performance. A god. pic.twitter.com/klhJ9RusdQ

— edgarwright (@edgarwright) March 9, 2020
His first movie role was in 1949 when he was in Only a Mother.
Six years later, he moved to Malmo where he met Swedish writer and producer Ingmar Bergman, who worked as his mentor.
The partnership would be a prolonged one, as the actor and director helped each other gain publicity.
Mr Von Sydow became particularly well known for his role in The Seventh Seal, in which he plays a knight who participates in a game of chess against Death.
He would go on to star in many more movies as his popularity rose. In 1965, he portrayed Jesus Christ in The Greatest Story Ever Told.
In 1973 he starred as Father Lankester Merrin in The Exorcist, which remains as one of the most well-known and influential horror movies ever produced. He returned to play the same character five years later in Exorcist II: The Heretic.
Goodnight, Max von Sydow, one of the greatest actors to ever grace the stage and screen, whose vigorous performances in films like THE SEVENTH SEAL will forever be carved into cinema history. 🖤 pic.twitter.com/yfg4Oer2zU

— Criterion Collection (@Criterion) March 9, 2020
Now an established and respected actor, the opening two years of the 80s saw him take on roles in Flash Gordon, Escape to Victory and Conan the Barbarian.
He appeared in the James Bond movie Never Say Never Again in 1983, starring alongside Sean Connery, Klaus Maria Brandauer, Kim Basinger and Rowan Atkinson.
The year 2000 marked the first year since 1967 that he didn't have a role in a feature film, as his acting duties began to decline.
However, he played roles in movies directed by the likes of Steven Spielberg (Minority Report, 2002), Martin Scorsese (Shutter Island, 2010), Ridley Scott (Robin Hood, 2010) and J.J. Abrams (Star Wars: The Force Awakens 2015).
"Do it, do it, do it. Watch good actors. See what they are doing and how they are doing it. You have to practically participate, I think, in order to develop yourself."

Rest in peace, Max von Sydow, a film titan and one of the greatest actors to ever illuminate the screen. ❤️ pic.twitter.com/BqEGesjOta

— Tribeca (@Tribeca) March 9, 2020
In 2016, he played the Three-eyed Raven in the hugely successful HBO series Game of Thrones, which was his final television role.
Prior to this, he appeared in four episode of The Tudors, playing Cardinal von Walburg. His last movie role was in Echoes of the Past – the release date of which is yet to be confirmed.