A team of Specialist Sports Journalism students from the University of Derby have been out in Minsk, Belarus to cover the 2nd European Games. Here are the thoughts of half French/half English journalism student, Leo Hewitt-Provost on the Belarusian experience…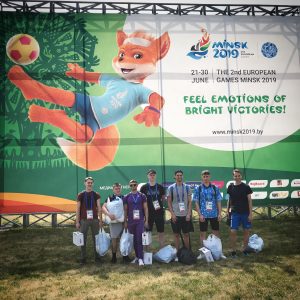 The first thing I noticed in Minsk when landing at the airport on the 19th of June was the fact that it was boiling hot. My course mates and I were just waiting for the bus to pick us up and get to our accommodation when I realised I had packed my suitcase like I was travelling to Alaska in the middle of the winter. I had brought two jumpers, three hoodies and no shorts, fully knowing I was never going to wear them in Belarus.
When we were on the bus on the way to the main city centre, it was getting late, we were tired but excited to see what this place would offer. There were massive buildings everywhere and I just remember thinking: "This looks exactly like where I used to live back in France." I do not recall seeing any houses around Minsk city centre, just big blocks with more windows that I could count.
LAWS
The laws in Belarus are also very different. Something I cannot get my head around are the traffic lights and crossing the road. Belarusians are really respectful of the road and simply do not cross the road when the pedestrian light is red, and if it is green, but they are unable to cross in the stated time remaining, they will just wait. Having grown up in France and England and experienced a variety of cultures, it did not shock me as I'm aware that all countries vary and have different laws, but it crossed my mind that I would definitely lose my patience if I ever lived in Minsk. Even today, I am still unsure if jaywalking is illegal or not in Belarus.
VOLUNTEER WORK
I loved my role of volunteering for 10 days. I worked alongside many Belarusians and journalists from all over the continent. The buses to get to the Tennis Olympic Centre were pretty straightforward and, after a day or two of getting used to getting to the location, I was looking forward to meeting the people I would be working with. I never felt lost once, even on the first day I arrived at the Tennis Olympic Centre two volunteers came up to me and introduced themselves, their English was really good and I felt welcomed.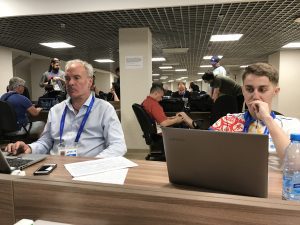 THE ABILITY TO SPEAK A SECOND LANGUAGE
Before arriving at Gatwick on the 19th of June to catch my flight, it never came to my mind that I would be able to interview that many table tennis athletes in French – it was a great opportunity to use my mother tongue. I interviewed seven athletes in French; Swiss, Belgian, Monegasque and French. I was also able to interview many players in English, and the ones that did not speak it, I was able to interview their coach instead.
Speaking two languages is something that will always benefit me, ahead of many people. This is a skill that I will need to be using in the future, as I did during those European Games, interviewing French speaking athletes and transcribing quotes in English.
TABLE TENNIS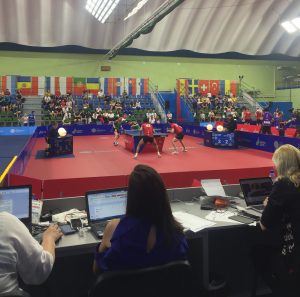 As for the table tennis itself, I remembered it being much quicker when I was younger and watching it on the television, not that I would be able to keep up against any professional player, but I had definitely pictured the sport to be much faster in real life. The quality was phenomenal though, with each player having their own defined play-style; some players threw the ball really high in the air before serving while others barely used topspin shots and were more reliant on slices and defensive returns.
Every time I interviewed a player, I would go to the mixed zone where other journalists from all over the world would be too. There was not an interview that stood out from another, I approached them all the same way and remained professional, growing in confidence after each interview.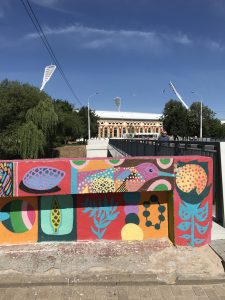 All table tennis flashquotes can be found on the European Games website:
My flashquotes can be found under the tag "GNS lhp/".
BELARUS
I believe Belarus is one of the least visited countries in Europe and I did not really help either. I didn't have a full day off to explore the city so was not able to visit the usual historical monuments like a tourist would.
I visited one place one morning before a late afternoon shift, full of graffiti, known as Minsk street art on Oktyabrskaya Street, not far from the Dinamo Stadium.
OVERALL
I have gained so much experience from working at the European Games, in a professional environment, interviewing players and writing down flash quotes that were published on the official Minsk 2019 website.
This is something I will not forget and is something that I will be able to use in the future as part of showing potential employers what I can do, the skills I have gained and what I have learned from my time in Eastern Europe.
Leo Hewitt-Provost