Could French youngster Yoann Greco be Derby County's next big star?
The 18-year-old arrived at Derby in 2016 and has been signed to a youth academy contract for the last year.
Greco has formerly played for French side Saint-Etienne's academy, developing his game before moving to Derby.
The French-born attacker has played for Derby at under-18's level, but has aspirations of breaking through to the first team to join the likes of Will Hughes, Jeff Hendrick and Jayden Bogle as academy products who have broken through to the starting 11.
"We are a big group (under 18s) so we play well, it's good for us to keep improving," Greco said. "My long-term goal is to play for the first team as soon as possible."
But, is it more difficult for Yoann to adapt to English football due to the language barrier?
Greco was born in France and is a fluent French speaker who is still developing his English, which can make it more difficult for a young player coming to an English club such as Derby.
"My short-term goal is to improve my football and my English, it's very important that you can speak the language. I'm not fluent so it's harder but I am getting better," he added.
"His English is better than my French, that's for sure," said Derby under-18's coach Justin Walker.
"He deserves a lot of credit, he's worked hard from the language point of view, I'm still very limited with my French but we do try the odd phrase here and there."
"He's adapted to life well, it's been difficult for him. We did have some issues with his international clearance so his playing time has been limited. He's adapting well to life in England and more importantly, he's starting to show that progress and the potential that was the reason why we signed him."
It clearly didn't take him too long to adapt to life on English soil…
9'| IT'S TWO!
The ball breaks for Yoann Greco to tap home the Rams' second of the afternoon!
(2-0) #DCFCU18s pic.twitter.com/08k29fruBR

— Derby County Academy (@dcfcacademy) November 10, 2018
So how does an English club like Derby help with young foreign players coming to play in England?
"It's been a steady process really," said Walker.
"In terms of they come over a week at a time since we scouted them, so they're drip fed into the system, and they've had a trial run if you like for six months prior."
Walker went on to say that every player receives individual attention to better there life whilst in England. "It's just the support we have to put in and around every individual and knowing what needs they have, making sure everything is right with where they're living and that they have everything that they need," he added.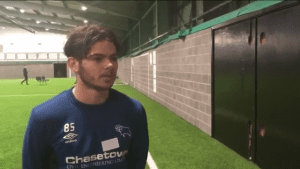 It is more than just a professional viewpoint that Derby have a thriving youth academy, with lifelong Rams fan Colin Heard, aged 54, saying: "It's really good to see how well the youth teams are performing against sides like Manchester City and Chelsea."
"It's really promising to hear about these young players, and I'm going to be keeping an eye out for (Yoann) Greco in the future for sure."