A mother and daughter team who opened a gift shop together are looking to expand the business in the near future.
Located on High Street, Belper, it has been open for the last eight years, and is run by Zehra and Susie Allen.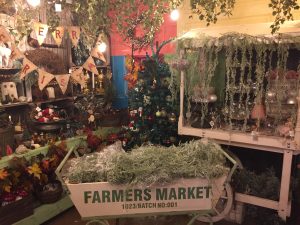 The pair sell all manner of beautiful gifts, home and Christmas decorations, inspired by shabby chic and a quirky sense of style held by the duo. They also make some of their own products like the personalised signs and the artist bears from O' Little Shine Designs. Since opening in 2010, the small shop has expanded upstairs with all the rooms decorated within an inch of their lives with everything from cards, mugs and trinkets to soft toys, scarves and handbags.
Susie, aged 22 from Belper said: "Eventually we would like to have a second shop. I'd also like to do more shows around the country, and it would be nice to see the things we make in other shops too, so our brand can actually progress in that way."
Susie's fiancé, Joe Mannion, aged 24, an electrician from Belper said: "I think Susie and her mum are doing really well. I'd like to see her get another shop so they can expand and take the brand to different places."
Primsisters also attend numerous events and markets throughout the year, such as Chatsworth Christmas Market which is about a 20-minute drive away near the market town of Bakewell.
Susie said: "The Chatsworth Christmas Market attracts people from all over the UK, it's one of the top Christmas markets in the country."
"We love to do the shows because not only do we sell our products there, but it also gives us chance to advertise our brand and let people know where our shop is, which isn't far from Chatsworth so they can always pop in another time."
Zehra, aged 48 and also from Belper, and Susie are also involved with local organisation Love Belper, which brings together many shop owners within the town to raise the profile of the independent business industry.
Susie said: "I've heard on the news that shops on the high street are failing. 14 shops a day are closing which isn't brilliant because people want to shop more on the internet."
"But I think if we all (shop owners) talk, communicate and work together, we can make the shopping experience in Belper as enjoyable as possible so people keep returning and we get more visitors."
The first event the Love Belper team have organised was the Pumpkin Trail, which was very successful for the town as it brought new customers into the shops. Belper has many different attractions taking place throughout the year, including The Summer and Winter Food Festivals and the Arts Trail. Every year the town sees many more visitors from outside of Belper enjoying what it has to offer.
Joe said: "I noticed when it was the Pumpkin Trail that when I walked down the main street, it was the busiest I've seen it in months, so it definitely brings more people into the town. It's good for everyone and gets everyone into the shops."
The shop is buzzing with activity as the team get it ready for Christmas. Walking into the Christmas room is truly like going into a magical winter wonderland. There's fairy lights everywhere, unconventional decorations littered in peculiar places across the room, special soft toys hiding in every corner, brightly decorated Christmas trees and so much more to see.
Primsisters Country Décor is open Monday to Saturday, 9am until 5pm, and on Sundays, 10am until 4pm.
For more information about Love Belper and the Winter Food Festival, click here, plus if you want to discover our guide to just some of the independent shops in Belper, click here.