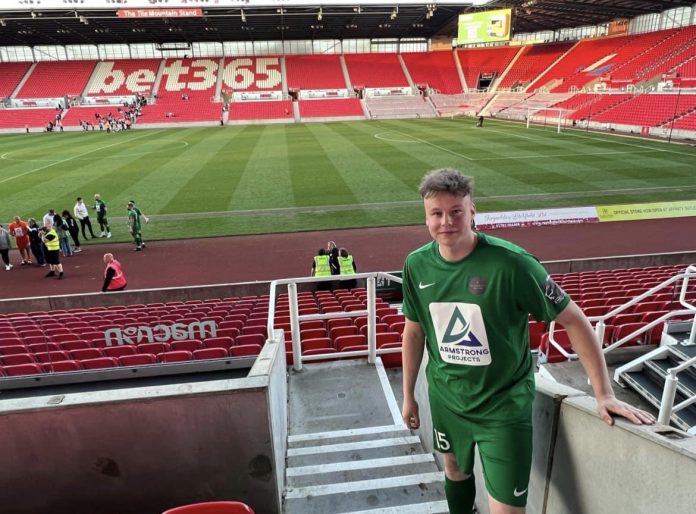 A celebrity charity football match has made plumber Aaron Dodd a local celebrity himself.
The 23-year-old found himself mixing with stars such as James Arthur, Dan Osbourne and Danny Dyer at Stoke City's Bet365 stadium on Saturday.
And he even managed to bag himself a goal on the winning team.
The event was set up by Sellebrity Soccer, who arrange charity matches across the UK and have so far raised £1.3 million pounds for various charities. But how did the young man get himself on the pitch?
"Me and my brother run our own plumbing company, Heat Safe," said Dodd.
"I suppose you could say we're a bit like the Super Mario Brothers in that way!
"We heard about the match through social media as they were looking for shirt sponsors, we couldn't give up the opportunity to support such a great cause.
"As everyone was walking out I could here people in the crowd asking each other who I was. Of course they weren't going to have any idea when I'm just a normal lad from Tunstall."
As well as great advertising, VIP tickets to the match and a chance to meet the celebrities, one of the brothers was allowed to play in a segment of the match.
"I love football, and play 5-a-side every Sunday with my mates…but this was a whole new ballpark trying to tackle Danny Dyer!"
However, Mr Dodd didn't have anything to worry about, scoring a goal for the green team in the 63rd minute, resulting in a 6-4 victory.
He said: "My claim to fame is Dan Osbourne congratulating me on my goal straight away, he gave me a good slap on the back and said 'good goal matey.' I had the biggest grin on my face after that and it definitely helped me relax into the game."
Proceeds from ticket sales, sponsorships and donations were donated to AED Donate, a charity fitting local defibrillators.
Mr Dodd said he not only got a great day out of his time on the pitch, but has also taken home his full personalised kit and is set to receive a shirt signed by all of the celebrity players.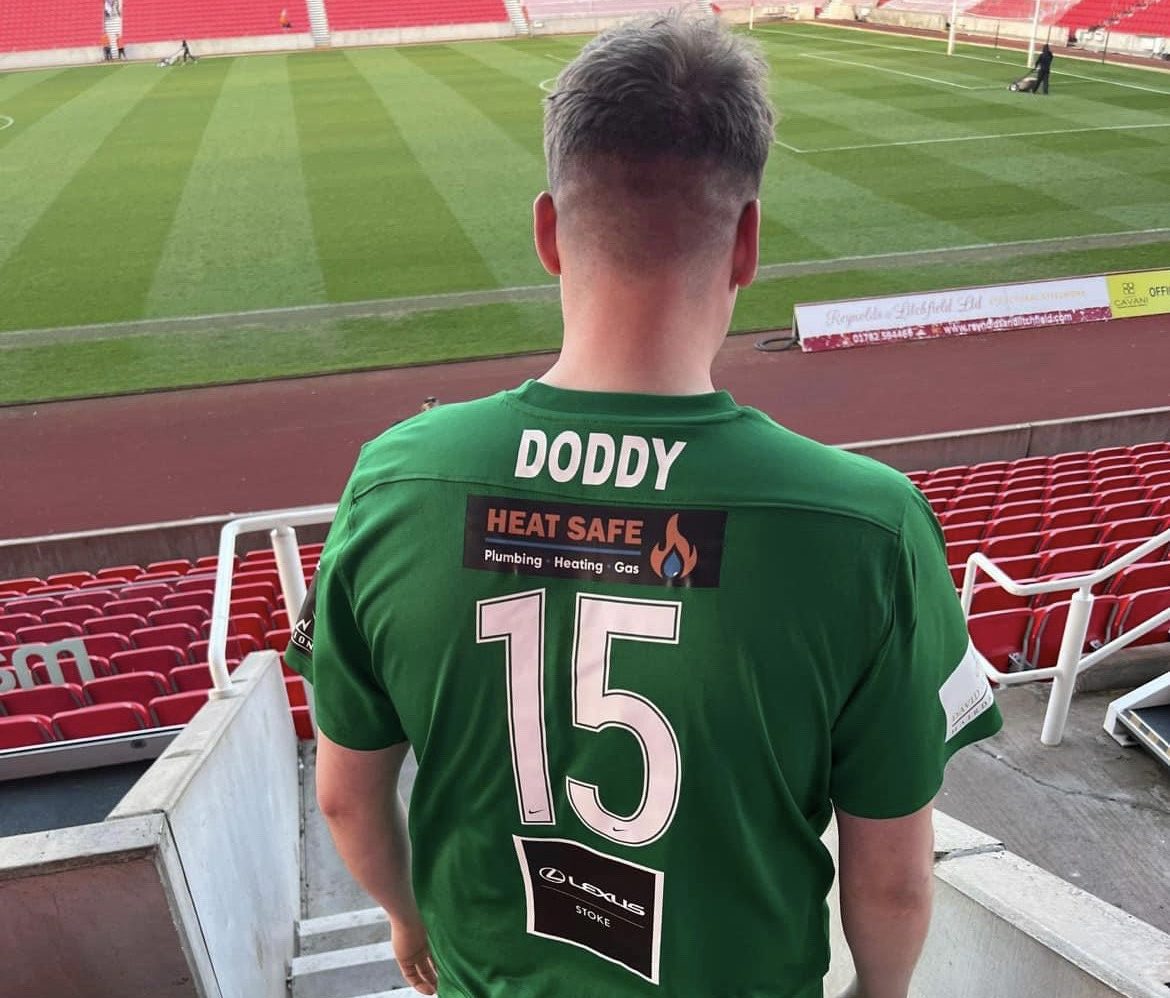 On the day, the celebrities were split into two teams – the green team and the black and white team.
Other well-known names included World's Strongest Man Eddie Hall, Tattoo Fixers Jay Hutton and Love Island star Jake Cornish.
They played a full 90 minutes and the green team were presented with their trophy at the end.
Sellebrity Soccer co-founder Kevin Cooper said: "It's never about the end result for any of the lads, what's important is that we raise as much money as possible for the chosen charity.
"It was a pleasure having Aaron on the pitch and in the dressing room, he fit right in so maybe he should start re-thinking that career of his."
A raffle was also held, where the crowd could purchase a special bag of sweets to be entered, the winner got to join the winning team on the pitch at full time and meet the famous faces.
More matches by Sellebrity Soccer are set for the upcoming months, with their next game taking place on Monday, May 30 at Peterborough United FC, supporting 'Action Medical Research for Children.'
Sellebrity soccer is back ⭐⚽

Featuring newly added:

⭐ @MrDDyer
⭐ @JamesArthur23
⭐ @RealJamesArgent

📅 Monday, May 29th 2023

⌚ 2:30pm

📍 Weston Homes Stadium.

— Peterborough United (@theposh) May 22, 2023
You can book tickets now through their website.