An Ashbourne historian says she will fight to her dying day to achieve equality for women in Ashbourne Royal Shrovetide Football.
Trilby Shaw, 81, has spent almost 30 years campaigning for a woman to turn the ball up – throw the ball into the crowd to officially begin the game – at the event which is played on Shrove Tuesday and Ash Wednesday every year.
We'd love to take part in this! ⚽

It's time for Ashbourne's Royal Shrovetide #football – here's a look back at the annual tradition through history.

Get started ➡ https://t.co/pT0J3TN8mS #GetInspired #bbcfootball pic.twitter.com/EkDM1YXINL

— BBC Get Inspired (@bbcgetinspired) February 13, 2018
She said: "In this day and age you've got top women surgeons, you've got women presidents, airline pilots and astronauts. Why can't we have a woman to turn the ball up?"
This decision is made by the Royal Shrovetide Committee, an all-male group which consists mainly of ex-players, and which is independent from local government.
Mrs Shaw, an Up'ard, and historian with the Ashbourne Heritage Centre, said: "The committee, who rule the game, do not recognise women.
"I am the only woman that's ever addressed a Shrovetide committee and that was the most terrifying thing I've ever done in my life."
Mrs Shaw took a petition of 1700 names, in support of a woman turning the ball up, to the committee in 1990.
She says she was not allowed into the committee room and was made to put her case forward in the bar outside.
She said: "I went to the meeting and they all stood round and stared at me, the twelve of them stood round and stared at me and it was terrible."
The petition was voted against and, since then, Mrs Shaw has frequently asked the committee for a woman to turn the ball up.
Although women can play Shrovetide football, it is women's lack of involvement in other areas of the game, such as turning the ball up, serving on the Shrovetide committee and goaling the ball – something only two women have ever done – which causes Mrs Shaw to believe women are being illegally discriminated against.
She feels the MP for the Derbyshire Dales, and local government councillors, should be standing up for the women of Ashbourne on this issue.
She said: "The MP should be saying, I'm sorry, this is not lawful.
"Your appointed county councillors and district councillors wouldn't be in position if women hadn't voted for them.
"I'm not going to say any fancy thing about any of them because I just have got no faith."
Sir Patrick McLoughlin is the conservative MP for the Derbyshire Dales and has held his seat since 2010.
Before that, he was the MP for West Derbyshire, from 1986, and served as Transport Secretary from 2012 until 2016.
He said: "I believe the town is very proud it [Shrovetide] continues and your source is doing the committee an injustice.
"So far as I am aware, local women are keen supporters and defenders of the game. There are no rules to stop them playing and I have seen some doing so.
"Having said that, I would like to see a woman turn up the ball. I have made specific suggestions to members of the committee to that effect over a number of years. Although none have yet been taken up, and the decision making is kept confidential, I have been asked by members whether other women might consider doing so, which suggests that that could change."
Mrs Shaw believes a more democratic way of choosing who turns the ball up would be to have a ballot, which could be anonymous, in the local paper over the summer.
When approached, the current chairman of the committee, Nigel Brown, declined to comment.
To see why this is something Mrs Shaw is so passionate about, have a look at the video below.
Darren Waring, 51, is a born-and-bred Down'ard.
He has played for the team for 37 years and goaled a ball in 1996.
He believes this is not an issue of equality but an issue of practicality.
He said: "This has got nothing to do with equality, this is a game for men. You don't have women playing men at rugby or football or anything else, so why would you do it at Shrovetide?"
For more on his take from a player's perspective, and for the opinion of spectators, check out the video below.
Ann Smith, 66, has been a Shrovetide marshal for the past six years, including at this year's game.
She has been a town councillor, for the St Oswald's area, since 2013 and will become the new mayor of Ashbourne on May 21.
She said: "It's not just a man's game anymore, it's an Ashbournian game and that includes women as well.
"In the respect of keeping everything equal and open, I can't see any reason why a woman should not turn the ball up and be a member of the Shrovetide committee."
While she agrees there needs to be more equality in some areas of Shrovetide football, she does not think there is a lack of equality in the game itself.
She said: "You've got to be very very fit to play Shrovetide and if a woman had got the right build and got the right attributes, she would goal a ball, it's as simple as that. I've ended up being in the river before now. They are stronger than us in a lot of respects and that's not sexism, it's a fact of life."
Ms Smith, a Down'ard, says Down'ard players have always tried to include women in the game.
She says women go to the meetings, give advice and play a big role on the day by keeping players refreshed, providing medication, looking after supplies and sharing information to help players keep track of the ball.
She said: "If you want to get stuck in with the hug, get stuck in with the hug. I always go in and have a good push when they call for Down'ards to go in. If I'd have been a man, I'd have probably had two balls by now.
"It is much more equal now. You've got more women marshals than men, so women have quite a lot of say on that as well."
When it comes to having a say in who turns the ball up, Ms Smith is open to Mrs Shaw's idea of a ballot in the paper.
She said: "I can't see a problem with that to get ideas. I don't think a lot of people know that, to put forward somebody's name, you have to write to the Shrovetide committee and the Shrovetide committee are quite private people. That's another bone of contention with not just women, with men as well, but I can see both sides of it."
While Ms Smith feels the Shrovetide committee could be more transparent in their practises, she has always found them to be straightforward and truthful when contacting them about an issue.
She thinks their secrecy comes from trying to protect the game from outsiders who do not understand it.
She said: "It's not a free for all, it is a highly organised game and we have to jump through hoops to put this game on.
"It costs a lot of money and we want to treasure it for our grandchildren and the future."
Despite the differences of opinion, there is one thing everybody agrees on.
Mr Waring said: "I just can't imagine life without Shrovetide. To me, it's much more important than any football or rugby match, Christmas, birthdays, anything.
"We are very lucky people to live here."
Mrs Shaw said: "It brings people back to Ashbourne. It's a homecoming for them."
Ms Smith added: "I love it. It is in your blood. I mean, you can forget Christmas, all Christmas means to me is that it's closer to Shrovetide."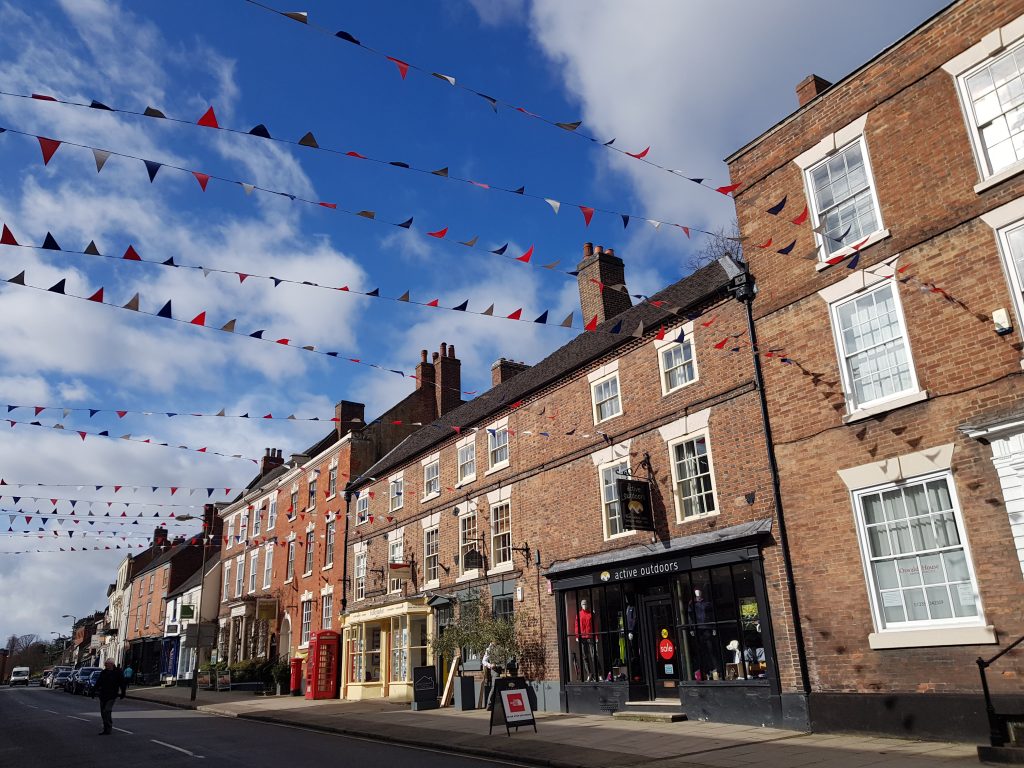 Do you think a woman should turn the ball up at next year's game of Ashbourne Royal Shrovetide Football? Why not have your say in our poll below…
Should a woman turn the ball up at Ashbourne Royal Shrovetide Football 2020?